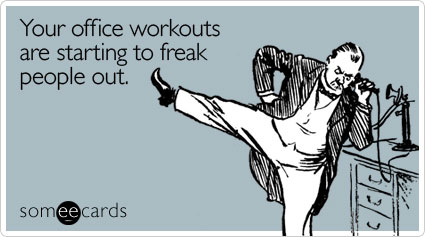 This morning I received a call from my boss.  He needs me to proof several (mucho importante) documents before they go to a client.  We had the following conversation:
Boss: It is important that these are perfect.
Me: Sure – no problem.
Boss: Do whatever you need to do in order to maintain focus – read one, go for a rune, read one, go for a run.
Me: (LMAO)
🙂
Cool or scary that he knows this about me?!
Did I mention how much I love my job?
_____________________________________________________________________________
Obviously, I need to be well-fed to complete this task.  I've been looking forward to testing out the Apple Pie Oatmeal creation by Angela @ Oh She Glows.
I adjusted it a bit for my taste.  I added the apples later in the process to ensure they held onto their crunch, and included ginger.  Of course, I had to top it with PB because apples + PB go together like peas + carrots.  Jenny.
Eating this was a Friday morning religious experience amazing.
Apple Pie Oatmeal
1/3 C oats (I combined multi-grain and Scottish)
1 tsp chia seeds
1/2 tsp ground cinnamon
1/4 tsp ground ginger
1/4 tsp ground nutmeg
Pinch of kosher salt
1/2 C unsweetened vanilla almond milk
1/4 C water
1/4 C unsweetened applesauce
1/2 Braeburn apple, peeled and cut into 1 inch pieces
1 T peanut butter
1 T pumpkin seeds
In a small pot over med-high heat, mix the 1/3 cup oats, chia seeds, spices, milk, water, and applesauce.  Cook for 5-6 minutes, stirring often.  When the mixture is just beginning to thicken, add fresh apple pieces. Pie Oatmeal is done when the mixture thickens and the liquid is absorbed.
Pour into a bowl and add toppings of choice.  I used peanut butter and pumpkin seeds.
***
How well does your boss know you?
Well enough to know midday running produces maximum concentration?