When the moon sun hits your eye like a big socca pie…
I'm having a serious love affair with breakfast foods like these PrOATein Pancakes or this Tiramisu Parfait.
With fall fast approaching, each week the apples are more and more delicious.  The Galas I bought at the Farmer's Market this weekend are almost dessert-like.  Almost.
All they need is a good pie crust.  
Filling and full of protein, this breakfast could masquerade as dessert.
Sweet Gala apples topping a creamy peanut butter "frosting" could make me happy after any meal, but as a guilt-free dessert breakfast it's even better. 
I really loved the socca as the base.  It's pancake-like texture was perfect with the juicy crunch of the apple.  The warm spices in the socca make it even more reminiscent of apple pie.
If you haven't made socca before, this is the time to try it.  It's not hard – easier than pancakes!  I should know – half of my pancakes become pancake scrambles.
Don't you want to dive into that creamy deliciousness?!  
For my dairy-free and vegan friends: This can be easily made a vegan treat.  Just replace the Greek yogurt with a non-dairy yogurt.  Be sure to adjust for the added moisture (Greek yogurt is thicker than the regular stuff); you will probably not need the tablespoon of almond milk.  Alternatively, you could leave out the yogurt completely and simply have a peanut flour frosting!
Note: I always spring for organic apples.  Apples are the top offender on the Dirty Dozen list!
---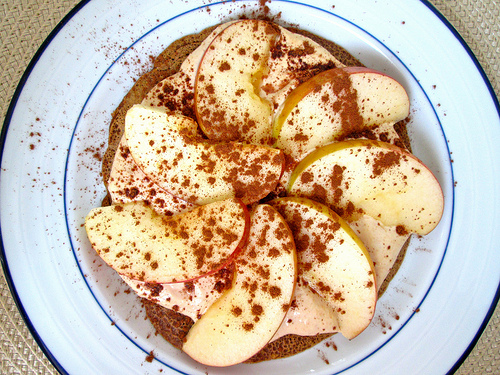 Apple Peanut Butter Pie Socca
For the Socca
1/4 C chickpea flour
1/2 tsp cinnamon
1/8 tsp allspice
1/8 tsp nutmeg
1/4 C water
1/2 tsp vanilla extract
4-5 drops liquid stevia
1/4 tsp butter extract (optional)
For the Topping
2 oz Greek yogurt (use soy/almond yogurt, or leave out completely to make dairy-free/vegan)
2 T peanut flour
1 T unsweetened almond milk
1/4 tsp cinnamon
2-3 drops liquid stevia
1 small apple
For the Socca:
Preheat oven to high broil.
In a small bowl, combine dry ingredients.  Add wet ingredients and stir to combine.
Pour batter in a small, well-oiled (I used PAM) oven-proof skillet over med-high heat.  Allow to cook until nearly done, 4-5 mins.
Set aside, allowing to cool slightly while mixing the topping.
For the Topping:
In small bowl, combine remaining ingredients (except the apple).  Spread across the room-temp socca (still in the skillet).
Thinly slice the apple, and arrange pieces atop the socca. 
Place in oven on high broil for 3-4 mins.  Watch carefully – it will go from perfect to burnt very quickly (not that I would know…).
Remove from oven and transfer to plate.  Sprinkle with cinnamon and enjoy!
Makes 1 serving.
Approximate Nutritionals: 3.7 g fat, 37.1mg sodium, 29.9g carbohydrates, 6.3g fiber, 13.6 g sugar, 19.3g protein
***
I need to place an order on iHerb for more peanut flour… any suggestions for new things to try while I'm at it?  
FYI: iHerb.com is a great place to find healthy ingredients your grocer may not have (like peanut flour).  Use the code USO924 for $5 off your first order!
Have you ever made socca?
What  are you most looking forward to bringing back to your menu rotation this fall?