Cheers to another WIAW!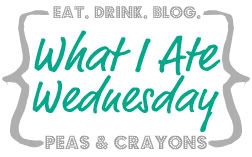 This one is more of a "what I ate in preparation for and while on the road this week."  One day life will slow down… right?!
Who am I kidding – I totally thrive on running around with my hair on fire.
Anywho… it's a quickie because 7am meeting are a bad idea for night owls.  That does NOT mean that you should discount my Apple-Fennel Salad.  I actually surprised myself with this one.
______________________________________________________________________________________
Breakfast
Post-Run Apple Pie Smoothie
 1/4 Gala apple
1 C spinach
1 C unsweetened vanilla almond milk
1 scoop vanilla whey protein powder
1 tsp Maca powder
10 drops vanilla NuNaurals Stevia
1/2 tsp cinnamon
1/4 tsp nutmeg
1/4 tsp ginger
Sprinkle guar gum
Ice + Water, to taste
Lunch
An exercise in using what's left in my fridge before jumping on a plane turned out pretty damn good!  Loved the licorice crunch of the fennel with the sweet apple and the punch from the chili pepper.  (Scroll to bottom for recipe.)
Insert power walk through the Atlanta airport.
Snacks
Not pictured: Think Thin bar, peanuts, and a kombucha.
Insert arrival in Charlotte and pleasantly brief wait in taxi line.
Better still is the pool in my hotel.  Why don't I ever think to bring a bathing suit?!
The gym is nice here – they provide foam rollers (I won't think about how many sweaty, hairy legs rolled on that thing before me) and post workouts on the walls to inspire!
Dinner
Dinner out with family in Charlotte.  I didn't want to take pics and the lighting was terrbile… but I did take a pic of the guy rocking a 'hawk in the kitchen.
Good Food (creative name, right?!) in Charlotte, NC is worth a stop!
Small plates not-to-miss:
Sauteed Mushrooms with herb and garlic
Steamed Bun with five spice rubbed pork belly, hoisin & pickled vegetables
Braised Duck Fettuccini pancetta, peas & sweet onion cream
M academia Nut Pie with banana ice cream
______________________________________________________________________________________
 
Apple-Fennel Salad
1/2 medium Gala apple, diced
1/2 medium fennel bulb, thinly sliced
1/2 small shallot, minced (~1/2 tsp)
1/4 C celery, thinly sliced
1/4 fresh cayenne pepper, minced (~1/4 tsp)
1 tsp lime juice
1 tsp extra virgin olive oil
1 tsp apple cider vinegar 
1/2 tsp tarragon
S+P, to taste
Mix all of the veggies together to combine.
Whisk together the remaining 5 ingredients.  Toss with veggies until just coated.
Enjoy!
Serves 1 main or 2 as sides.
***
 I'm off to Chicago tonight!  Look forward to a thought-provoking guest post by another of my favs tomorrow!
Do you travel for business?
What are some of your favorite "use everything in the fridge" dishes?