I'm not big on repeats.
There are too many new things to try!
A new twist on an old recipe seems acceptable though.  Especially when you don't have much else in your fridge!  I've been meaning to make my Apple Carrot Muffins for a while, actually.  They were really good, and I remembered that the originals led to a great race time.  A time I could never hit 3.5 years later…
Saturday morning had a similar results though!  I ate 2 of the version 2.0 Apple Carrot Protein Muffins before heading to the gym and PR'd a couple of tricep exercises on sleepy, rainy morning.
These are every bit a delicious as the first recipe, but they are a little more dense since I subbed some of the flour for protein powder.  I liked a lot; the texture allows the apple and carrot bits to come through even more.
I also adjusted the mix-ins based on what I had at home.  The addition of shredded coconut was a big win!
My favorite part is the apple pieces.  They add moisture and sweetness, along with a perfect fall taste.
I shredded mine with a hand-held grater, but you can use the food processor with the shredder attachment.  For some reason dragging out the processor seems like more effort than doing it by hand.  Though maybe I should have brought it out and made hummus while I was at it… next round!
Speaking of the next round…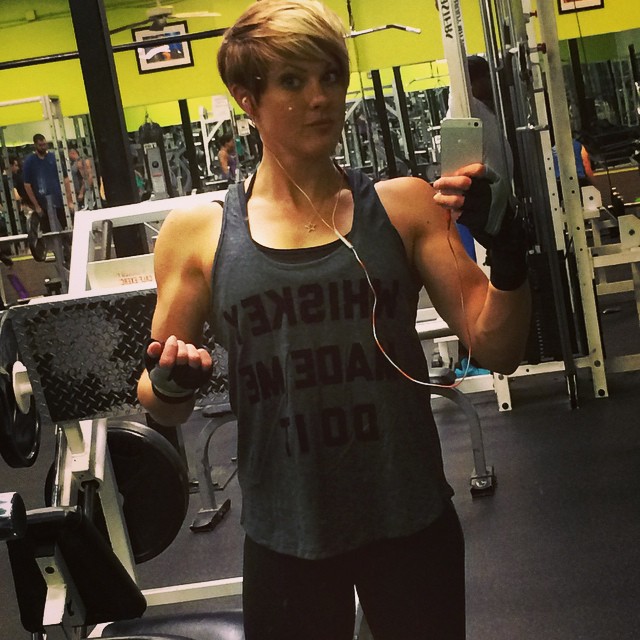 I'm obsessed with this shirt from Buy Me Brunch (their customer service blows… but damn their shirts are hilarious).
---

Apple-Carrot Protein Muffins
1 large egg
2 T coconut oil
2 T unsweetened coconut milk
1 tsp vanilla extract
1/3 C cream cheese
1/4 C rolled oats
1/2 C spelt flour
1/4 C pastry flour
1 scoop (31g) vanilla protein powder (I used

Growing Naturals Rice Protein

)
2 T xylitol (or other sweetener)
1 tsp baking soda
1 tsp ground cinnamon
1/2 tsp ground ginger
1/8 tsp ground nutmeg
1 carrot, grated (about 1 C)
1 medium apple, grated
2 T shredded coconut, unsweetened
Preheat oven to 375 degrees.
Whisk together all wet ingredients in large bowl.  Stir in carrot, apple, and coconut.  Set aside.
In a medium bowl, combine remaining dry ingredients.  Gradually add dry ingredients to wet ingredients, stirring until just combined.  Fold in the carrots, apples, and coconut.
Divide evenly among greased muffin tin.  Bake 20-25 mins.
Approximate nutrition: 102 calories, 4.1g fat, 18.3g sodium, 13.2g carbs, 1.7g fiber, 1.7g sugar, 4.4g protein
***
 Sometimes revisiting old flames is marvelous.
What is your favorite muffin flavor?
Do you repeat recipes often?