Why does Friday seems SO far away on a short week?
Especially when you have Friday off too.
Vegas and I are camping all weekend in the RV.  It's the annual OTL tournament in San Diego, so we'll be with hundreds of our closest friends on an island playing ball.  It's an insane tradition here, and we're happy to adopt it!
As such, I have nothing creative for you to make today.  However, I did compile another random list of things that are awesome this week.
1. Adele Wine Pairings
This article, 11 Wines to Drink While Crying to Adele's New Album, is brilliant.  The tasting notes, the gifs…  I'm a little ashamed I didn't think of this first.
2. Instatint
You may have noticed I've fallen in love with dying my hair fun colors.  It's an expensive habit though.  Enter: Joico Instatint.  I just ordered it; I shall report back soon!
3. Carrot Cake Pancakes
I'm a dessert whore.  Cake for breakfast is… errrrr… the icing on the cake?  I love my carrot cake parfait, but sometimes you need pancakes.  I used Flapjacked's Protein Carrot Cake Pancake Mix to create this masterpiece.
4. Easy Baked Feta & Chicken
We've been eating the leftovers on salads all week.  I realized why I love this recipe so much – warm feta reminds me of the pizza I used to order when my dad took us out for pizza night.  I ALWAYS got a pie with feta cheese and pepperoni.  And baklava for dessert, but that's for another day.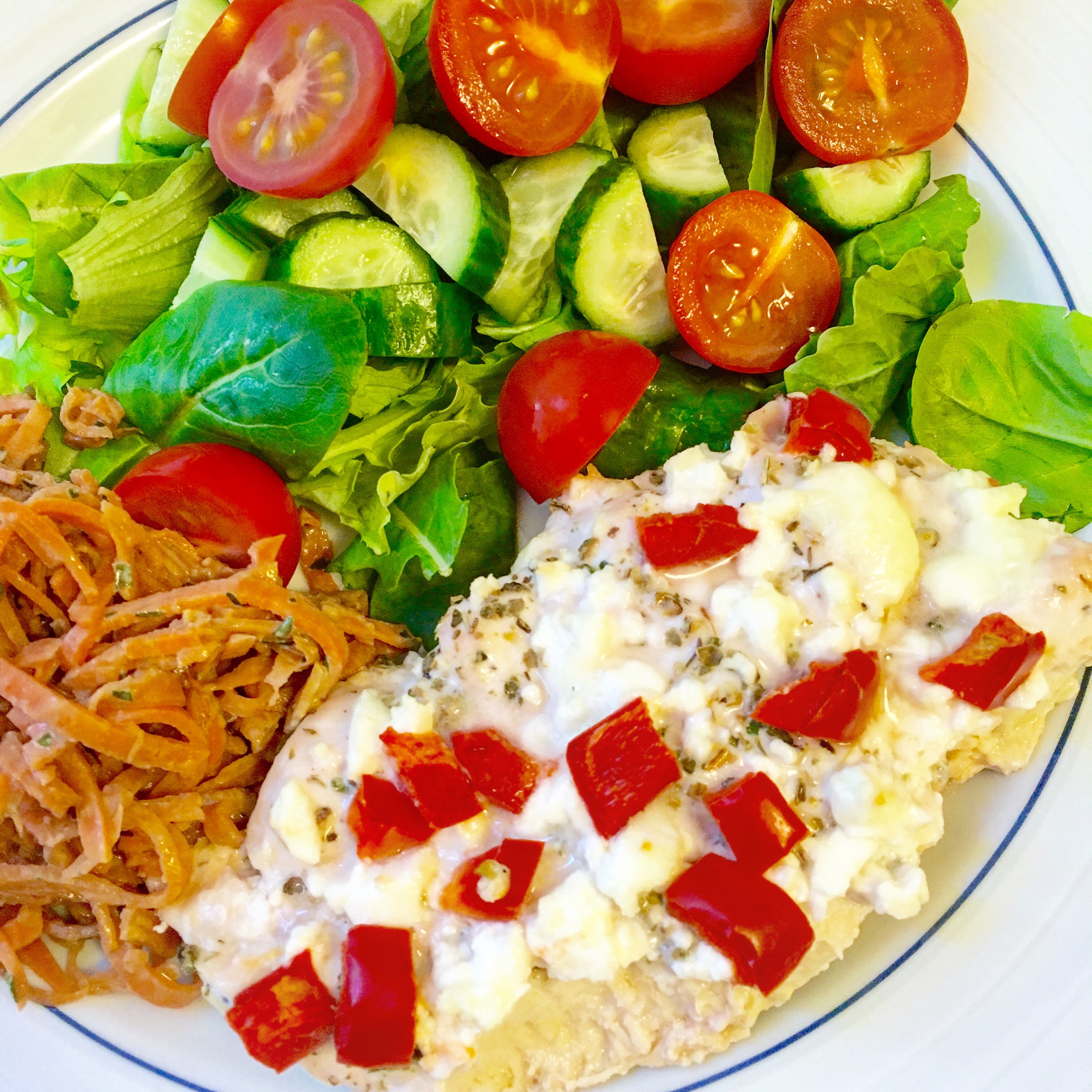 5. Amazon Prime
You all know by now I am in love with Amazon.  I mean… when you can get hair tint, toilet paper, BCAAs, and a Hangry t-shirt all in one place… what's not to love?
So, in honor of Prime Day, you should try it free for 30 days.  The money you save is no joke.
Disclaimer: This post contains affiliate links.
***
I'm taking Lindsay's bacon chocolate bars to OTL.  Mmmmmmwhahahaha!
If you could dye your hair any crazy color, what would it be?
What's your favorite Adele song?