It doesn't happen often, but yesterday I almost cried.
It took me 2 months to get into the ortho Dr., but I finally made it.  After an hour-long wait (grrrr…), I was called back to the exam room.  The Doc was great (he's a talker, which explains the wait).  He does a lot of work on the Atlanta Braves, among other sports teams.  Unfortunately that resume didn't lessen my injury.
The Dr. actually said I was pushing my body to the extreme… and that made me feel proud.  Isn't there a quote about taking up too much room if you're not living on the edge? 😉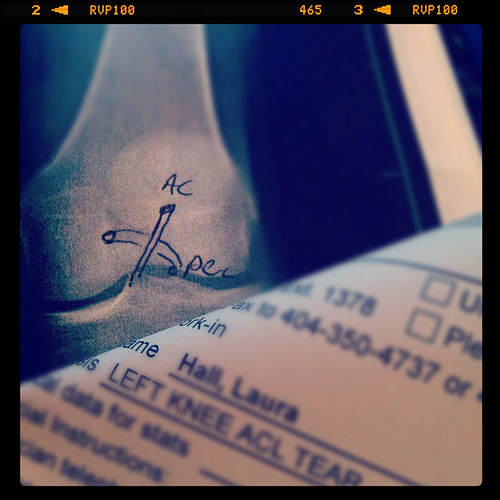 It turn out that the pain is my left knee is due to a torn ACL.  I always thought that when you tear an ACL you couldn't even walk!  Apparently there are varying degrees of tears.
Next step is to go for an MRI to confirm the extent of the damage – he's betting I have some lateral meniscus repair work that needs to be done too.  I can't even get in for that consult until late June (hazards of choosing a popular Dr.), which puts me having surgery around August.  4-6 months after that I'll be back in fighting shape.  That's 2013.  Ugh.
Nonetheless, I'm pretty depressed.  I was hoping it was just a strained something.  At least I have What I Ate Wednesday to make me smile. (Jenn, can I get  a hug??)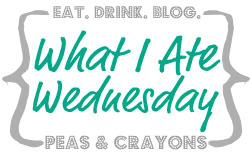 Check out my eats below; then click here to hope on over to our host – Jenn @ Peas and Crayons – to see what everyone else ate Wednesday (or – more than likely – Tuesday).
---
Breakfast:
I was told that plyo probably isn't be best thing for me to be doing with a torn ACL (that explains all the knee pain after…).  Good thing I got in one last P90X Plyometrics workout pre-doctor visit this morning!
I re-fueled with a Laura-style Frapp: loaded with protein and spinach!  Yes, it looks weird.  But it was good.
Green Protein Frapp
1 C chilled coffee
1 scoop vanilla protein powder
1 giant handful spinach
1.2 large banana
1 tsp vanilla
1 tsp cinnamon
1/8 tsp guar gum (to thicken)
Ice
Lunch:
Salad.  In a box.  It seems simple, but eating right out of the container make me happy.  If only I could get a salad into an almost-empty PB jar.
In my box:
Mixed greens
Asparagus
Cauliflower
Cucumber
Tempeh croutons (lemon-pepper tempeh, sautéed in a pan and cooled)
Hummus dressing (1 T spinach hummus + 2 tsp apple cider vinegar)
Dinner:
I've been eating almost totally vegan since the Food & Wine Festival gut-buster.  The availability of local farm-fresh eggs at this weekend's farmer's market in the park was too much to pass up.
Dinner was an egg scramble with hatch chili salsa, sautéed kale, Daiya pepper jack cheese, red pepper flakes served over a sprouted grain tortilla.
Snacks:
There were many, but I was too depressed and too busy at work to take pics: lots of cashews, kombucha, dried sea weed, Think Thin bar… and some other depression-snacks stuff I can't remember.
***
Speaking of injuries…Don't forget to enter to win 1 of 2 BENGAY Zero Degrees prize bags: http://wp.me/p16jDn-1hS
Have you ever had knee surgery?
If you are vegan/vegetarian, what food do you "miss" the most?  If you're NOT vegan/vegetarian, which food most keeps you from trying (if any)?