These sections always fill me with trepidation. 
Start with the basics, Laura.
My name is Laura and I'm 31.  I started this blog at the urging of friends and family for a few reasons.  The biggest two are to write about the love of my life (food) and to document the way I punish myself work on my fitness.
Selfishly, I love how blogging has provided me some accountability.  At the end of the summer in 2010 I stepped on the scale for the first time in months.  Normally I am not a big fan of weighing, but when I couldn't button the pants I was wearing just 4 months earlier I wondered exactly what had happened.  15 lbs happened.  I'm 5'2… 15 lbs = 2 pants sizes.  Apparently the summer months were fun-filled!
However, my diet of burgers and beer caught up with me (I seem to remember my dad warning me about one's metabolism slowing around age 27…).  Something had to be done!
Since that moment I have overhauled my diet, focusing on eating cleaner and trying to cut back on the rolling of the good times.  At some point in my life I would like to have a 6-pack rather than a keg… why not make that point now?
Food
Do you have those go-to people in your life?  Maybe its the neighbor you ask for a cup of sugar?  The co-worker you can always find tickets to a baseball game?  The mom/aunt/grandmother you call when you're trying desperately to save the rug you just dumped a glass of red wine on?
That's me when you want a restaurant or recipe.
Restaurant recommendations?  It's safe to bet that I've eaten there.  New recipe?  I probably have twenty. My Pinterest boards are at an out-of-control level – filled with treats to bake, veggies to roast, and flavor combinations to experiment with.
My passions in life are travel, food, and wine.  In another life I may have been a chef/restaurant owner (or I may be later in this life…).  A 2 week northern Italian vacation to visit wineries and sample the local fare only fueled the fire.  I hope to go back and help with a harvest of grapes!
I'm making an effort point my food-love in a healthy direction by creating, testing, and sharing more good-for-you recipes here.  But there may be the occasional ganache-filled cupcake delicacy.  Everything in moderation, including moderation.
Thankfully, I like to stay active.  I compete in figure competitions, play softball, enjoy a occassional race, and participate in anything else I can get my hands on.  Combine a challenge with measurable results and I'm all in!
Figure Competitions
In June of 2012 my knee quit.  My ACL was hanging on by a thread and the doctor told me I could either stop running distances or have surgery.  I (mostly) stopped running more than a few miles at a time.  Being without a challenge isn't my style, so I decided to do something I'd thought about for a long time – train to be a figure competitior.
I found an amazing trainer and entered my first competition at the end of 2012.  Shockingly, I placed 4th in my class!  The bug has bitten me and I'm still training hard to keep advancing.
Running
Much like Forrest Gump, one day I just started running.  The reason?  Probably the same reason I do most things in life – just to see if I can.  I signed up for a 5K in the fall of 2007 and have been running ever since.  I ran my first (and last) half marathon on Thanksgiving Day 2009.
Adventure races have been an addiction.  I took a Tough Mudder beating and recently did an 8 hour run-bike-canoe race.
Softball
I have played softball since 1st or 2nd grade.  My dad used to coach my teams growing up and it is how I met one of my best friends.  Today I play softball on a team called Laid Back.  We aren't bad!  Well, some of us are better than others (my hitting slump is bordering on embarrassing).  I play 1st base.
These women are some of my favorite people – always there for a good game, a big  laugh, and many escapades I will never document.  We play fall and summer seasons.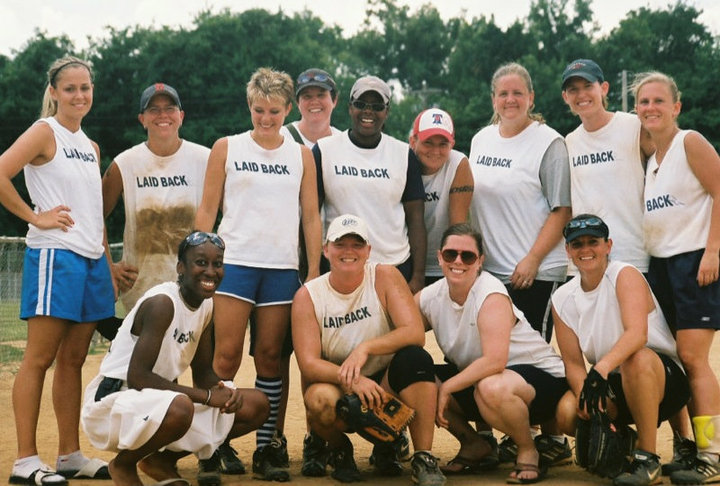 Roller Derby
Did I mention that I do things just to see if I can?  Enter roller derby.  I went to a bout with part of the softball crew in the summer of 2009 and thought "I bet I could do that!"  Lo and behold, it was almost time for tryouts.  I went to a workshop and the rest was history.  Derby taught me that I can push myself much further than I ever thought possible, and that has impacted me in every aspect of my life.
Unfortunately a couple of things lead to my retirement…
I broke my jaw during an expo game
My job requires me to travel a LOT, and I can't risk injury or meet the time commitment (~8 hours a week) 
I still love my ninja team – the Sake Tuyas!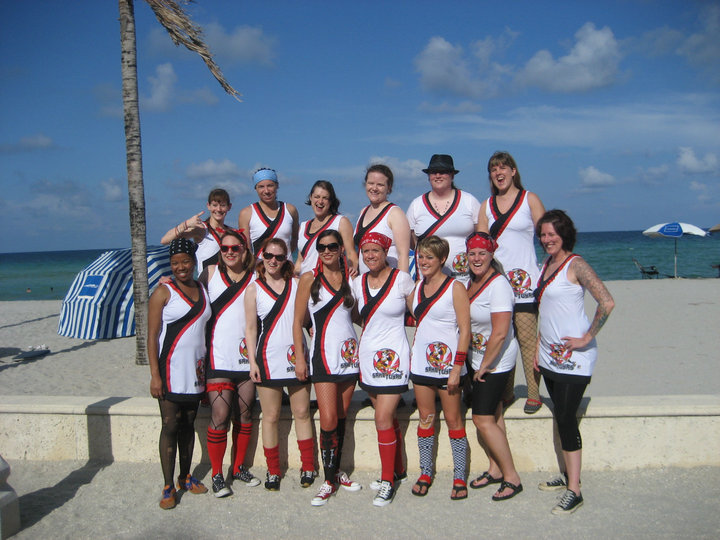 The Basics
Location: Atlanta, GA
Education: BA in Communications (Advertising) from the University of Georgia, MBA from the Georgia Institute of Technology
Occupation: Consultant
Dream Job: Food and travel writer.  Or rockstar.
Odd Food Fact: I can't stand potatoes.
Some Favorites
Football Team: Georgia Tech
Baseball Team: Atlanta Braves
Healthy Food: Hummus, raw carrots and zucchini… anything fresh!
Dessert: Chocolate cake and a scoop of peanut butter-vanilla ice cream
Splurge: Insane multi-course Chef's dinners
Movie: Trick question – I don't really like movies (odd, I know)
Music: I can't choose!  Currently: The Lumineers, Mumford and Sons, Brandi Carlile, Led Zeppelin, Indigo Girls
***
Questions?  Comments?  Concerns?  Email me!
sprint2thetable at gmail dot com