These sections always fill me with trepidation. 
Start with the basics, Laura.
My name is Laura and I'm 30-something.  I started this blog because my mother told me to.  Really.  You know when you really love something and its all you talk about?  I was cooking all the time, reading food blogs, and developing a fascination with fitness and how food can fuel AND be delicious.  My one-track mind was probably annoying to everyone around me.  When mom suggested I start my own blog rather than continue to bore my family and friends it made sense!
I've been writing Sprint 2 the Table for nearly 7 years.  The blog has evolved and life certainly has changed, but the food love remains the same.  Two years ago, I got married and moved to San Diego from Atlanta, GA.  It's been one amazing adventure after another!  You'll see me write about Vegas and her reaction to the creations I put on her plate.
Selfishly, I love how blogging has provided me some accountability.  At the end of the summer in 2010 I stepped on the scale for the first time in months.  Normally I am not a big fan of weighing, but when I couldn't button the pants I was wearing just 4 months earlier I wondered exactly what had happened.  15 lbs happened.  I'm 5'2… 15 lbs = 2 pants sizes.  Apparently the summer months were fun-filled!
However, my diet of burgers and beer caught up with me (I seem to remember my dad warning me about one's metabolism slowing around age 27…).  Since then I have overhauled my diet, focusing on eating cleaner but not feeling deprived.
Food
Do you have those go-to people in your life?  Maybe its the neighbor you ask for a cup of sugar?  The co-worker you can always find tickets to a baseball game?  The mom/aunt/grandmother you call when you're trying desperately to save the rug you just dumped a glass of red wine on?
That's me when you want a restaurant or recipe.
Restaurant recommendations?  It's safe to bet that I've eaten there.  New recipe?  I probably have twenty. My Pinterest boards are at an out-of-control level – filled with treats to bake, veggies to roast, and flavor combinations to experiment with.
My passions in life are travel, food, and wine.  In another life I may have been a chef/restaurant owner (or I may be later in this life…).  A 2 week northern Italian vacation to visit wineries and sample the local fare only fueled the fire.  I hope to go back and help with a harvest of grapes!
I'm making an effort point my food-love in a healthy direction by creating, testing, and sharing more good-for-you recipes here.  But there may be the occasional ganache-filled cupcake delicacy.  Everything in moderation, including moderation.
Thankfully, I like to stay active.  I love to lift weights – I have a training certification and have competed in 4 figure competitions.  I'll play just about any sport, take boxing lessons, run, and try just about anything I can get my hands on.
Figure Competitions
In June of 2012 my knee quit.  My ACL was hanging on by a thread and the doctor told me I could either stop running distances or have surgery.  I (mostly) stopped running more than a few miles at a time.  Being without a challenge isn't my style, so I decided to do something I'd thought about for a long time – train to be a figure competitior.
I found an amazing trainer and entered my first competition at the end of 2012.  Shockingly, I placed 4th in my class!  The bug has bitten me and I'm still training hard to keep advancing.
Running
Much like Forrest Gump, one day I just started running.  The reason?  Probably the same reason I do most things in life – just to see if I can.  I signed up for a 5K in the fall of 2007 and have been running ever since.  I ran my first (and last) half marathon on Thanksgiving Day 2009.
Adventure races have been an addiction.  I took a Tough Mudder beating and did an 8 hour run-bike-canoe race.
Softball
I have played softball for as long as I can remember.  It's been a great connector in my life.  My dad and I bonded over it when he coached my teams growing up.  It is where I met my best friend.  As an adult, I played softball on a team in Atlanta… which is how I met my wife!
These women are some of my favorite people – always there for a good game, a big laugh, and many escapades I will never document.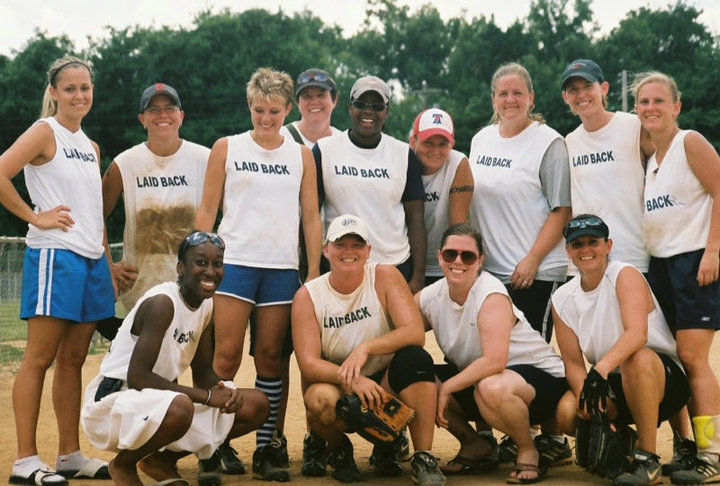 Roller Derby
Did I mention that I do things just to see if I can?  Enter roller derby.  I went to a bout with part of the softball crew in the summer of 2009 and thought "I bet I could do that!"  I went to a workshop and the rest was history.  Derby taught me that I can push myself much further than I ever thought possible, and that has impacted me in every aspect of my life.
Unfortunately, I broke my jaw during an expo game and decided maybe it was time to retire.  I still love my ninja team – the Sake Tuyas!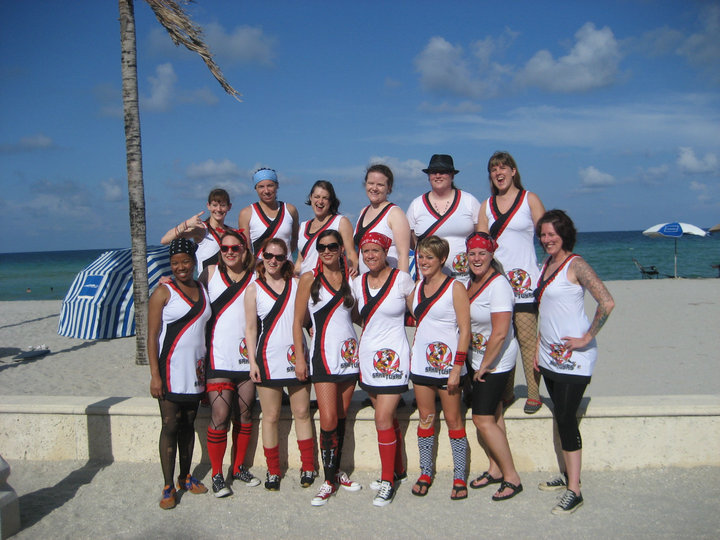 The Basics
Location: San Diego, CA
Education: BA in Communications (Advertising) from the University of Georgia, MBA from the Georgia Institute of Technology
Dream Job: Food and travel writer.  Or rockstar.
Odd Food Fact: I can't stand potatoes.
Some Favorites
Football Team: Georgia Tech
Baseball Team: Atlanta Braves
Healthy Food: Thick protein smoothie bowls, hummus, raw carrots and zucchini… anything fresh!
Dessert: Chocolate cake and a scoop of peanut butter-vanilla ice cream
Splurge: Insane multi-course Chef's dinners
Movie: Trick question – I don't really like movies (odd, I know)
Music: I can't choose!  Currently: The Lumineers, Mumford and Sons, Brandi Carlile, Led Zeppelin, Indigo Girls
***
Questions?  Comments?  Concerns?  Email me!
sprint2thetable at gmail dot com