Did you ever look forward to gas station snacks as a kid?
Please tell me I wasn't the only one with trashy taste as a child. 
These days I dread road trip food – especially after my recent cross-country drive.  However, when I was a kid I loved stopping at the QT for a giant slushie.  It's not that I don't like a slushie as an adult, but I try to avoid the onslaught of chemicals.
When I received a box full of all natural supplements from About Time, I was immediately drawn to their new ProHydrate Protein Water.  It screamed #strangebutgood protein slushie!
After a hard workout, I'm burning up and the thought of eating solids or a heavy protein shake isn't appealing.  Something light yet still high in protein is ideal.  It provided me the protein I needed to help my body recover and also helped to rehydrate after the sweat-fest at the boxing gym.
A few things I love about ProHydrate:
No artificial colors or flavors.
Gluten-free
Stevia sweetened
20 g whey protein isolate
Both flavors I tried – Orange Mango and Raspberry Lemonade – actually tasted good!
Join the twitter chat Thursday, May 21st, with About Time and FitFluential at 9 pm EST.  Use the hashtag #TryAboutTime to follow along!  Be sure to also check them out on their social media channels too:
---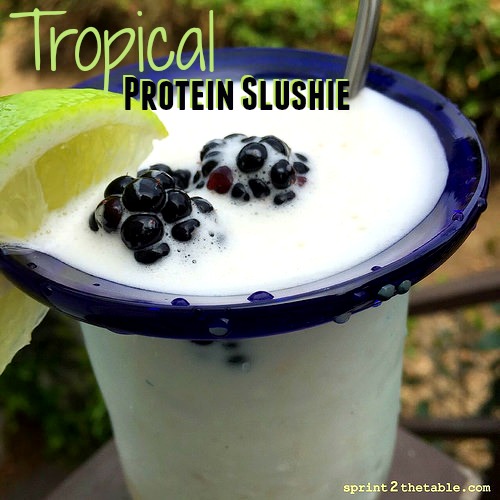 Tropical Protein Slushie
1 serving Orange Mango ProHydrate
1 C ice
Juice from 1/2 lime
1/2 tsp cinnamon
Toss everything in the blender and blend until slushed.
Transfer to a large glass, top with fruit, and enjoy!
---
How have you enjoyed making co-workers, friends, or family stare with strange but good creations this week? The link up rules can be found here or by clicking on "Strange But Good" in the menu bar above. In short, I want to see what concoctions have earned you weird looks from co-workers, family and friends! Post your Strange But Good creations, grab the logo below for your blog, and link up here.
Remember to use #strangebutgood in any Tweets and Instagrams of your creations. 🙂

This post is sponsored by FitFluential on behalf of About Time.

***
Remember when I got married? We leave tomorrow for our honeymoon to Greece!!! 
Did you like slushies as a kid?
Do you make slushies now?  It's good with BCAAs too!