Northstar California is the perfect place to spend a long weekend – whether you're a skier, a snowboarder, or just there for the view.  
I've always preferred the mountains to the beach.  Luckily, my wife is a big fan of the snow.  For her birthday I surprised her with a trip to Northstar, one of the villages surrounding Lake Tahoe.  We've been to several of the villages around the lake (we got married in Squaw Valley), but this was our first trip to Northstar.
The Northstar village is a really cute, alpine-style area with a small selection of restaurants, shops, and activities.  While I generally prefer staying in bigger towns, this was perfect.  There was a movie theater, wine bar, live music, outdoor fire pits for roasting s'mores, and ice skating.  Literally something for everyone!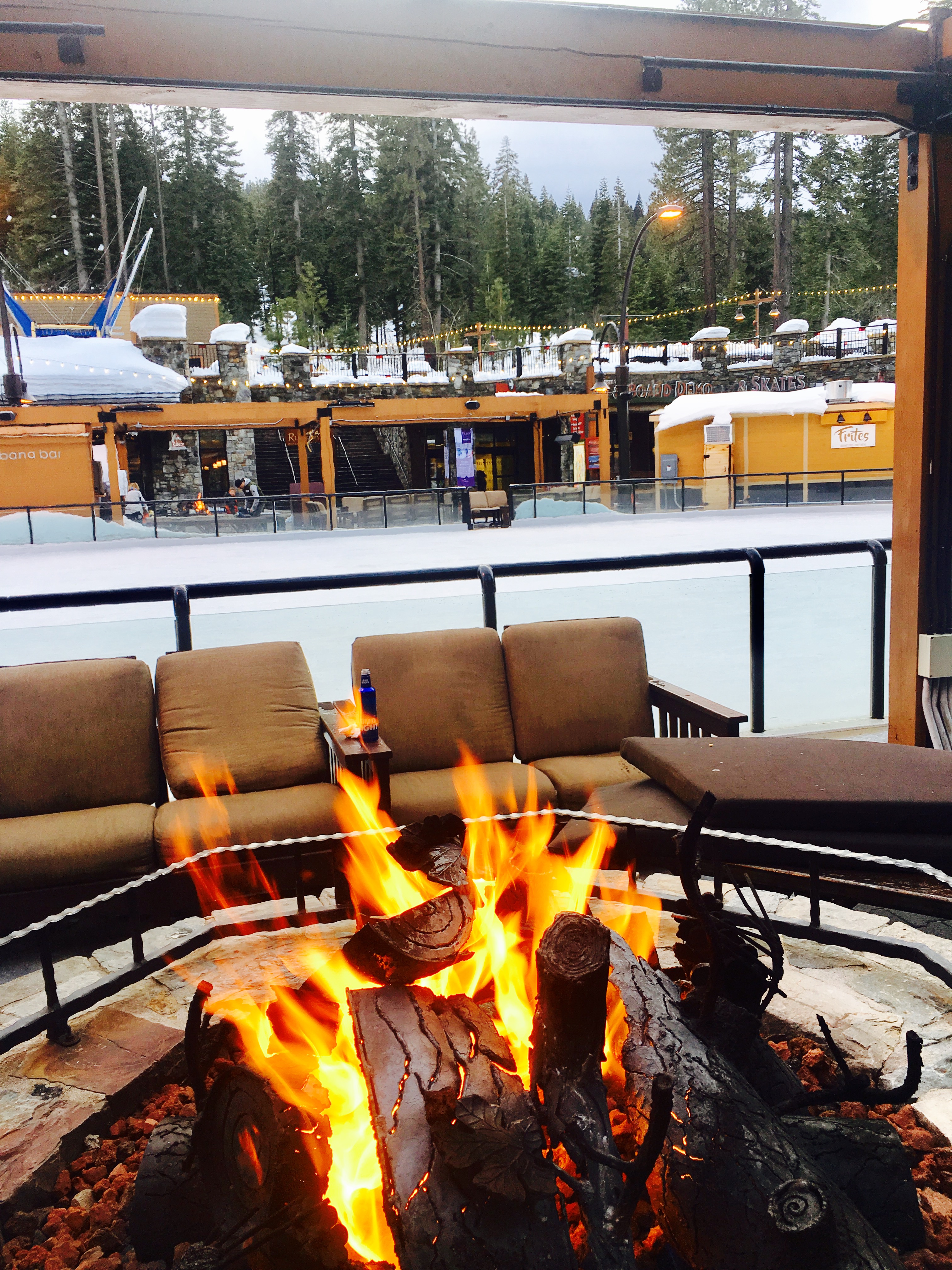 Northstar is on the California side of the lake and has a laid-back Cali attitude with a side of luxury.  I mean… one of the gondolas lets you out at the Ritz!  If you're not on a Ritz budget, I recommend checking out Airbnb options.  There are several condos and houses for rent in the area.  You could also consider staying in Truckee, the really cute mountain town just a few miles from the village.
To get there, fly in to Reno and either catch an Uber (~$55 ride) or schedule a ride on the North Lake Tahoe Express shuttle.  We've done the shuttle to both Northstar and Heavenly with no problems.  There's no need for a car once you get to the village.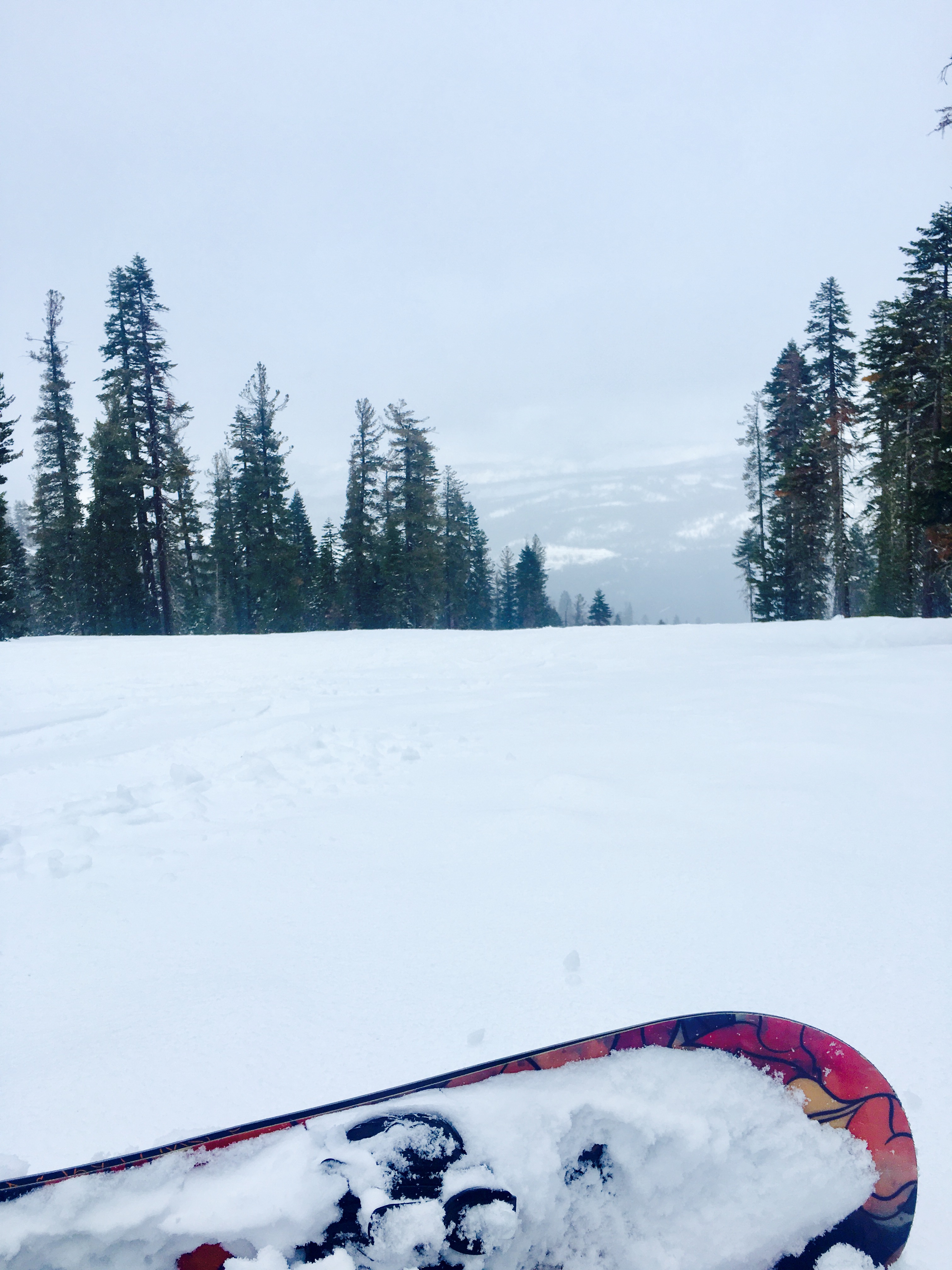 Renting skis and/or snowboards is stupid easy.  You can reserve online through Ski Butlers and one of the "butlers" will bring them to your condo!  Talk about amazing.  Make sure you reserve in advance online to get 10-15% off.  It ended up being less than competing shops, and it was WAY easier.
If you get a chance, go this winter.  They have more snow than they've had in YEARS.  In the 48 hours we were there, they got another 17 inches of fresh snow.  Seeing the below basketball court really put it in perspective for me!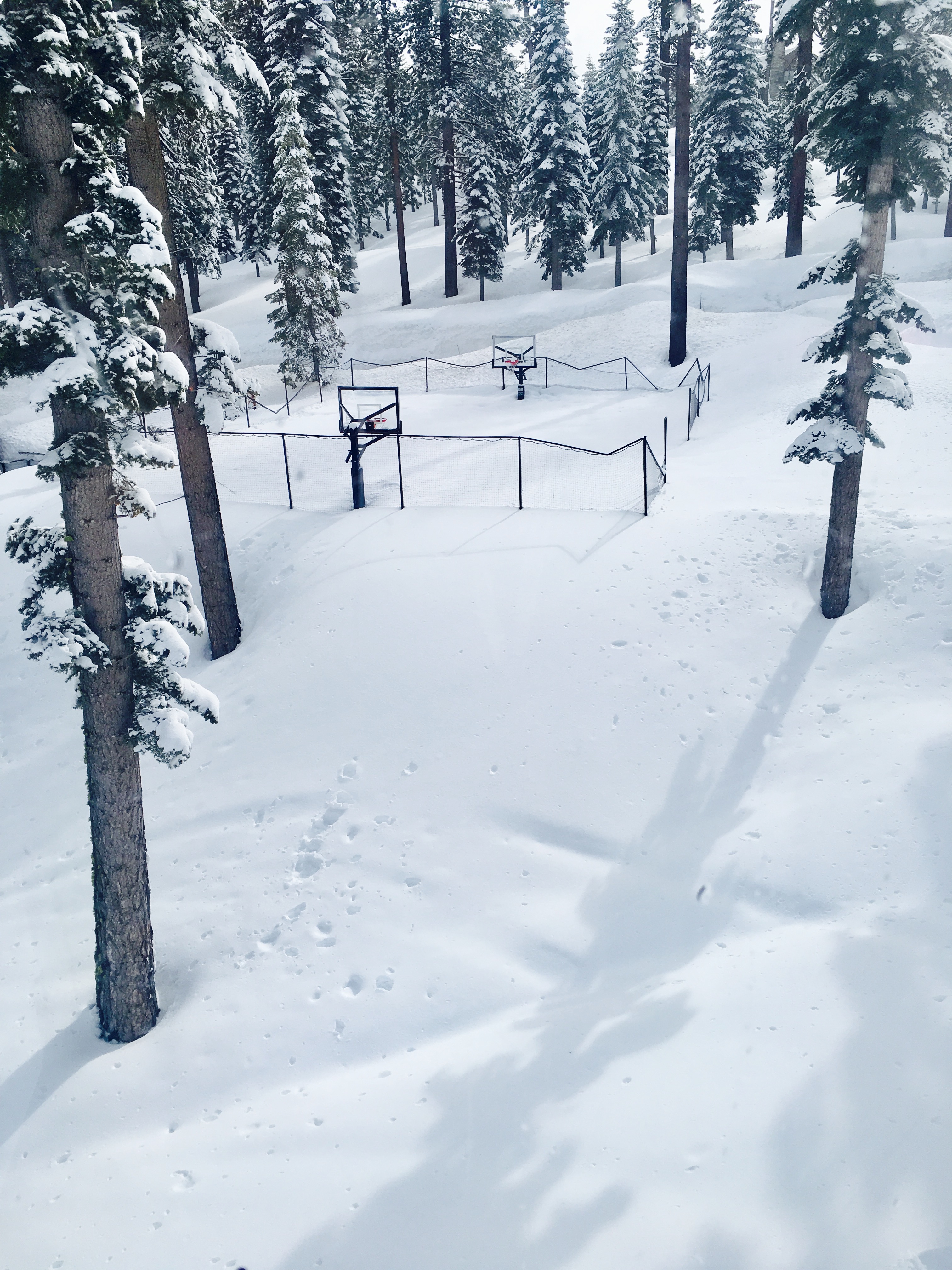 If you are a winter sports fan, you'll especially appreciate Northstar.  Most of the trails are groomed each evening, making it a great ride on skis or a board.  The wide variety of runs are perfect for all skill levels; this is a great spot for families or groups!  There are super easy greens, blues ranging from easy to more challenging, and plenty of black runs and bowls to play in.  I loved the more challenging runs off of the Promised Land lift.
While I'm not skilled enough to participate, there is a terrain park and plenty of trees to play in.
Not into downhill?  They have 20 miles of groomed cross-country/snowshoeing trails.  There is also an area for snow tubing!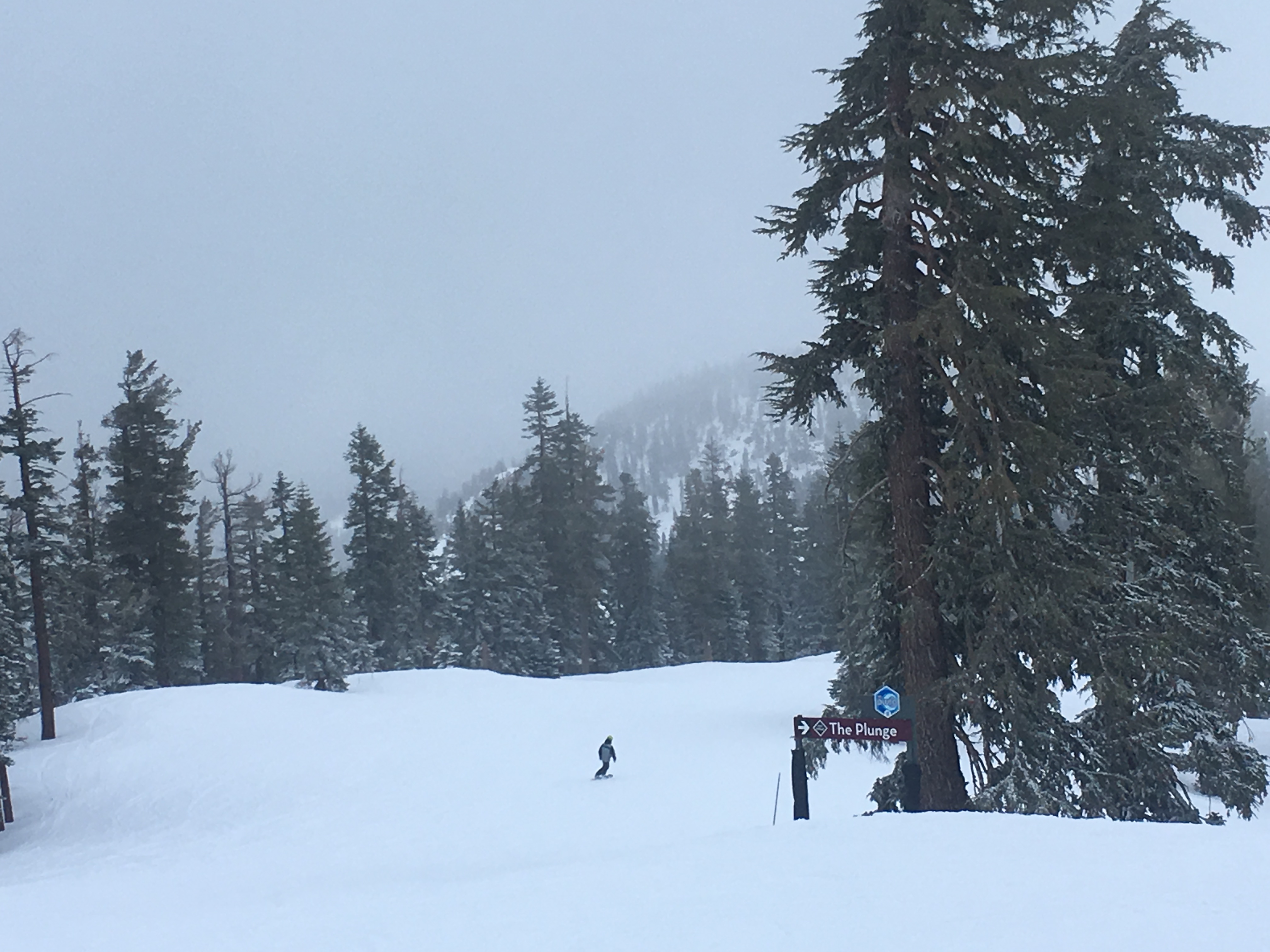 If you're looking for lunch and don't want to go down to the village, there are a few options along the mountain.  We liked the Summit Smokehouse.  It's at the top the mountain at the Comstock lift.  They offer indoor dining and a deck with great views of the lake.  Have a gourmet grilled cheese, chili & cornbread, a jalapeño brat… or one of the other fancy mountain dining options.  They also have craft beer. 😉
Here's the best part about this mountain… there's a champagne bar at the top.  No joke.  I thought it was a winter mirage when I happened upon it all alone the first day.
It was close to closing time (3p) and was no one else there.  The snow was coming down hard, so I planted myself under the overhand to drink a glass.  The two guys working brought a chair to me and my own personal fire pit.  I almost called Vegas to say I wouldn't be coming down the mountain.
You can take the Comstock Express lift to the top and follow the East Ridge trail to Tōst.  If you make it by 1:45, you'll be in time to get in line for the FREE 2 pm toast with a glass of Schramsberg bubbly.
Don't worry if you don't make the free toast.  You can get a split (mini 2 glass bottle) of Prosecco for as little as $12.  If you're feeling fancy, they have a whole bottle of Dom Pérignon for $275.  Please invite me if you decided to go that route.
I know you're going to wonder how you can ski down after a glass (or two).  Don't worry.  It is the easiest blue trail I've ever been on.  If you're on a snowboard, you may have to walk because it's so flat.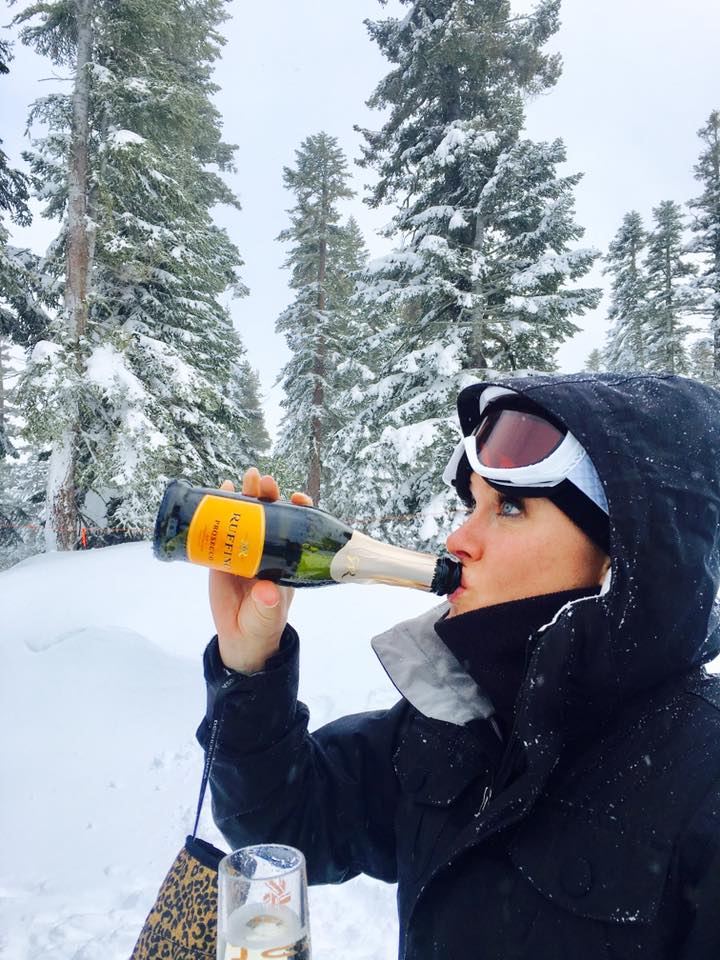 Aside from the trails, you should also make sure to take advantage of the complimentary s'mores every day at 3:30 pm in the village.  I don't think I need to explain why. 😉
For dinner, check out Mikuni, the sushi restaurant in the village.  We went twice!  On our first trip, the favorite was the "Pimp My Roll."  It was stuffed with spicy tuna, panko shrimp, avocado, salmon, sauce, torched, smelt roe, onion, macadamia nuts.  YUM.  On round two, we shared a party platter with Vegas' 3 BFFs (I had them fly into surprise her!).  If you have a big group, the platter is the way to go (read: will save you $$$).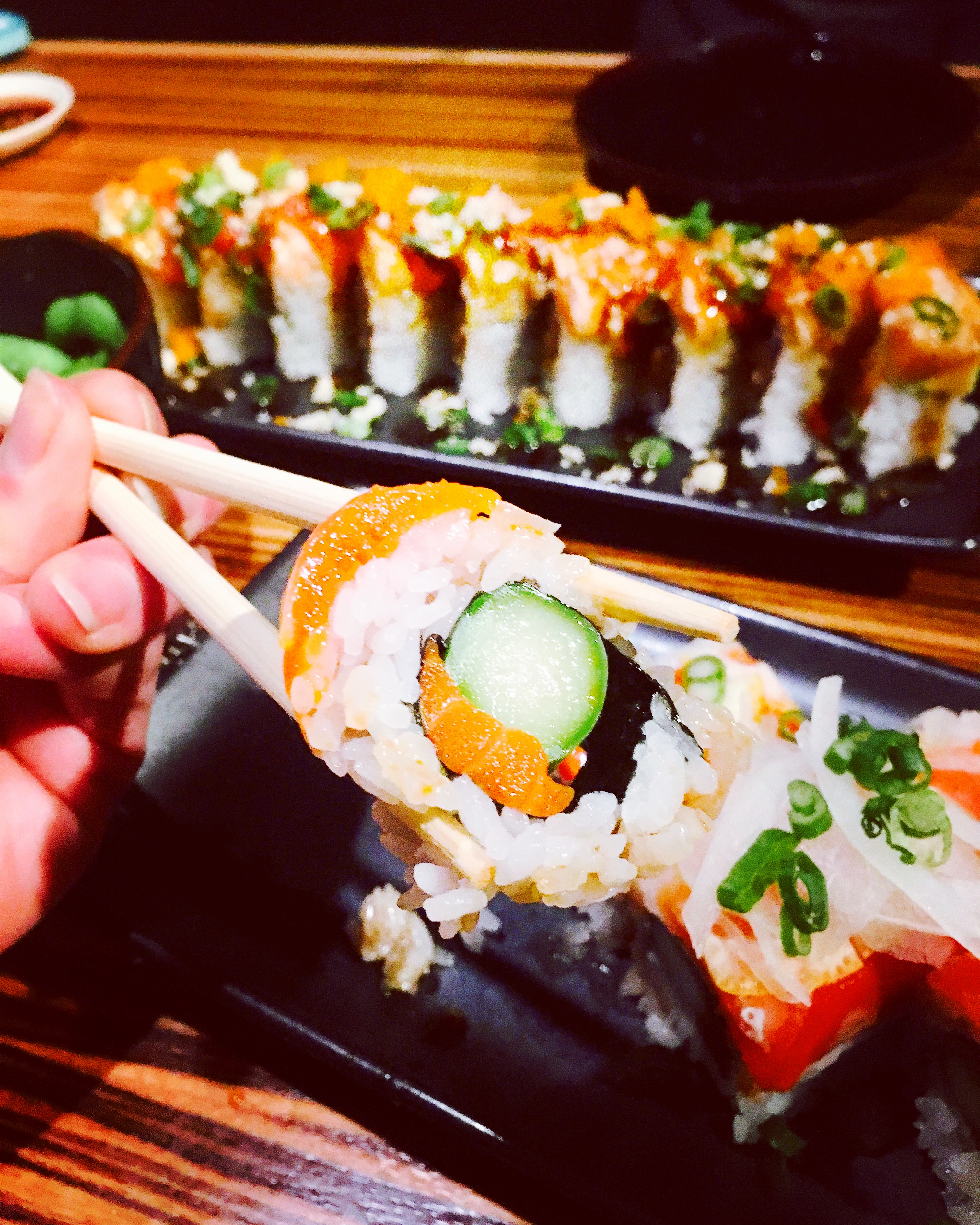 We tried two other spots we liked, but didn't get pics.
One is a fantastic wine bar called Petra that offers a interesting selection of wines.  They also have a small menu of snacks, tapas, salads, and 4-5 entrees.  We loved the cheese selection, the scallops, and the grilled cheese with tomato soup.
The other place is a pizza joint called Rubicon.  They do hand-tossed pizzas that make a great to-go dinner after a long day.  I also loved their Greek salad with its citrus dressing and chickpeas.
The last tip for Northstar is about groceries.  There isn's a grocery store near by, but there is a place called Copper Lane Cafe and Provisions.  It's a small market with basic provisions and really friendly staff.  It's not cheap (small market on a mountain = premium pricing), but it worked for us.
We pick up the basics: eggs, bacon, creamer, chips, salsa, Bloody Mary mix, vodka, beer, sparkling wine, and limes.  I couldn't resist a few additional not-so-basic items: GT's kombucha, La Croix, red wine beef jerky, and small kernel popcorn.
Not going to lie… I'm a little sad to be home today!
***
I snowboarded the whole time and didn't have any major disasters – yay!
Have you ever been to Tahoe?
What's your favorite winter activity?  Snowboarding?  Tubing?  S'mores?