Saturday was one of those days where I feel like I never stopped eating.
In other words, it was a perfect day.
After the panels, we made our way to the Tasting Pavilion.  There was definitely a buzz in the air as the bloggers lined up to be let in.
Inside there were companies offering samples of everything from coffee to wine, chocolates to endive, vegan meal bars to lamb-filled phyllo.
I left no corner undiscovered as I bounced from table to table in a state of foodie euphoria.
Some favorites:
The best part was yet to come…
at 2pm a crowd formed around the Alexia display.  None other than Tyler Florence had arrived.
Everything was fine until someone shouted and a mob formed!  Tyler was surrounded and security couldn't restrain the hysterical group of women (and a few men).
The police arrived with tear gas and mob shields.  It was like a scene from a movie!
I'm kidding.
It was a very calm line.  I waited patiently, along with the other bloggers and received an autograph photo.  Tyler and I chatted for a moment about the demo he would be giving at the banquet later that night, and I got a pic with him.
Tyler's demo that evening was also mob-free.  Pre-demo/dinner there was a cocktail hour where we snacked on the 4 finalist recipes for the new Alexia flavor.
The reception was a great experience because I was able to meet even more bloggers – including Mamma Pea (who told me she thought I would be taller in person… I thought she'd be shorter 🙂  ).
I also got to hang with some of the same people we met the night before.  Our table was a fun one!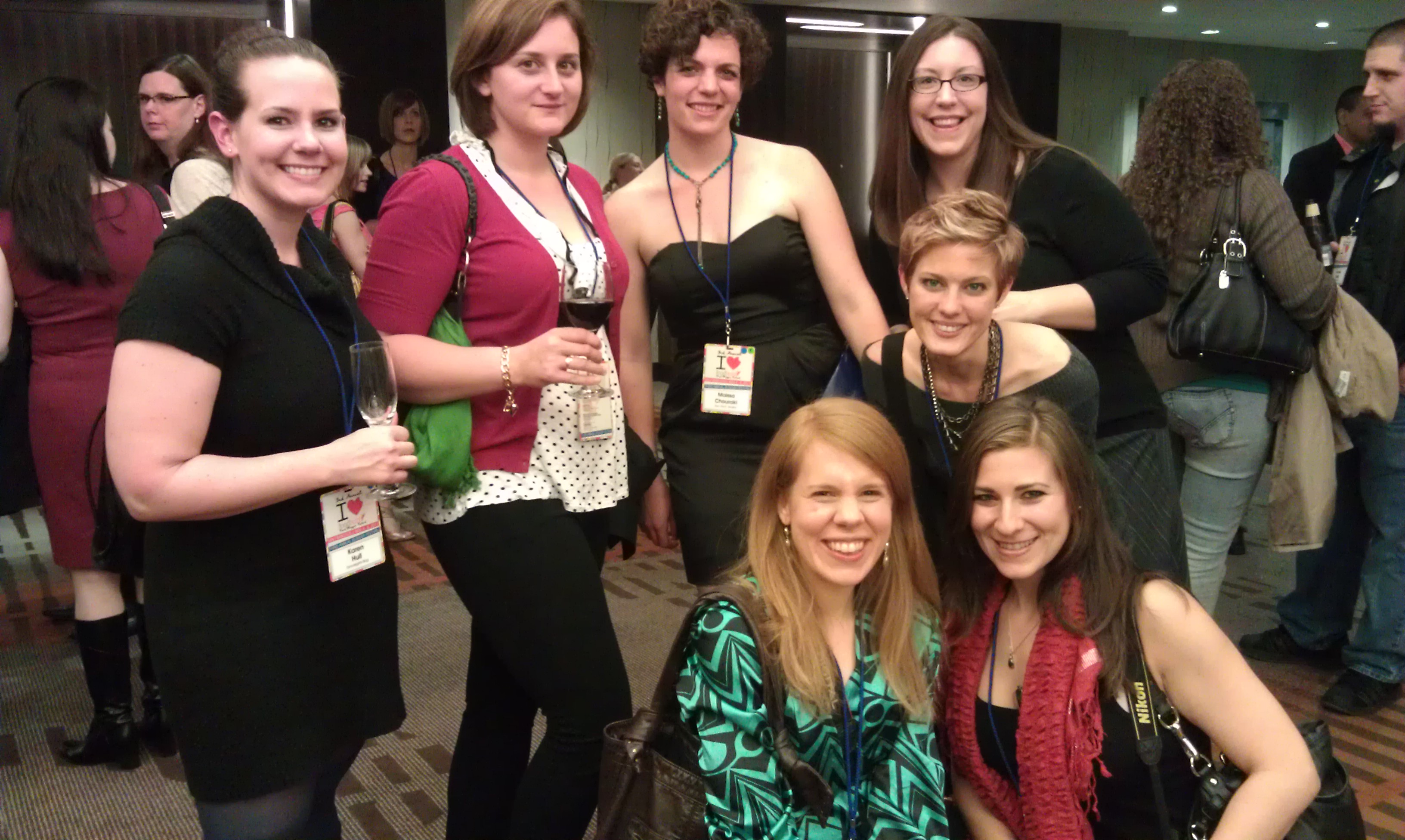 Pictured: Karen, Lauren, Maissa, Christin, Me, Sarah, and Lori.  (Thanks to Sarah for sharing this pic!)
Last but certainly not least – I spent some QT goofing off with my new favorite person – Andy (a.k.a. orange pants).
For his demo, T-Flo (his new nickname, pass it on) made a fantastic-smelling sage pork chop with sautéed cabbage.
Unfortunately that was NOT what we had for dinner.  It was kind of a cruel tease because Tyler's sage and seared pork smelled incredible.
What we had:
Even FoodBuzz couldn't make hotel banquet food taste good…
I requested the vegetarian meal, which consisted of wheatberries, leek, tomatoes, and carrots.  Sounds ok, but in reality it was overall greasy and tough.  Ho hum.  
Looking on the bright side, I did get to practice my iPhone photography on Karen's surf n' turf main!  The lighting was terrible, but one of these was shot with a point-and-shoot and the other with my iPhone.  
Can you tell which is which?  
I like to call these "I'm still learning."
Until next year, my friends!  P.S. Come to Atlanta!!!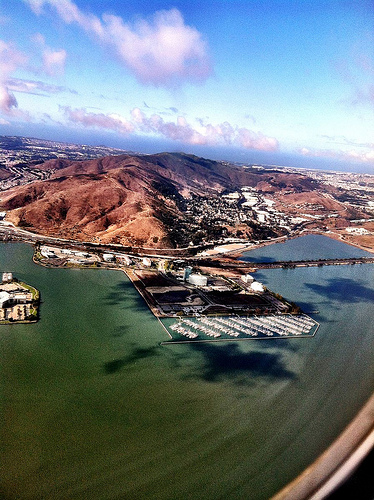 _____________________________________________________________________________________
Here's the tequila-cocoa bitters recipe, as promised.  If you serve this at your next party, please invite me.  So.  Good.  🙂
La Bandita
2 oz Espolon tequila
3/4 oz Wild Turkey American Honey
1/4 oz Frangelico
2 dashes Angostura cocoa bitters
Shake and serve chilled!
***
If Thomas Keller had been there, I probably would have started a mob.
Have you ever had good banquet food?
Who is your favorite "celebrity" chef?