Bloggers make the best house guests.
This weekend my girl Allie @ Forgotten Beast came to Atlanta for a visit and to train with my trainer, Steve, at House of Payne.  Allie is also training for a figure competition.  She definitely lives up to her blog name – girl is a BEAST!
Steve made us strike a pose for a post-training mug shot:
We trained, we had posing practice… and then we ate our way through Atlanta. 
Allie eats a plant-based diet, so I knew I had to take her to one of my favorite vegan places in town, Dough Bakery. We split the "egg and bacon" biscuit above along with some vegan soft-serve before walking around one of Atlanta's funkier neighborhoods (Little 5 Points).
For dinner we hit up Cakes & Ale where we split basically half of the menu and took pictures of it.  All tasty, but our favorite was the brie, and marinated greens with walnut croutons.  Our second favorite was the absolutely fabulous staff (Hi William!).  We rounded out the night with a craft beer from Brick Store Pub.  Allie is a fan of the craft, and this place has a beer menu that reads like fine dining restaurant's wine list.
We stayed up too late chatting and eating the remainder of my S'more Bars.  It was awesome.  And I begged her to move to ATL.
_______________________________________________________________________________________
The next day we continued to eat our way through Atlanta.  It was the day of my cooking demo at Taste of Atlanta!
I was terrified, but SO glad to have Allie there for moral support.  My friend Kathleen also came; it means so much to have friends there when you jump so far outside your comfort zone.  You guys were also so great with the encouraging comments and tweets this weekend!
There wasn't a huge crowd, but there were spectators that weren't my friends.  I thought when they said they'd provide 2 burners that it would be little  stop top… notssomuch.  It was a Bunsen burner.  Between that and the wind, the Butternut Squash-Apple Soup took what felt like forever to make.  Just browning the garlic took 10 mins.
Overall, it did go well.  The burner eventually warmed up (thank you to the amazing volunteers who helped get it going), and I was able to prove that this is a soup you could make on a campsite.  🙂
I did have an amateur fail: I was so flustered by the end that I forgot to add the turmeric.  Thank god Sweetwater Growers' infused olive oil and fresh herbs were so flavorful the soup still tasted good.
Thank you to Scott and Sweetwater Growers for asking me to demo my recipe using their Red Pepper-infused olive oil.
______________________________________________________________________________________
Workout Recap
Last week I mentioned we added 100 pull ups (assisted ) to my daily routine.  I did them most days… travel and long workouts threw me off a little.  My goal this week is to buy a pull up bar so it's easier for me to get them done each and every day.
But that's not as exciting as posing pics, right?  Yes, I asked permission before plastering Allie's ass on the internet.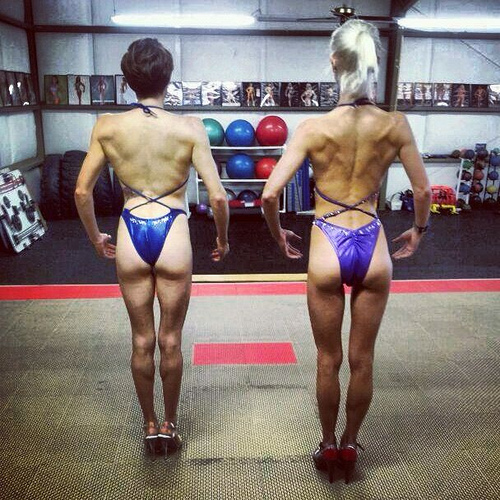 Workout Recap (10/1 – 10/7):
Monday – Shoulders/Glutes, Calf raises, 100 pull-ups, 1 mile walk
Tuesday – Chest/Bis, 100 pull ups, 2 mile walk
Wednesday – Legs (w/ trainer), 2 mile walk
Thursday – Back/Tris, 100 pull-ups
Friday – Rest, 100 PUs, 1.5 mile walk
Saturday – Legs (with Trainer), 2 mile walk
Sunday – Rest, 2 mile walk
***
I'm 4 weeks out from my competition… the diet is getting crazier.  More on that and a new fitness feature tomorrow! 
When was the last time you had to go outside your comfort zone?
Have you ever met your "online" friends in real life?