Snacking is the new name of the game for me.
Yesterday I revealed my new fitness goal to you all – to compete in a figure competition.  This means HUGE change in my plant-based diet.  Now I have to focus more on protein than plants, and I'm eating constantly… but my goal is to to keep to a vegetarian protein diet.
The Basic Plan:
7 "meals" per day (I eat every 2 hours)
20-25g of protein at each meal
120 oz of water daily
1 serving of fruit for the first 2 meals, and at meal 7 ("dessert")
1 serving of veggies for meals 3-6
1/2 C carbs at meal 1, 3, 5, and 7 (beans, lentils, and sweet potatoes count as carbs)
Limited fats – flax at meal 1, nuts at meal 2, olive oil at meals 3 and 5
The good parts: no calorie counting or macro tracking; I get a cheat day once a week; I already love protein shakes
The hard parts: only eating 1 serving of veggies at a time is hard; eating that much protein on a veg diet is REALLY hard; eating all the time sounds fun at first, but I am really never hungry (except for when I wake up); eating every two hours take a ton of planning; all of that water has me running to the bathroom every 30 mins.
---
Jenn's What I Ate Wednesday theme of "Sensible Snacking" this month is just perfect for my new plan.  I am snacking all day!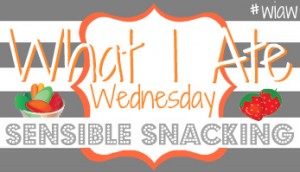 Check out a day in  the food life of a wanna-be figure competitor; then click here to hop on to Jenn @ Peas and Crayons to see everyone else's day of eats!
---
Meal 1:
Janetha hipped me to the fact that I was appropriately celebrating National Chocolate Pudding Day at breakfast
I made a chocolate-peanut butter protein pudding/spread to top my Ezekial bread.  This was accompanied by 1/2 cup of cherries (good for inflammation/muscle recovery).
Chocolate-Peanut Butter Pudding:
1 T GNC Soy chocolate protein powder (

check out the review here

)
1 T peanut flour
1 T ground flax seed
2 T unsweetened almond milk
1/8 tsp vanilla extract
Meal 2:
It's blueberry season!  They are so sweet right now, making of an especially tasty shake… even if it did splash on my brand-new white shirt.  Note to self: don't drink smoothies and drive.
Blueberry-Ginger Smoothie
1 scoop Vega vanilla protein powder (

see review here

)
1/2 C blueberries
1 in piece of fresh ginger
1 tsp cinnamon
1 C spinach (I "cheated" and added veggies… I can't help myself!)
1 T sunflower seeds
Ice + water, to taste
Meal 3:
Leftovers!  Some of you may have seen the vegan quiche I posted on Instagram.  With a chickpea flour base, this high-protein dish made 6 slices which I will be bringing for lunch all week.  I enjoyed it with a side of sprouts.  For those that asked, I promise the recipe will come tomorrow!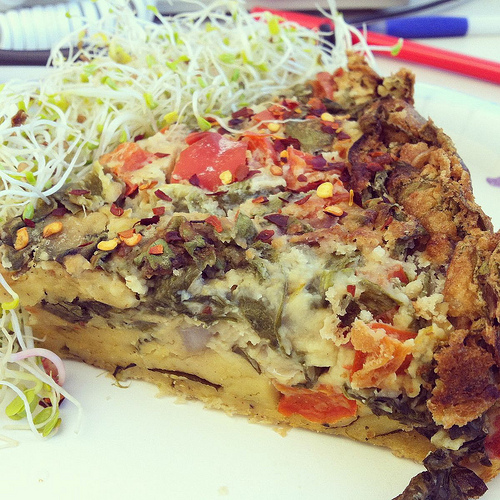 While the quiche is high-protein, it's not quite high enough.  No worries – it gave me an opportunity to have dessert with my meal.  A little sweet and a little savory, I loved this cardamom-laced treat!
Cardamom-Cinnamon Cottage Cheese Mix
1/2 C cottage cheese
1/2 tsp cinnamon
1/8 tsp cardamom
4-5 drops NuNaturals orange liquid stevia
1 T unsweetened So Delicious coconut milk
Meal 4:
Here is where it gets hard to keep eating.  At this point I've downed 60g of protein and I'm feeling satisfied.  However, I'm not even half way through my daily meals!
Remember this seitan chorizo I made a couple of months ago?  I froze what I couldn't eat for future uses.  I'm beyond happy I did that!  It gave me the protein I needed for the meal, re-heating well and retaining its flavor and moisture.  It was fantastic with the last of my Ultimate Veggie Trail Mix.
Meal 5:
I had an appointment with my trainer at 8p (more legs – OMG), so I wanted my dinner-time meal to be easy to digest.  That can only mean on thing.  Liquid Sweet Potato Pie-Shake.  Meal 5 requires veggies, carbs, and protein.
Since sweet potatoes count as a carb, I ate a side of celery sticks as well.
Meal 6:
This also served as my post-workout recovery meal.  It was also my favorite meal of the day!  This rendition of overnight (over-day?) oats was cool and refreshing after a excruciating really hard workout.  If you're from Georgia, you know it doesn't get any better than peaches and cream this time of year.
Creamy Peach-Ginger Overnight Protein Oats
1 peach, mashed
1 scoop GNC Whey vanilla protein powder (see review here)
1/3 C unsweetened vanilla almond milk
1/4 cup raw oats
1/4 tsp ground ginger
1/2 tsp cinnamon
4-5 drops vanilla liquid stevia
Stir it all together and allow to chill for at least 1 hour, or overnight.
Meal 7:
I cheated.  I ate meal 7 as meal 6 (fruit, carbs, and protein).  Truth be told, I'm having a really hard time working in 7 meals.  I am hitting the protein goal of 150 grams, so I'm not going to worry about it until I'm told otherwise.  🙂
---
Now for the part you really wanted to hear about – the giveaway!
I was contacted by Special K just before heading to Chile with an opportunity to try their new granola bar.  I don't eat a lot of processed foods/bars, but I was intrigued by their new concept.  They sent me the samples just in time for me to pack these up as a tasty plane snack.
Of course, I shared with my concierge, Kim, who was in love with the sweet treats.  She couldn't believe that the bars are just 110 calories and contain only 7g of sugar.  Perfect for sating your mid-afternoon sweet tooth.  They also deliver 4g of fiber and 4g of protein.
My favorite part? The Special K Granola Bars come in my favorite flavors – Dark Chocolate and Chocolatey Peanut Butter.  The chocolate-peanut butter will rock your socks off.  
Yes, they are processed and they have more than 5 ingredients.  If you're that isn't a problem for you, you will be really happy with these bars.  They have a great crunch and won't leave you feeling weighed down.
The lovely people at Special K have offered to let one reader try a box of each flavor.  Here's how to enter to win:
Follow me on Twitter or Subscribe to the Sprint 2 the Table RSS feed or email
Tweet: You could say something like: I've entered to win 2 boxes of @SpecialKUS granola bars at @sprint2thetable http://wp.me/p16jDn-1po #giveaway

Be Social: Twitter Follow Special K, Pinterest Follow Me and/or Pin Something of Mine, Instagram Follow Me
Comment: What is your favorite sweet tooth satisfier?
Please leave a *separate comment* for each entry!
Contest ends at 11:59pm EST on Monday, July 2nd.  The winner will be announced on Tuesday, July 3rd.
***
And again with the sore legs/glutes.  Thank god the counter is close enough to my toilet to provide support for lowering down.
Do you prefer to eat 3 solid meals, or snack throughout the day?
What is your favorite protein-rich meal?