Recipe for a ridiculous PR:
Enjoy some pasta the night before your race
Don't skimp on the red wine (heart healthy!)
Drink yer water
Wake up early enough to drink more water.  And coffee.
Take a B-12 (serious energy)
Eat a miracle muffin and some PB
Run, Forrest.  Run.
Last night I met up with some friends to indulge in some pasta in preparation for the Beat the Street for Little Feet 5K this morning.  (Any excuse for pasta!)
We had a great time… and I had 3 glasses of vino.  Oops.  But I drank a lot of water, set my alarm and got in bed before midnight.
Fast forward to 6:15am:  I roll out of bed, started the coffee, chugged some lemon water, popped a B-12, and ate a miracle muffin.  With PB.  Seriously, I credit the wine Apple-Carrot muffin for this race.
What was this ridiculous PR?
24:10
A moment of silence, please.
That is nearly 2 MINUTES faster than my previous of 26:02.  Honestly, I don't know where that came from.
You should really try these muffins.
---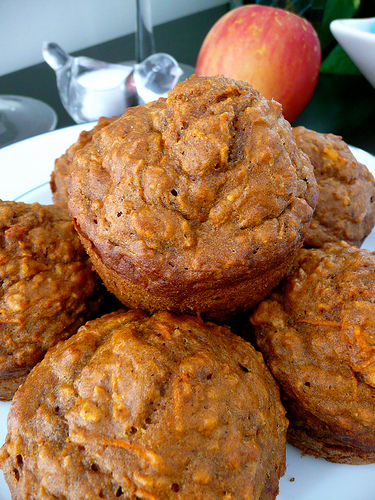 Apple-Carrot Muffins
Closely adapted from these by Anja @ Food 4 Thought.
1 egg
2 T EVOO
2 T unsweetened coconut milk
1 tsp vanilla extract
1/3 C 2% Greek yogurt
1 carrot, grated (about 1 C)
1 medium apple, grated
1/4 C chopped pecans
2 T goji berries
1/4 C quick cooking oats
1 C white whole wheat flour
3 T palm sugar (you can also use agave/maple/stevia)
1 tsp baking soda
1 1/2 tsp ground cinnamon
1/2 tsp ground ginger
1/8 tsp ground nutmeg
pinch of salt
Preheat oven to 375 degrees.
Whisk together all wet ingredients in large bowl. Set aside.
In a medium bowl, combine oats, flour, sugar, baking soda, ginger, nutmeg, cinnamon and salt.
Gradually add dry ingredients to wet ingredients, stirring until just combined.  Fold in the carrots, apples, nuts, and berries.
Divide evenly among 7* greased muffin tins.  Bake 20-25 mins.
*The original recipe said it makes 6, but mine filled 7 standard-size muffin tins to the brim.
Nutritional Info: 178 calories,  8.6g fat, 1g saturated fat, 20.7g carbs, 3.4g fiber, 5.4g sugar, 5.5g protein
***
Now, I will reward myself with a mall trip.
When was the last time you shocked yourself?