Protein and I have had a long romance.
Add peanut butter to that and I'm in heaven.
When The Vitamin Shoppe sent me a giant nut butter-filled package from their protein pantry I was thrilled.  Even Vegas got all wide-eyed as we pulled out all the goodies.
Spoiler: There's a giveaway for a $100 gift card at the end of this post.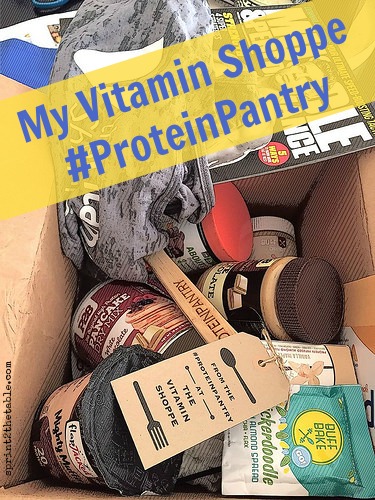 The Vitamin Shoppe has a new addition to it's ~700 stores nationwide and online called the Protein Pantry.  Their Protein Pantry is stocked with a plethora of protein-packed foods like nut butters, powdered peanut butter, pancake mixes, and muffin mixes, to name a few.
We all know by now that protein is incredibly important for muscle recovery and growth.  It also helps to keep you feeling full and satisfied longer so you don't mindlessly munch on less-than-healthy snacks.  Products like these just make getting that protein more fun!
Which brings me back to the nut butters… they're all protein infused.  Nut butter in general is a better source of fat than protein.  Having Buff Bake, P28 spreads, and D's Almond Fluffbutter with protein added in puts me in my happy place.  Another excuse to eat nut butter?  Yes, please.
Admittedly, I was skeptical about a muffin in a paper cup… but just a little water and a quick stir later I had a perfectly delicious, moist cake.  With Snickerdoodle Buff Bake "frosting."
And then there is the pancake bender.  I wish someone had grabbed my shoulders and forced me to buy P28 High Protein White Chocolate Pancake Mix earlier.  It is incredibly good.  Since it's October, I have to add pumpkin to these (recipe below).
Check out the Vitamin Shoppe on Facebook, Twitter, Instagram, Google+ , and Pinterest.
---

Pumpkin White Chocolate Protein Pancakes
1 T pumpkin puree
1/3-1/2 C water (use less water for thicker cakes)
1/4 tsp cinnamon
Mix ingredients in a small bowl.
Scoop batter onto a hot, greased pan.  Flip pancakes once edges begin to appear dry and bubbles start to form on top.
Remove from pan.  Plate and top as desired.  
Note: This also works well with mashed banana in place of the pumpkin.
---
a Rafflecopter giveaway
This post is sponsored by FitFluential on behalf of Vitamin Shoppe. All opinions are mine.
***
This might be the most marvelous package I've received.
What would you to try from the #proteinpantry?
Have you ever had protein infused nut butters?