My calf muscle survived the 5K!
Thanks everyone for the well-wishes!  I still don't know what's wrong with it, but I managed to finished the race in  23:14.
Stats:
Distance – 3.14 miles
Time – 23:14
Average Pace – 7:24
Despite my annoyance with myself, the Run for the Park was a great race.  Lee ended up running it too!
I crossed the line with the 1st place female in my age group (4th overall).  That's so frustrating to me because I know if I'd just pushed 1 second faster…  but whatever.  The course wasn't too hilly, but I was ridiculously sore from a kickboxing-filled week.  Because it makes soooo much sense to do that instead of run when your leg is hurt.  *rolls eyes*
Lee and I went our separate ways to get cleaned up before coming back to the park for the Corks and Forks Festival.
On the drive back, I saw a tree wearing a leg warmer.  Doesn't that tree know it's 95 degrees?!  #onlyinatlanta
Corks and Forks was a blast.  Maybe a few too many corks were popped…
They had themed chandeliers that I would put in my home!  In case you ant make it out – those are wine bottles, ribbons, and forks stabbing corks.
We got to witness (and taste!) a steak-grilling competition.  I took some stealth bites photos of the judge's steaks.
Contestant #1:
Contestant #2:
Contestant #3:
#2 and 3 were both REALLY good, but in the end my favorite won – #2!
It was grilled up by my favorite angry chef, Ron Eyester of Rosebud.  He topped it with local cherry tomatoes, parsley, and gorgonzola.
Corinne and I were so excited for our turn to sample, Lee could barely get a picture! 🙂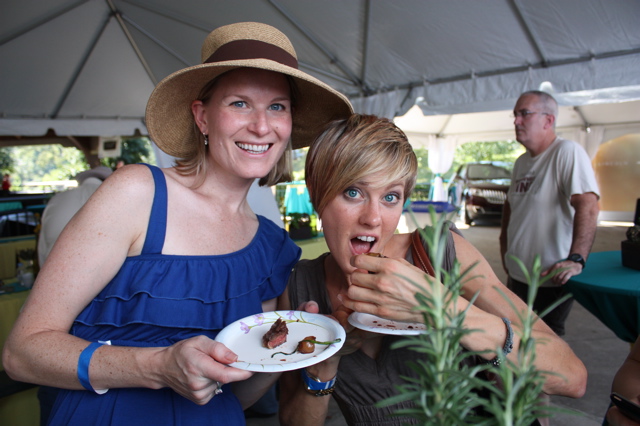 Normal people might end their day here.  We are not normal.
Corinne and I ate dinner (yes, after all that we still cleaned our plates) and headed to see Grace Potter and the Nocturnals play and my favorite outdoor amphitheater.
They put on a GREAT show.  Grace has such a big voice and the energy was radiating from the stage.  If you ever have a chance to catch them in your town, I recommend it!
We didn't feel like going home… but all I will tell you there was a pink flamingo involved.
_____________________________________________________________________________________
Here's the weekly recap.  I mentioned Saturday that I didn't run all week due to calf pain.  Sunday I actually felt better and cranked out 7 miles!  Hopefully I won't regret that later…
Workout Recap (8/22-8/28)
Monday – Biceps/Back, 6 Minute Plank Sequence, 100 push-ups
Tuesday – Kickboxing, plank sequence
Wednesday – P90X Kempo, 100 push-ups

Thursday – P90X Tris/Chest, Ab Ripper X
Friday – Kickboxing, 100 push-ups
Saturday – 5K, 30 mins legs/core, plank sequence, 100 push-ups 
Sunday – 7 mile run, 100 push-ups
***
So. Tired.  I had to fly out for the work week last night!
What was the best part of your weekend?
 Have you seen any good concerts lately?