First of all, I'm in Houston.  Apparently there was some basketball game here.
Congrats to whoever won! 🙂
(I'm kidding!  I do know that UCONN pulled it out in an astoundingly boring/low-scoring game.)
Second of all, I am a grocery shopping addict.
I wander the aisles aimlessly, dragging a quick 20 minute trip out to be a 2 hour extravaganza.
Seriously.  I have to look at every new product (buying far to many of them).  Trying samples (yes, my cheap-ass strategically time trips to Whole Paycheck Foods).  Retracing my steps after remembering the list I DO compose and halfheartedly try to follow.
One of my favorite "trial" items are new protein powders (big dork, I know).
You can imagine my excitement when I ran across this S'more-flavored treat on a recent grocery-wandering trip.
This deliciousness was located at Return to Eden rather than Whole Foods, but I'm sure you can find it in other locations.
The package cautioned that for best results you should NOT blend.  I ignored that craziness.  How else am I going to get my spinach in it?!
Into the Magical Bullet went:
S'more powder
Unsweetened almond milk
HUGE handful of spinach
1/2 a medium banana
1.5 tsp cinnamon
Shake of salt
My results were good.  I'll be purchasing a regular-sized version.  Stat.
I wish I had that this morning.
What I did have was a very cool view from the hotel gym.  Every hotel should put their fitness room on the top floor!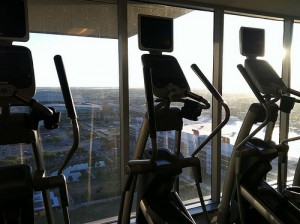 Headed down to the coffee shop to meet my boss for a bagel/strategy meeting.  Because even in Texassss breakfast is too early for margaritas.
***
What's the best protein powder you've found? I think I love them all!