It would have been fun to post a What I Ate Wednesday from Italy…
… but I just couldn't bring myself to sit down and write when there was so much to explore.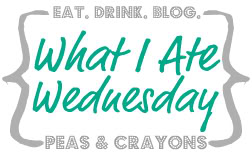 So today, 2 weeks later, I bring you: What I Ate on a Wednesday in Italy.
---
Breakfast:
Typical European tourist fare consists of pastries, cheese, and cured meats.  The novelty wears off after 1-2 days.
That Robiola Rocchetta cheese was pretty amazing.  It is native to the Piedmont region and would be fantastic with the local Barolo wine.  It is a layered, creamy cheese made from goat's, cow's, and sheep's milk.  It's structure is reminiscent of a brie – pliable rind with a dense, semi-soft texture inside.
FYI – this is what you get if you order a latte in Italy:
Lunch:
Most days this consisted of more cured meat and cheese with bread sticks… served at a wine tasting. 🙂
Snack:
We had a mandatory daily snack of gelato.
Dinner:
My favorite meal of the trip was at Il Cascinalenuovo, and Michelin star restaurant just outside of Asti.  The restaurant is part of a family-run B&B.  We were lucky to have a tour of the kitchen with Chef Walter.
Upon arrival we were greeted by Walter's niece, Alice.  Alice was so much fun to talk to and hosted us all evening.  Her father is the front of house and wine expert in the restaurant.
Chef sat with us for quite sometime, asking about our backgrounds and telling us about his inspirations.  He admitted to being surprised that we are "young and skinny."
He was expecting "fat old ladies."  Direct quote – I can't make this stuff up.
He told us the story of when he was invited to California to cook for a United Nations event where he worked alongside greats as Wolfgang Puck.  Puck introduced him to Asian-fuision and inspired one of the dishes we would be eating.  I love hearing the stories behind techniques and dishes.
The kitchen was having dinner when we arrived, so Alice showed us to the pool patio for aperitifs.
Walter came out again to give us a kitchen tour.  He thoughtfully explained each station and process.  Chef Walter is a big fan of preparing meats sous vide.
We were even able to stand in the back to watch the first order being coordinated!
The kitchen was quite tolerant of our paparazzi-like behavior.
We sat down for dinner an elected to let Chef Walter surprise us rather than ordering off the menu.
We do know how to order well!
This turned out to be the best meal of the trip.
The starter alone was mind-blowing: a perfectly silky pumpkin soup with Parmesan gelato.
Followed by the dish inspired by Wolfgang Puck: Sesame-encrusted Amberjack fish with julienned fresh vegetables, wasabi, and passion fruit sauce.
Next was Chef Walter's signature dish, created in 1987.  It has become his signature dish.  Normally we'd be leery of the ingredients, but this was on a whole new plateau of deliciousness.  Corinne nearly licked her plate.  
Veal tongue and foie gras millefoglie with port wine jelly and balsamic reduction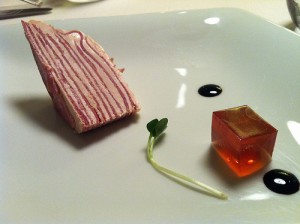 Check out this wine glass – the bubble ring makes it perfect to swirling/smelling.
I'm on a mission of find a set for myself!
This texture combination in the next dish was divine: quail egg, duck carpaccio, marinated porcini mushrooms served atop a bed of butter lettuce.
Last was the region's Tajarin pasta (homemade) served with porcini and finfirli's mushrooms.
Did I say last?!  I meant last dish before dessert.  2 girls = 3 desserts.
Chef Walter clearly knows the way to my heart.  He even made one with almond milk!!!
Thank god we had a driver because a food coma immediately ensued.
Thank you, Ferretto family, for an evening we'll never forget!
***
I still swoon just thinking of this meal.
Have you ever had a meal so good it brought tears to your eyes?
Do you carefully plan your restaurant strategy when you travel?  Or do you think I'm crazy?