3 days of all the food and drinks imaginable.
It's like how I envision heaven, except in heaven you never get too full.
This weekend was my favorite event in Atlanta: The Food & Wine Festival.  Many of you have probably heard of the Food & Wine Classic in Aspen.  This event was modeled after that.  It's in its 3rd year, and this was my 3rd year attending.  It just keeps getting better!
Kat, my friend and bi-weekly guest blogger, came with me to the first day: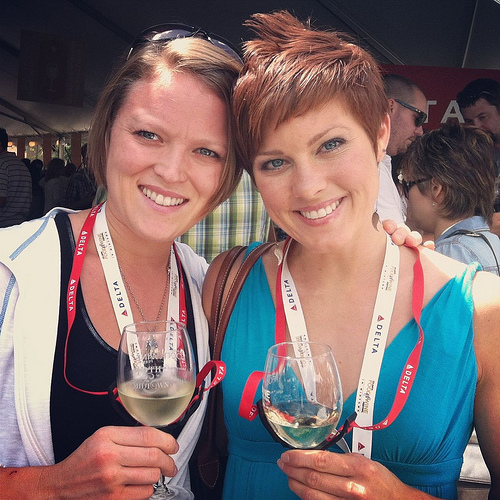 I can't even being to recap everything from the weekend, but today I wanted to share some of the eats (and drinks) with you.  You will be shocked at the volume… but one thing you learn is NOT to clean your plate.  Take a bite and toss it.  It sounds wasteful, and I had a really hard time (read: failed) doing it in my first year… but if you ate everything you'd explode.  Those starving children in Africa aren't going to benefit from you finishing every dish.  I was stuffed from the millions of bites!
The kickoff was on Thursday night at JCT Kitchen in Atlanta.  It was set up like a tailgate party where you went from table to table sampling foods and drink created by chefs and mixologists around the Southeast.  It was aptly named Pig Out.
Clockwise from top left: Tito's vodka with , bonal, aperol, lemon, cucumber, tonic from Paper Plane in Atlanta; Southern BLT Slider with pimento cheese and bacon jam from The Hungry Peach in Atlanta; Pork ribs with moonshine BBQ and peach slaw and a deviled egg from JCT Kitchen (this was my favorite… and I don't even like ribs!); Cupcake heaven: coconut with marshmallow icing, strawberry, and red velvet by Sugaree's in Mississippi; Shrimp with rhubarb and summer pea sauce
Clockwise from top left: tailgate scene; Four Roses bourbon with marsaca cherry paste, lemon, and orange blossom from The Crunkleton in Chapel Hill, NC; Blood sausage queso fundido with corn tortillas from Underbelly in Houston, TX (blood sausage is not my favorite… but I tried a bite); Grilled andoullie, cheese grits, and sauce piquante from Restaurant Iris in Memphis, TN (the piquante was amazing); Cherry Old Smokey moonshine cocktail (I loved the 'staches); Country sausage with Southern kraut and beer mustard from Local Three in Atlanta (mustard WIN).
Friday and Saturday started out with workouts.  A good sweat to begin the day is a must during this weekend!  I got in a great weight session and ran some stairs in the park on Saturday.  They sky looked threatening, but it cleared up by the time I walked to the event!
We had classes each morning, then it was on to the tasting tents!  More on the classes later – I learned a LOT!  For now, the gluttony.
I wish I could remember each restaurant, but it's hard to juggle food, wine, cameras, and taking notes.  #bloggerfail
Things to note:
Strawberry moonshine is delicious.  And dangerous – it tastes like candy.
The bottom left pic is a piece of pork belly… with a Pop Rocks crust.  Literally an explosion in your mouth.  That's what she said.
The bottom middle is the Pine Street Market table, which was my overall favorite each day.
The bottom right was a collard-wrapped sweet potato tamale from Acre, a restaurant set to open this fall in Auburn, AL.  It was really, really good.
Things to note:
Things to note:
The salmon in the top middle is crave-worthy.  I'm considering a trip to Louisville, KY to get more from Proof on Main.
Mole Negro Chocolate (bottom right) from French Broad Chocolates in Asheville, NC was impressive – at first I thought it was plain… and then a full 5 second into the bite the kicker came – a delicious wave of chili and spice.
Things to note:
The Lazy Goat in Greenville, SC made the dish on the bottom left.  It was a Moroccan braised lamb shank with cucumber yogurt and a plantain chip.  It stands out in my mind because I loved the warm sauce and rich lamb again the fresh, cool yogurt.
I wish I could remember where the dish in the bottom middle came from.  It was a cucumber wasabi sorbet with shrimp and mango sauce.  Light and delicious.
---
Annnnd… salads are also marvelous.  Sunday I sold my pass – I was stuffed!  Instead, I played 3 softball games (we are 8-1 for the season!) and spent $50 on veggies alone at the farmer's market.  There will be a lot of this happening this week:
***
Stick a fork in me, I am DONE.
Have you been to a food festival?  Are any of the restaurants I mentioned in your hometown?
What was the most marvelous part of your weekend?