Oops, I did it again…
You can thank me later for getting that classic song stuck in your head.
Tuesday was leg day.  Two days later, walking is a difficult task.  25 barbell squats, 4 sets, increasing weight.  Weighted lunges.  25 hack squats, 4 reps, increasing weight  (I HATE hacks!).  And that was just the first 3 exercises.  Oy.
The good news is that my trainer told me he sees huge gains in the last month and my legs are getting bigger!
And my BUTT!!!  Woot!
But my pain today doesn't come close to how Kat must have felt after her Ultramarathon "Death" Race.  Only a crazy person celebrates a birthday like this.  😉
Read on for Kat's fabulous story…
________________________________________________________________________________________
On March 16, 2013, I ran my second Ultramarathon.  It was definitely the biggest physical challenge I have ever undertaken, and I savored almost every minute of it.
I woke up at 2:15am and began my journey.  I hadn't slept much the few nights before it, and only about 2-4 hours the night before the race.
I was so nervous I couldn't sleep!! (Editor's note: I would have barfed from the nerves.)
I stayed at Hiker Hostel on Friday night with my friend Ann.  She braved 5:00pm Atlanta traffic headed north to get me up there (you Atlanta folk know that THAT is a sign of true love).
We left the hostel at 2:45 in the morning to head to the start where I checked in, got my map, met some runners, and began my journey.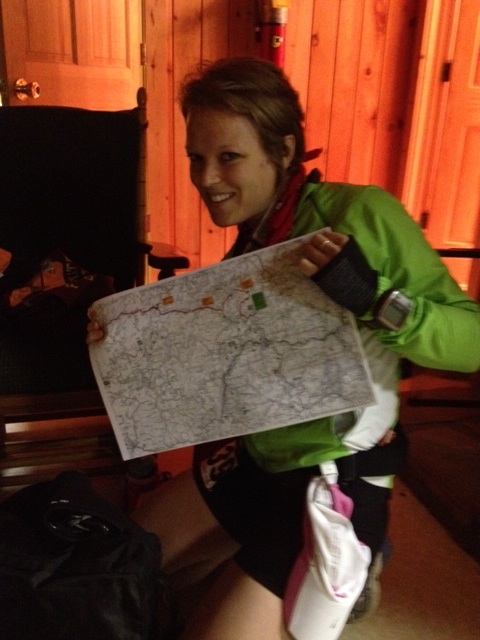 At 3:55 the race director, Sean, gave a funny speech that began, "It was the best of times, it was the worst of times…" and you know the rest.
It made all of the runners giggle nervously as we began our journey on the Georgia section of the Appalachian Trail.  We started at Vogel State Park.
Before the 3rd Mile, I was feeling absolutely fantastic.  I was skipping along on the rails, "dancing forward" with a smile on my face.  Sometime right around then, I fell HARD, heard my ankle pop, screamed a little.  Then, with a little encouragement from a few friendly trail folk, I was up and on my way, hiking with the best of them.  Oh yeah, HIKING.
People, this was NOT a running race for the most part.  This was a hiking race.  It was elevation, elevation, elevation.  We climbed about 17 peaks on the Appalachian Trail.  I was at Duncan Ridge for Sunrise, after already climbing over 2,300 feet.
I had so much fun in the early parts of the race, making friends, laughing about slipping in mud, and hiking up, up, up.  We were all frustrated with the hills, in awe of the views, and even more in awe of our strength as we climbed. (Editor's note: I am in awe fo YOU!)
I continued to have fun, and I met a guy named Kip, a fire fighter who loves to help people.  He was strong, loyal, and kind.  He offered to wrap my ankle at the next rest stop.  That was before I tripped on a down-hill around mile 16 or so, heading face-forward into the leaves, busting my knee.  I finally got up, cursing the leaf-covered ground, then tripped hard and sprained my ankle even worse around mile 19.
I eventually made it to mile 21, convinced I wouldn't be able to go on.  When I got there, I saw the race director, and I became determined to finish.  He made this course ridiculously hard for a reason, and I wanted to finish.  Another runner wrapped my ankle, and I pressed on.  Things got slower after that.
At mile 25, I decided it couldn't get much worse, so I kept going.  At mile 28, I got my ankle re-wrapped and pressed on for the most frustrating part of the run.  I found a stick that became my friend as I hiked and hiked and hiked uphill.
I cried, I was frustrated, and I pressed on.  I wailed, and I cried when I when saw the clearing that meant the climbing was over.  (Editor's note: I really don't have anything to say… you are fierce.)
Eventually I got to mile 44-ish… Winding Stair Gap aid station.  I got a big hug from my friend Wilson, and I finally knew it was in my ankle's best interest to stop.  I had hiked and run over 44 miles, climbed over 13,000 feet, for 14.5 hours on a sprained ankle.
I called the friend who was picking me up, and she brought me home, in pink fuzzy slippers, as my ankle swelled.  (It's much better today – good thing I stopped when I did).  I feel like it was the most noble DNF (Did Not Finish) ever, and I really gave it my all.
The 14.5 hours really made me think – WHY am I out here?  WHY am I doing this?  What is this for?  And I think I know.
I think I know why I run, why I stay out in the woods for hours and hours trying to find myself.
Not only does it teach me to keep moving forward, even when things are difficult or painful, but it lets you embrace the moments that suck because they help you to know just how strong you are, and just how strong you can be.  I think we all can feel down or defeated from time to time, some more than others.  When you find the thing that helps you move on, that works as your therapy and that helps you to believe you're more than you thought you could be, that just might be your thing.
I think I realized through this race, that whether it's running, creating art, raising kids, lifting weights, or whatever your thing might be, that you need to do what makes you feel strong and what makes you feel alive.  (Editor's note: So well said – we are so much more than we first imagine.)
No better way to celebrate my 26th Birthday. (Editor's note: Such a tender young age. 😉 )
________________________________________________________________________________________
Laura posted about my nighttime potluck gathering yesterday, which I believe brought about 25-30 people together, an eclectic group from all walks of life. 🙂  It was the best birthday I have had in a very long time, and I LOVE my birthday.
I also got to go to a birthday lunch with one of my dearest friends in Atlanta.
We went to the One Eared Stag. I had one of the weirdest and most delicious meals ever.  (Editor's note: Whaaaat?!  I want to try this place so bad!)
In the picture:
White Anchovies
Olives
Fried Dates
Mint
Pine Nuts
Such a weird and delicious combo  (Editor's note: Strange but good?).  I think the marriage of the nutty white anchovies with the sweetness of the dates made this dish really work.  Everything else sort of worked in for a flavor-explosion in my mouth.  I also had the carrot soup with fermented garlic and ginger.
All-in-all a great lunch, and I'm really looking forward to going back to try it again!
***
Funny side note: Kat texted me yesterday to ask if I was ok with her sending bloody pics to post.  I said bring it. 😉
What challenges make you feel more alive? Stronger? Better?
What strange but good combos have you had recently?  Don't forget to link up tomorrow!