Alba is my favorite European city.
I begged Vegas to stay.
Alba is in Piedmont, the northwest region of Italy. It's been my favorite since my last trip here 5 years ago.  This is the area famous for Barolo (the king's wine), Barbaresco, hazelnuts, and truffles.  We did it all!
I've had more white truffles than should be allowed.  They don't look like much from the outside, but these rare (and expensive) mushrooms are a delicacy unique to this region.  You can only get them in the fall.  Alba even has a festival dedicated to them!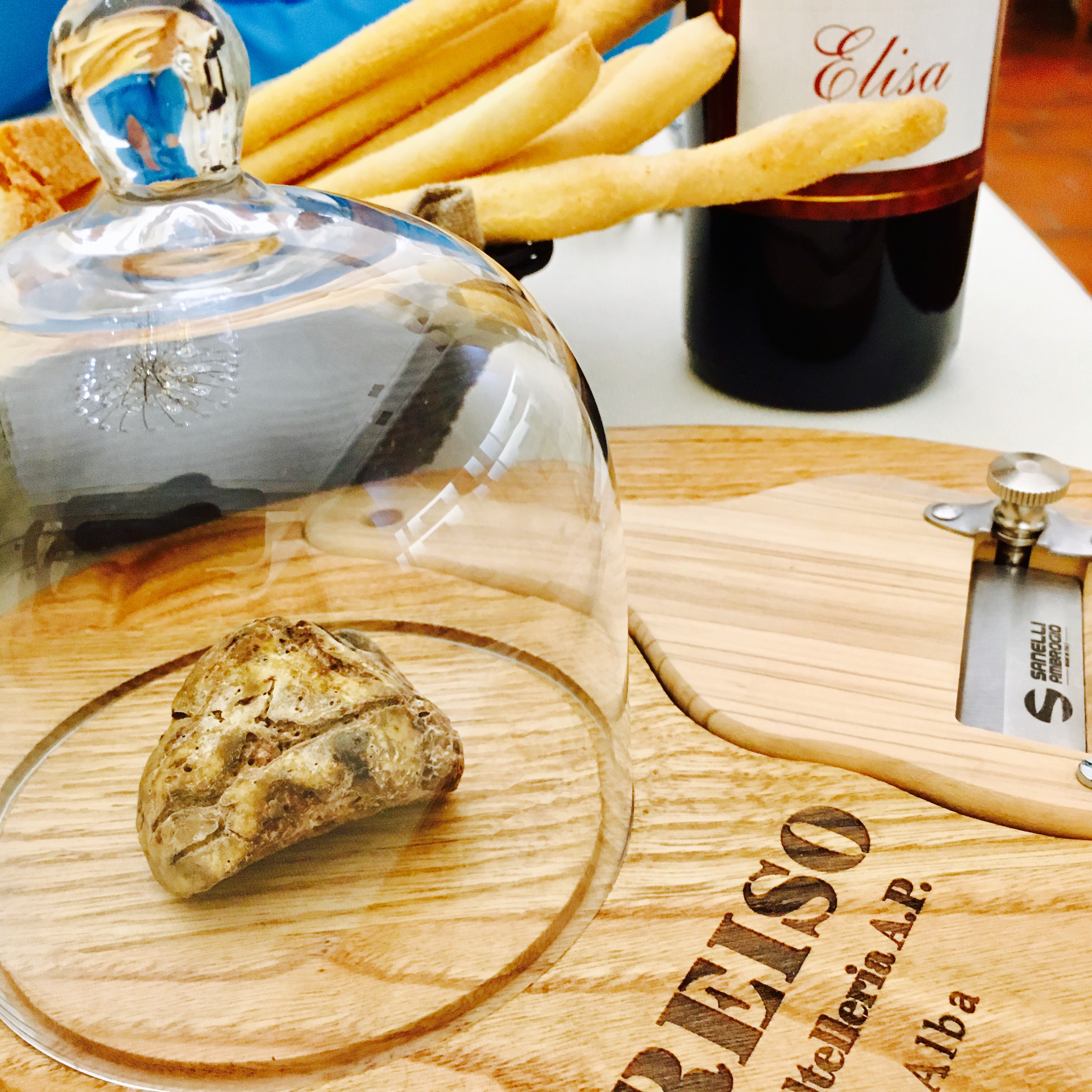 It goes without saying that we've also had our fair share of wine.  Between dinners, tastings, and random stops, we've been in wine heaven.
Something about the wines here doesn't give you the headache that red wine in the States does. Maybe it's the purity?  Italians don't add anything to the wines, letting them develop naturally.  Or maybe it's in the name…
And we saw a donkey race. Really. There's a parade through the city where each village is represented. They dress up as they would have in medieval times, there are flag twirlers, drums, and other craziness (a wooden trailer of geese?!).
The parade ends in a small area where each one of the villages depicts a scene from back in the day… and then they are all represented in a donkey race.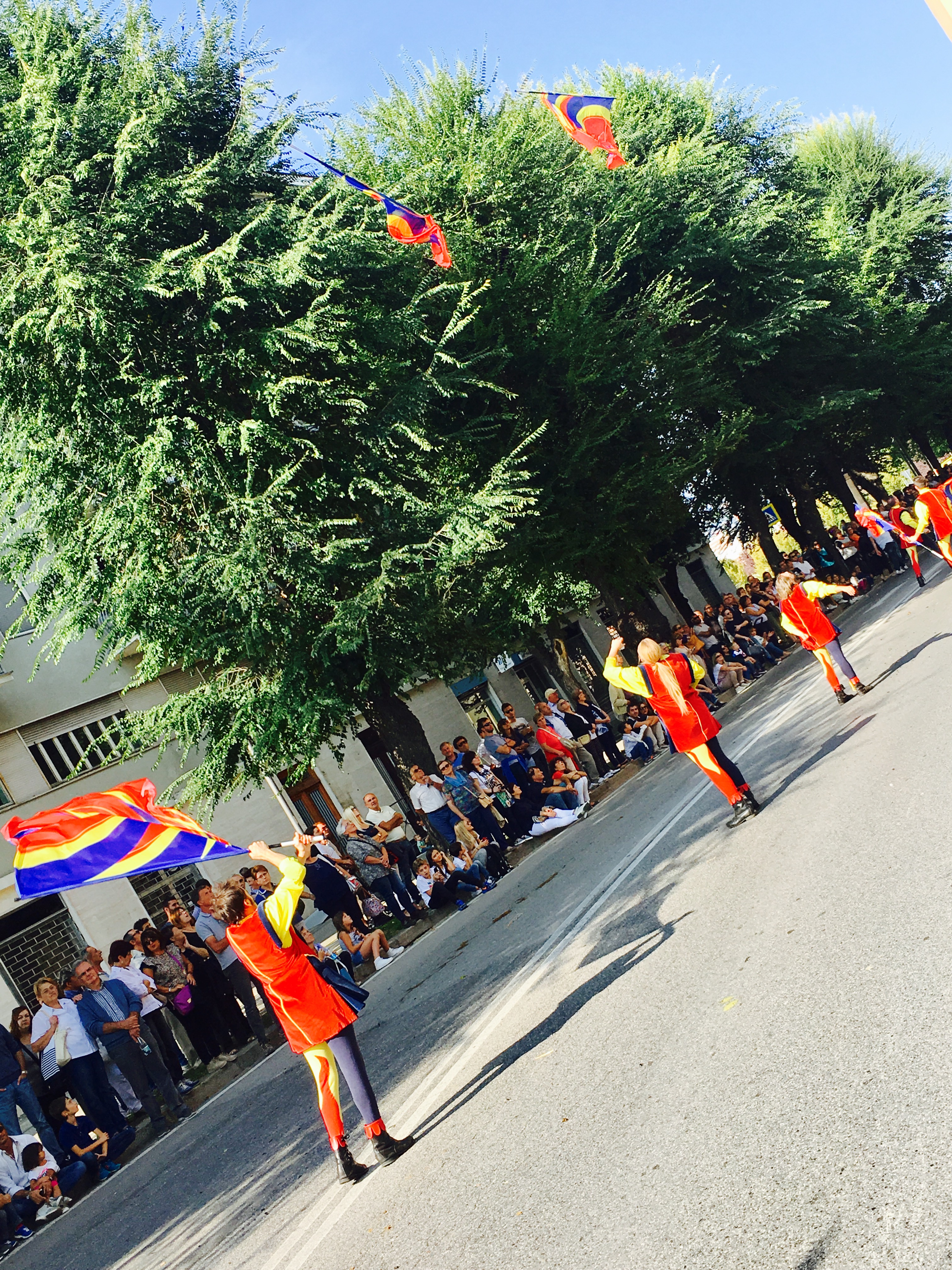 I don't know how familiar with donkeys you guys are… but the race went exactly as one would imagine. Some of them ran wild, some refused to move, some ran in the opposite direction… it was crazy! We laughed SO HARD. If you've ever been to the Renaissance Festival, imagine that but even better.
The story is that hundreds of years ago the neighboring city, Asti, had a big fancy horse race. The people of Alba were sort of making fun of them by starting a donkey race. Like "you think you're so fancy with your horses… look at our cool… asses…" Brilliant.
So. Here's what we ate the day of the donkey festivities. It was almost as epic as the race.
---
Read on for my whole day of Italy eats, and link up to Jenn's WIAW baby right here!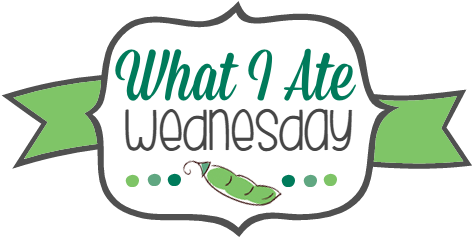 ---
Breakfast:
The usual morning cocktail – yes, we packed BCAAs and apple cider vinegar.  And it was at Vegas' request!
Italians don't eat a lot of breakfast.  Maybe a pastry… but really there isn't much until lunch at noon.  It tends to be fine because dinner isn't eaten until 8 or 9, and it's quite large.
On this day I stopped after my run at a café to get cappuccinos for Vegas and I.  When I saw the fresh croissant, I couldn't help myself!  Totally worth it.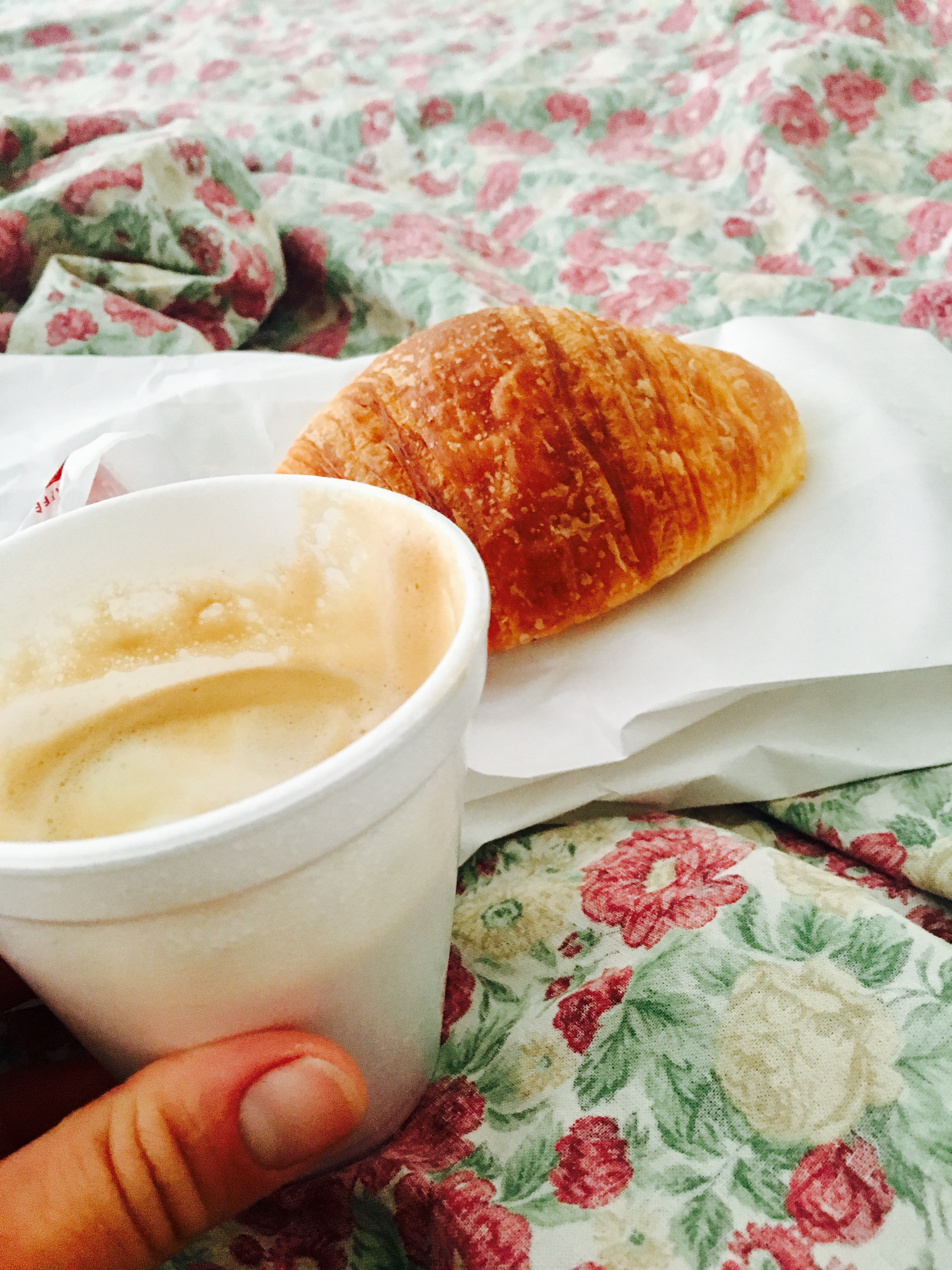 Lunch:
We stopped on our way from the parade to the donkey race for pizza slices.  In Alba, pizzas are commonly done on a thicker bread, more like focaccia.  It's amazingly delicious.
Mine was a seafood pizza with shrimp and zucchini.  Vegas got sausage and mushroom.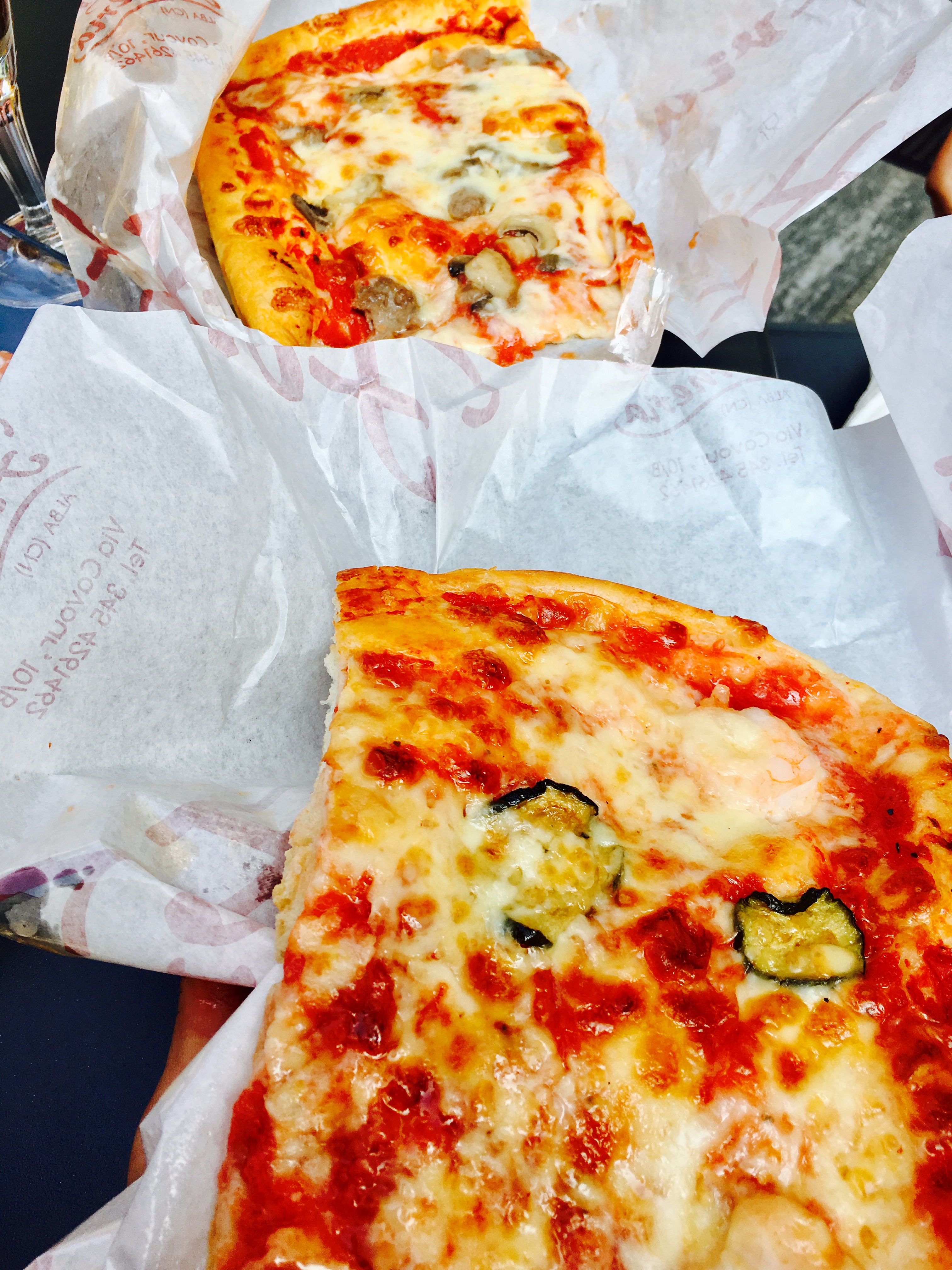 We also stopped for drinks, which meant a snack plate.  The very best thing about drinking in Italy is that you also get food.  And usually two drinks are only about 10 euro!
I always have an Aperol Spritz, Vegas always has beer.  Aperol Spritz is a popular drink in Italy; it's just 3 parts prosecco, 2 parts Aperol and a splash of club soda.  It's a nice, low alcohol afternoon refresher!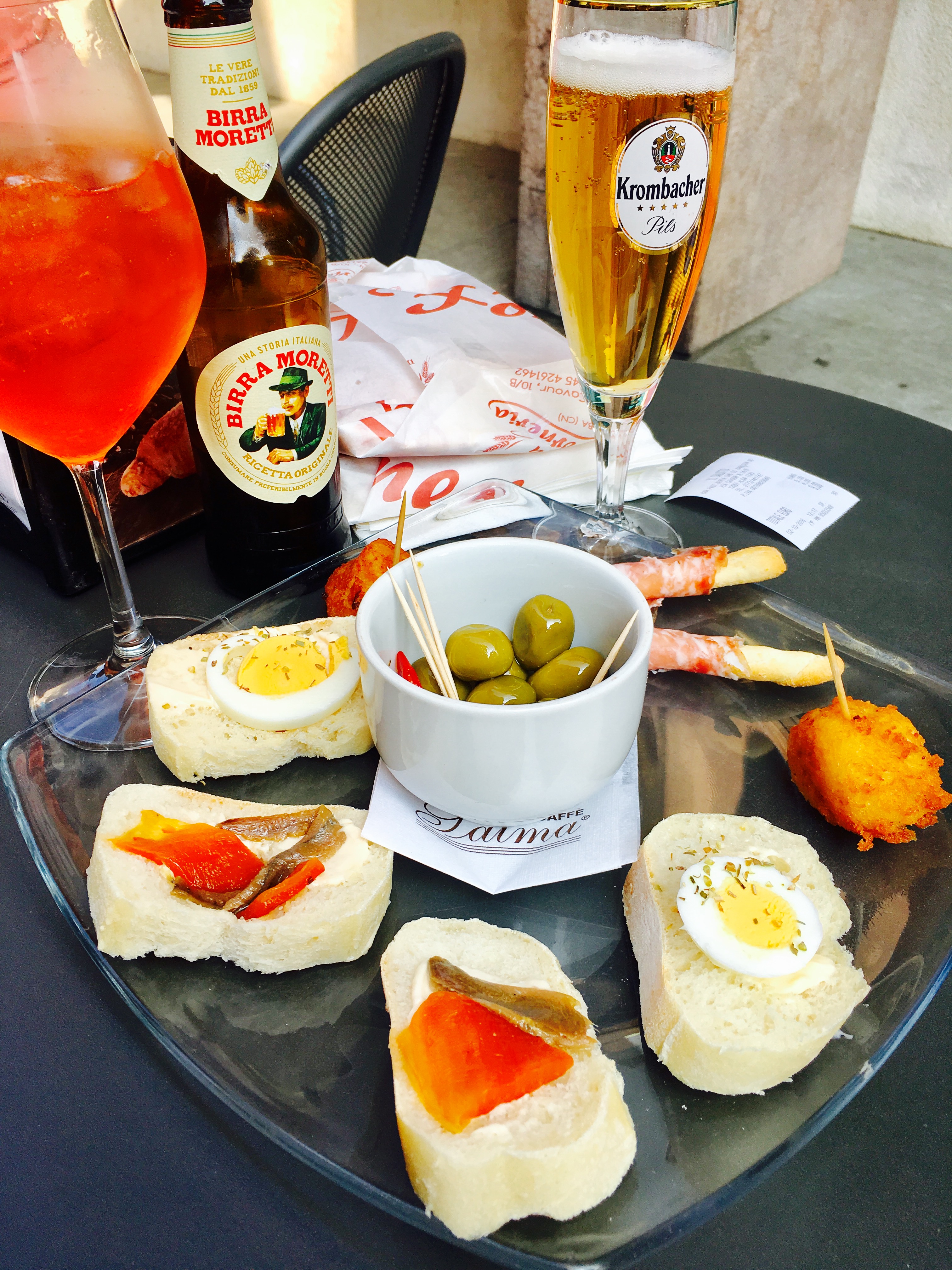 Snack:
Because dinner is so late, we have to stop for another drink and snack plate.  We found a wine bar right next to our Airbnb in Piazza Savona called Enoteca Roberto Sarotto.  It quickly became our daily apertivo spot.
I had another Aperol Spritz, Vegas had a glass of Barbaresco.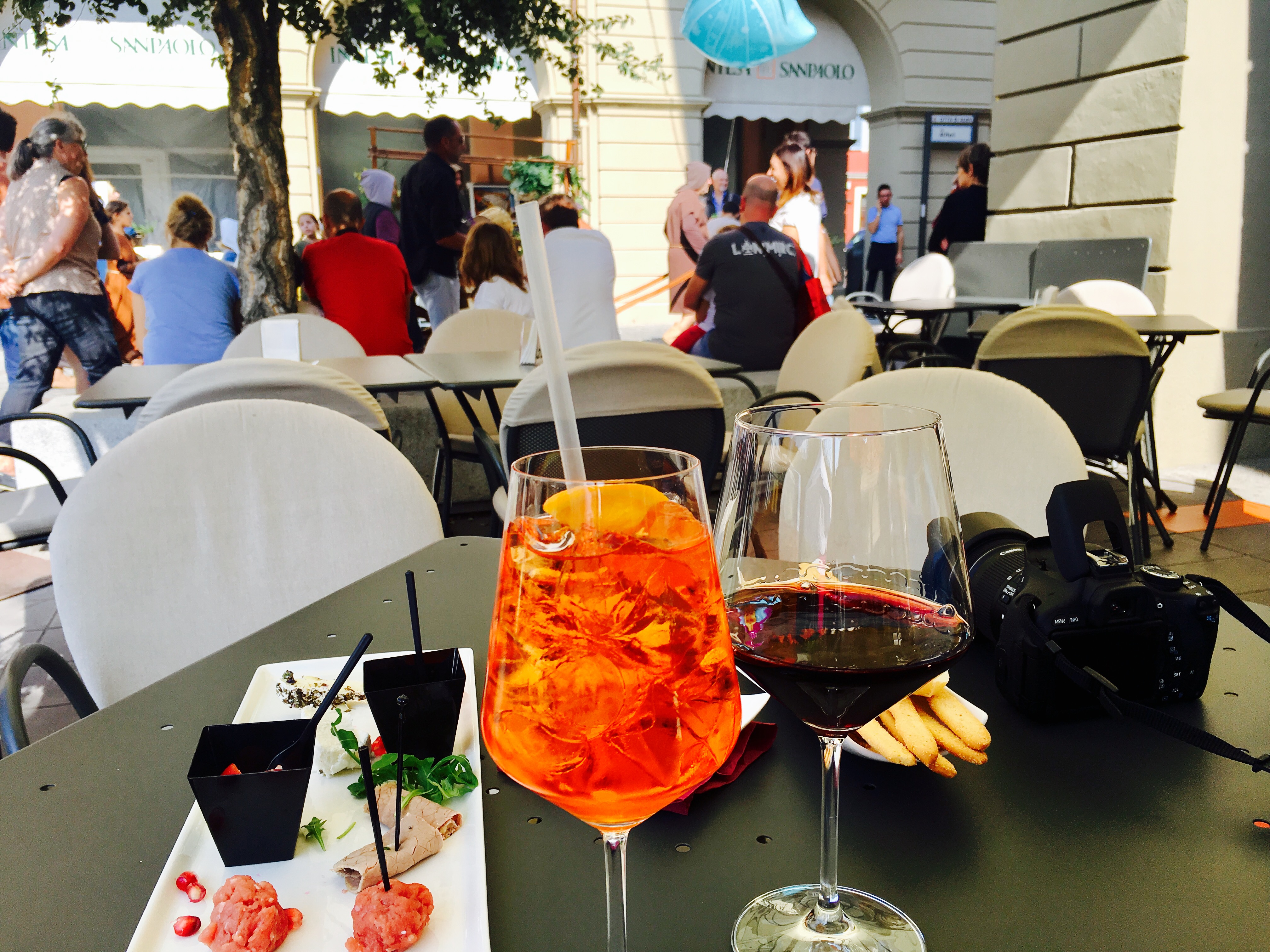 Dinner:
We took the suggestion of our wine tasting driver and checked out a restaurant called Enoclub. It was under a building in a gorgeous cave-like room. It was one of the best meals we've had … and the only night so far I felt STUFFED. Totally worth it.
We split a fabulous bottle of Barbareso wine.  There was an amuse bouche (gift from the kitchen) – a tiny little spinach quiche with a schemer of tomato sauce.  Then I had veal tartare with black truffles.  Vegas had a potato with some sort of cream sauce and black truffles.  It was so good she giggled when she took a bite.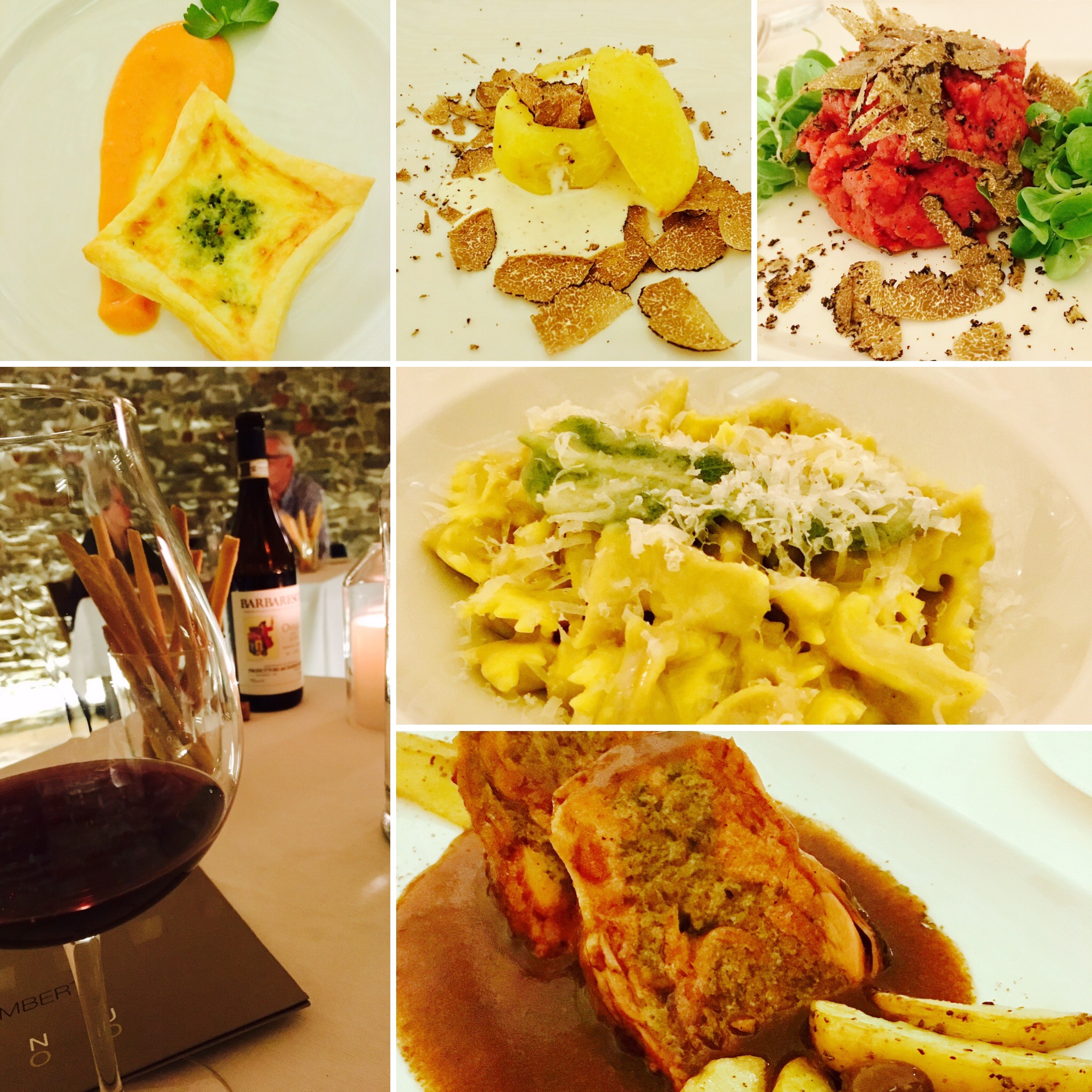 For my main dish, I chose the stuffed rabbit.  Yes, rabbit. It's really good, I promise!  Rabbit and veal are the most common meats in this part of Italy.  (Vegas is really excited to get to Florence for some steak!)
Vegas had the plin with butter and sage.  Plin is basically teeny raviolis stuffed with sausage.  That and tajarin are the most common pastas in Piedmont.  Both fabulous.
Next up was dessert.  We split a molten chocolate cake with a minty gelato.  Then there was a final gift from the kitchen – a sampler of sweets.  The little stuffed croissant things were my favorite!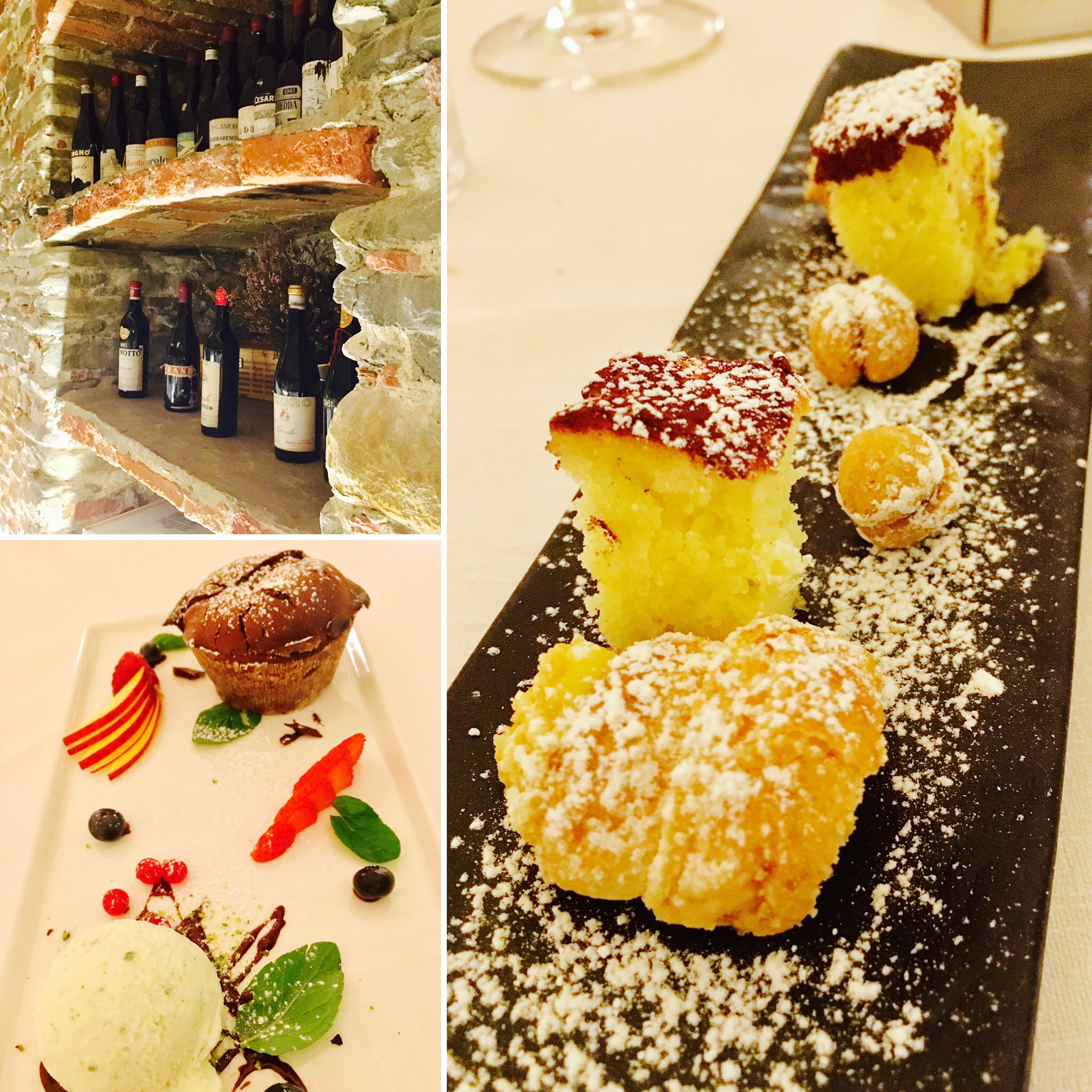 A nice meal like this in the states would have easily been over $250, especially with the wine.  This meal was $130… and you don't tip!  I can't believe how much more affordable it is to eat here.


***
Now we are in Cinque Terre. I was sad to leave Alba, but this place is stunning too!  Make sure to follow along on Instagram!
Have you ever been to Italy?
Would you eat rabbit?