My friends always ask me "do you even work?!"
Ah, the beach life…
I work for myself, which means flexibility.  It's something I value above all else.  I go to the gym when I want, I basically alternate between PJs and gym clothes, and – best of all – I can work from anywhere.
One of my favorite types of posts to read are "day in the life" stories.  Today I thought I'd try my hand at one, along with the usual WIAW post.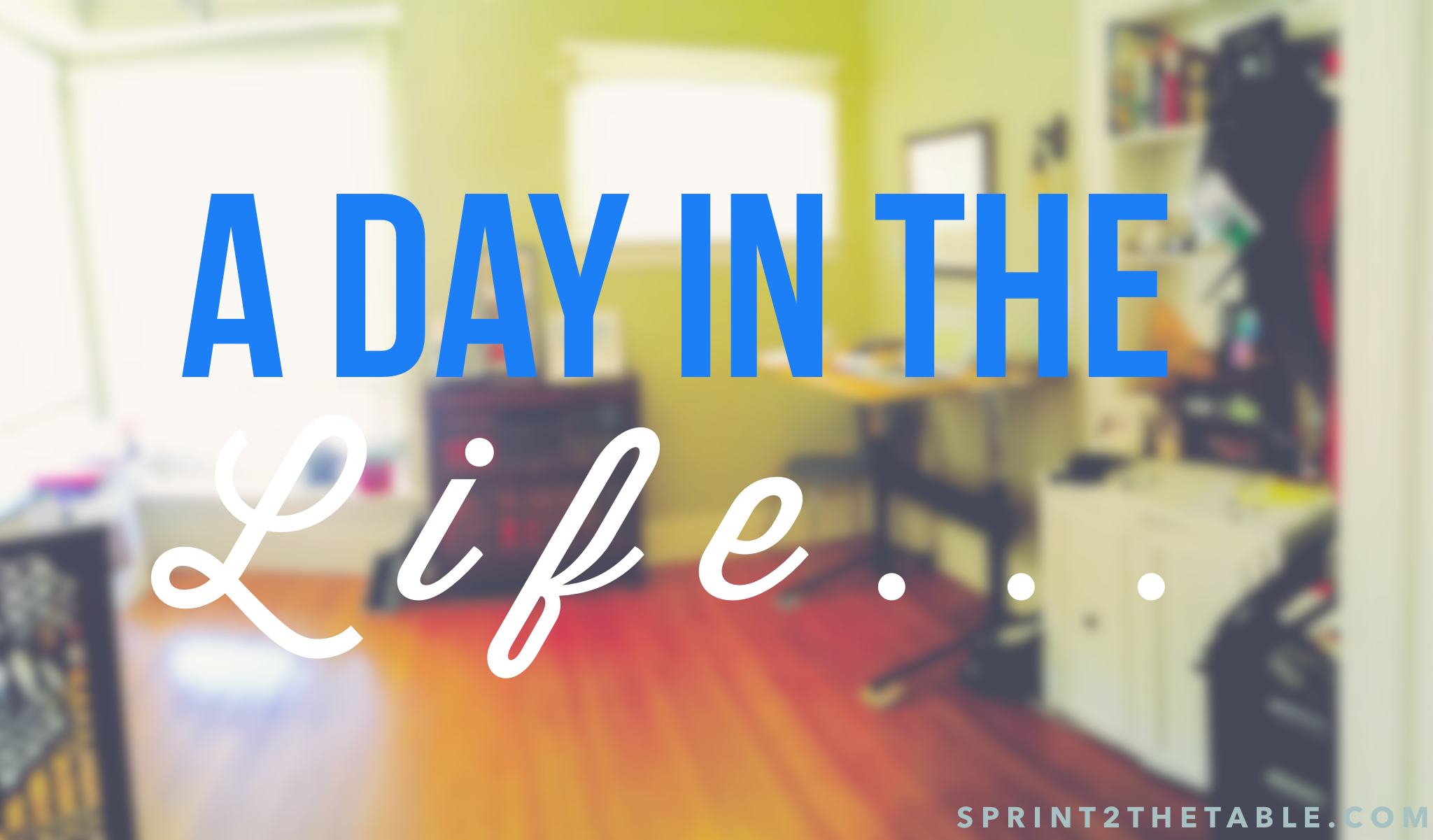 If you're interested, this how I spend a typical 24 hour period (this happens to be Monday).  If this is boring to you… well, I can't say I blame you.
A day in the life…
6:30 AM – Hitting Snooze
Vegas' alarm goes off.  She hits snooze for the next 30 minutes before rolling out of bed.  I sleep for 30 minutes more, spreading out to take over the whole bed.  Finally alllll mineeeee!
7:30 AM – I'm up, I'm up
I wake up, check my phone, go #2, and stumble to the kitchen.
8:00 AM – Morning drinks
Every day starts with a cocktail for both of us.  We're addicted.  I take/chew my vitamins, then pour a cup of coffee.  I move to the couch to drink my coffee while checking email, reading blogs, and watching the news.  Because that's so uplifting.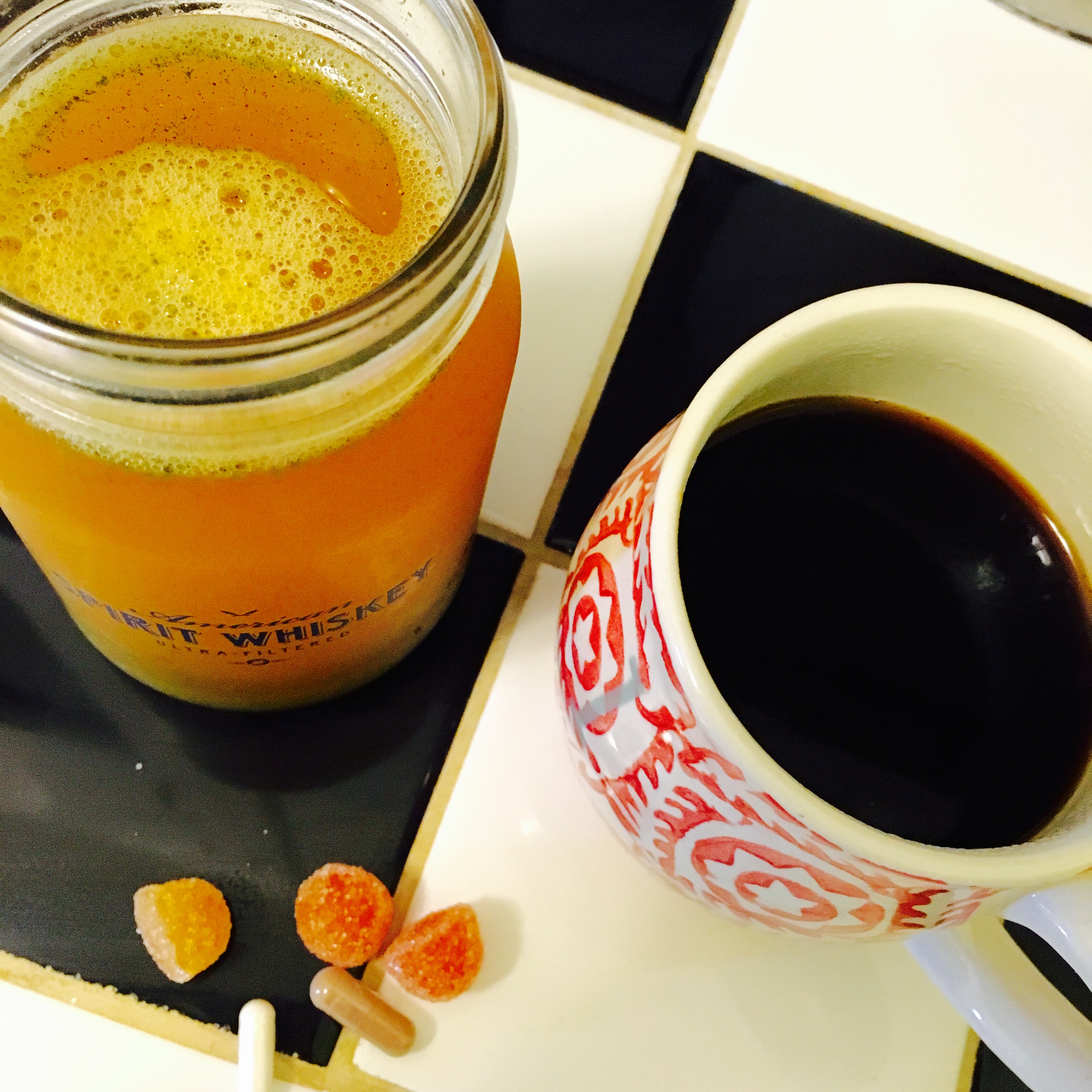 8:45 AM – Baking Fail and Breakfast Recovery
Sometimes I'll do a little cardio first, but I had a morning meeting so breakfast is early today.
I felt like baking.  It started out promising.  The batter was good, but upon baking… meh.  It was wayyyyyy to dry.  So I angrily chucked it and made another breakfast.  Vegas came out of her office to eat with me.  I love that we both work from home; we work separately, but get to have every meal together.
The chocolate-avocado protein sauce was just a little mashed avocado, 1/4 scoop chocolate cake batter protein, and water, to thin.  (Vegas had toast and PB.  Sweet potato and protein sauce is a little too weird for her.)
9:45 AM – Work
I had just enough time to check up on some emails before my call.  Dial into conference call, make presentation updates, emails, etc.
Here's what my workspace looks like (I rarely sit down):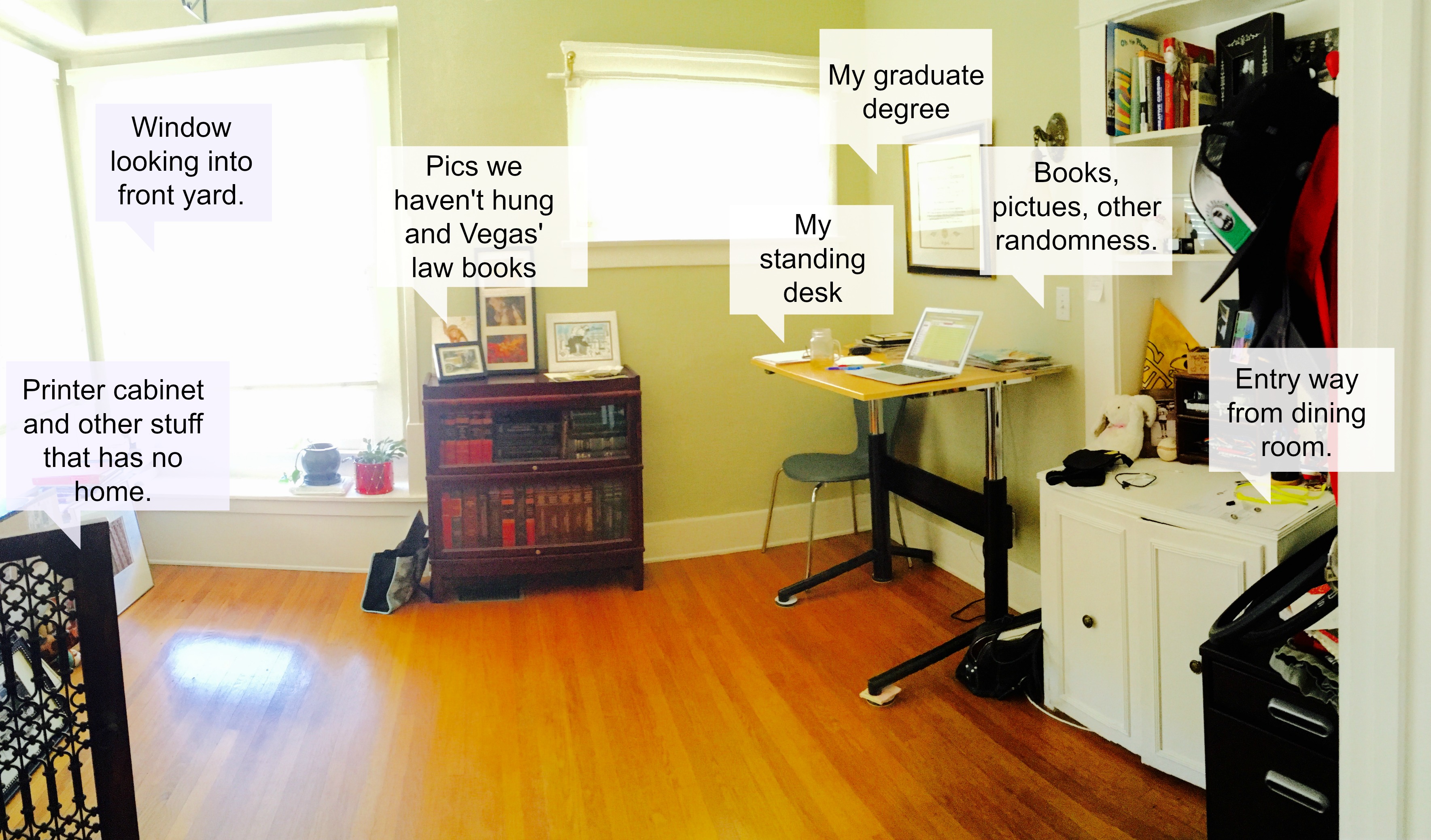 12:15 PM – Finally Getting Dressed
At this point I still haven't washed my face, so I decide to try to look human.  I put on a little make up; I never go anywhere without at least mascara.  It's my one girly attribute.
I change into gym clothes.  Fabletics, as always.  I just cleaned out my closet and I'm still wondering why I kept 99% of it.  I literally only wear Fabletics leggings (the Navassa crop is my current favorite), sarcastic tank tops, random tees, running shoes, and flip flops.
12:45 PM – Lunch
Then I make lunch chicken salads for lunch.  I used rotisserie chicken and tossed it in mustard and Greek yogurt (mayo for Vegas).  Add veggies.  Eat.  Quick and easy!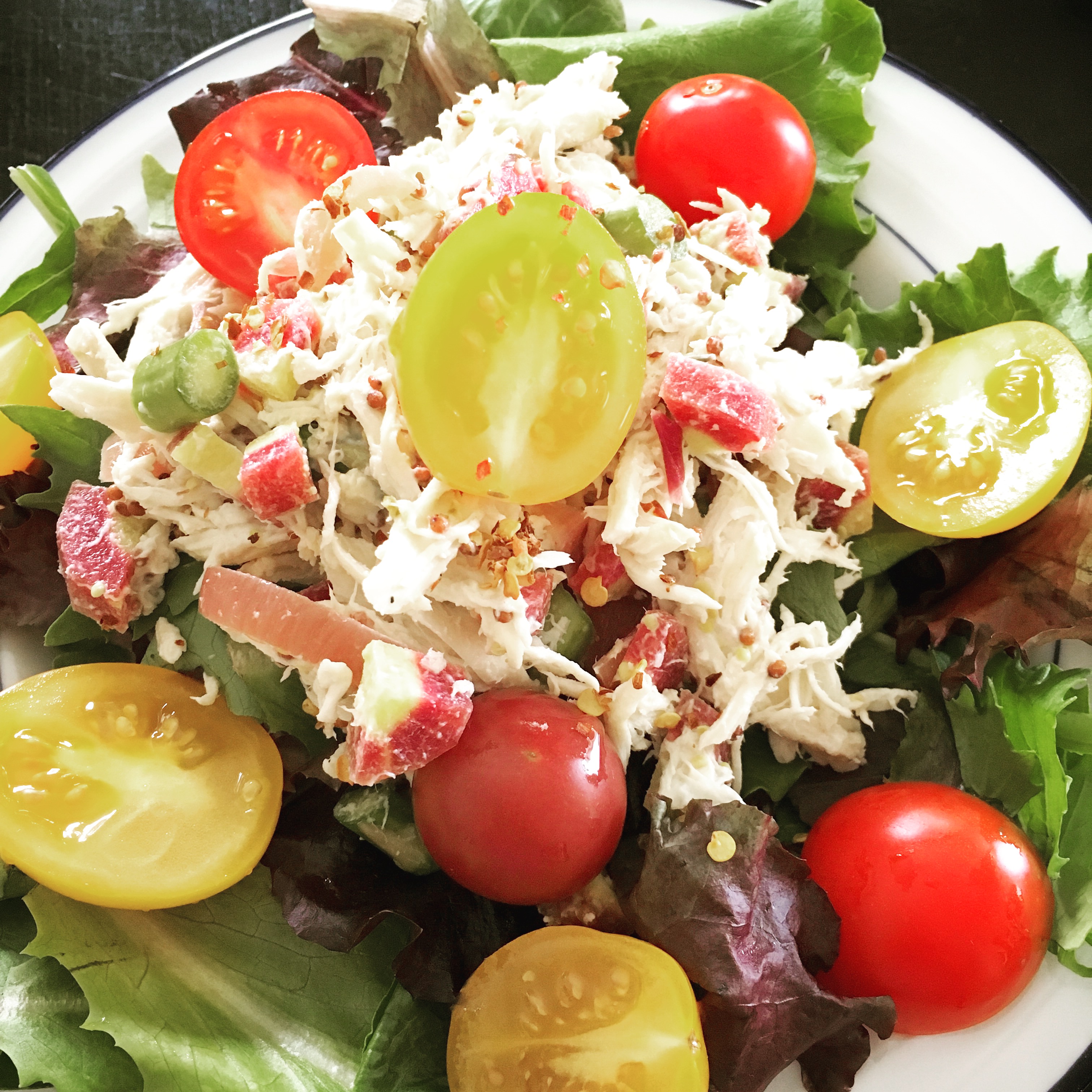 1:30 PM – Gym Time
I walk 5 mins to the gym.  Gym time is my favorite part of the day.  Sort of.  I like that it breaks up the day.  I love to lift.  However, I hate cardio.  I "reward" myself for cardio by starting with half the cardio, then breaking to lift (the fun part), and finishing with more cardio.  I take a mini break during cardio #2 to take a call from a client.  It was nice to have an excuse to jump off for a second.
The highlight of the whole experience though was a 40 minute voice message from my Swiss sister.  She recorded it to entertain me because cardio is SO BORING.  That's a true friend.  I was laughing out loud, responding to her life updates in my head (I hope), and generally entertained for the entire experience.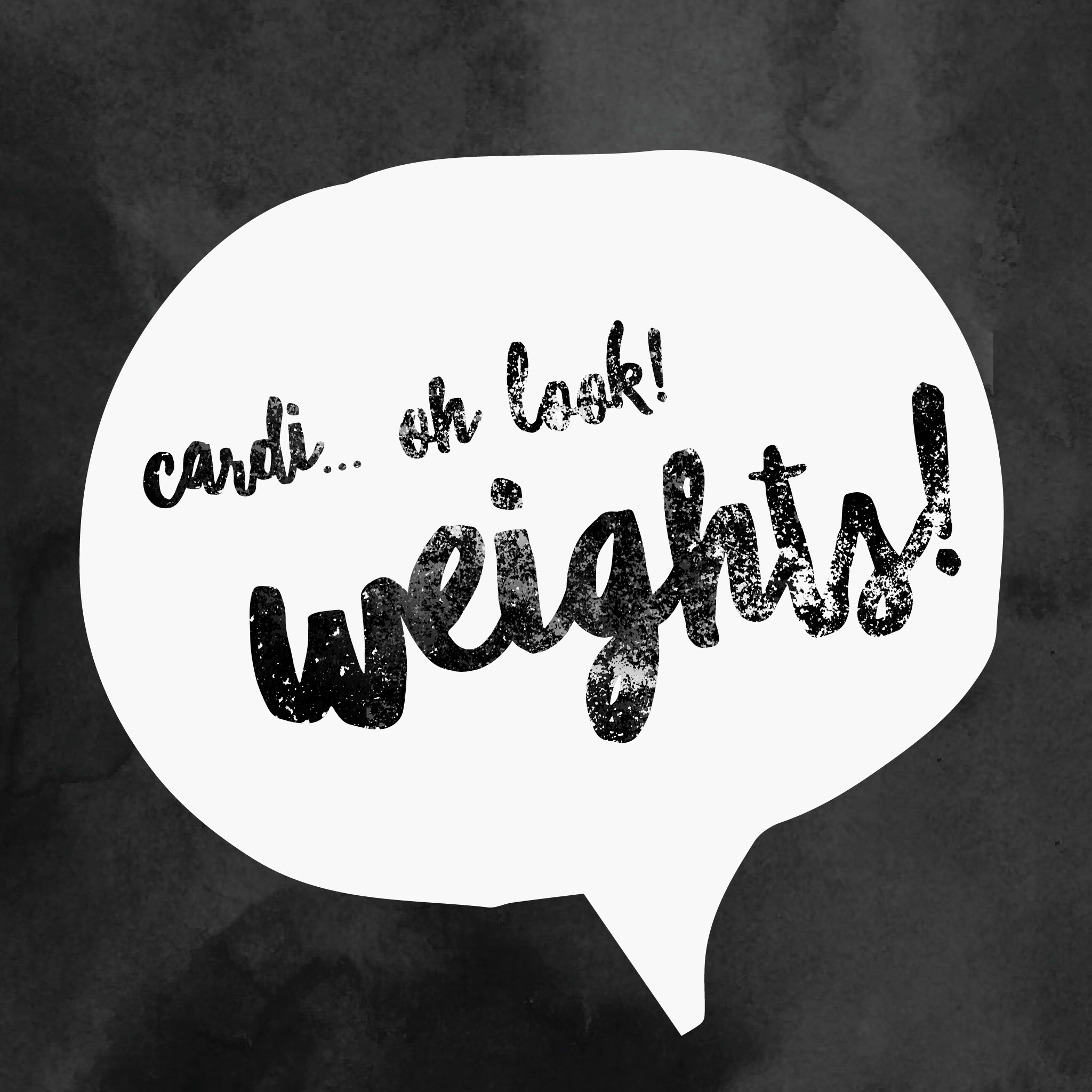 New workout music helps me get though cardio too.  Check out my summer playlist here.  It's eclectic… to say the least.
3:45 PM – Gym Recovery
Protein, then shower.  I was burning up so I made a giant bowl of chocolate-banana protein ice cream.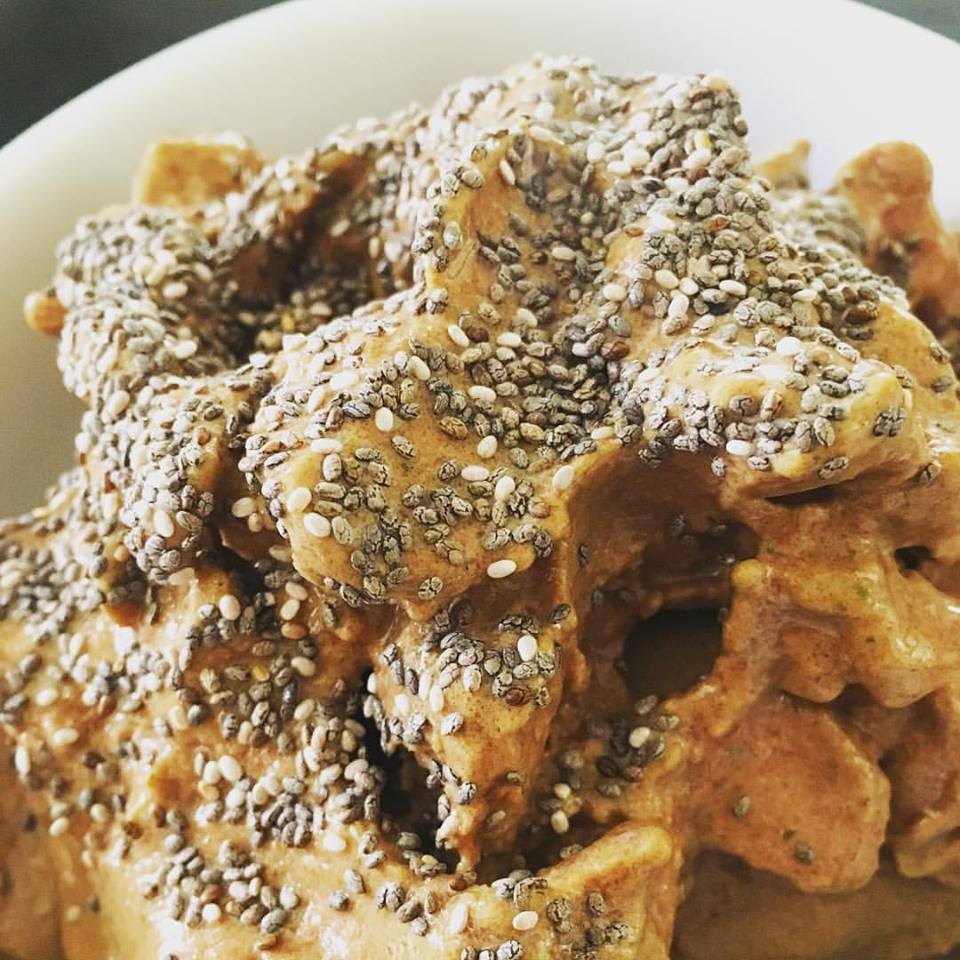 Chocolate-Banana Protein Ice Cream
1 scoop Vanilla Rice Protein
1 scoop CocoCardio
1 T cocoa powder
Handful of spinach
1/2 a frozen banana
Liberal shake of cinnamon
Water and ice, to blend
Blend up the mixture, adding a little water at a time so it doesn't get too thin.  I use my beloved Vitamix.
Scoop it into a bowl and topped with chia seeds!
4:25 PM – Back to Work
More email, social media management, and editing a flier I'm designing.  Writing copy is difficult for me.  I love to write, but not being too wordy is so hard.  As if you couldn't tell from this 1300 word post…
In between all of this I'm texting my mom and sisters, trying to make chicken thaw faster with hot water, drinking kombucha (with a little vodka… detox to retox!), and listening to Vegas' commentary about the DNC.
6:45 PM – Cook/Eat Dinner
Finally the chicken is thawed.  I cook dinner while running between the kitchen and living room to watch Michelle Obama speak.  Nearly gave her a standing ovation in the living room.
Post-Michelle speech, I pause for a quick work call.  (I love multitasking.  Multitasking is my favorite…) 
Back to dinner.  I made chicken teriyaki, basically the same way I did this shrimp teriyaki.  Super easy.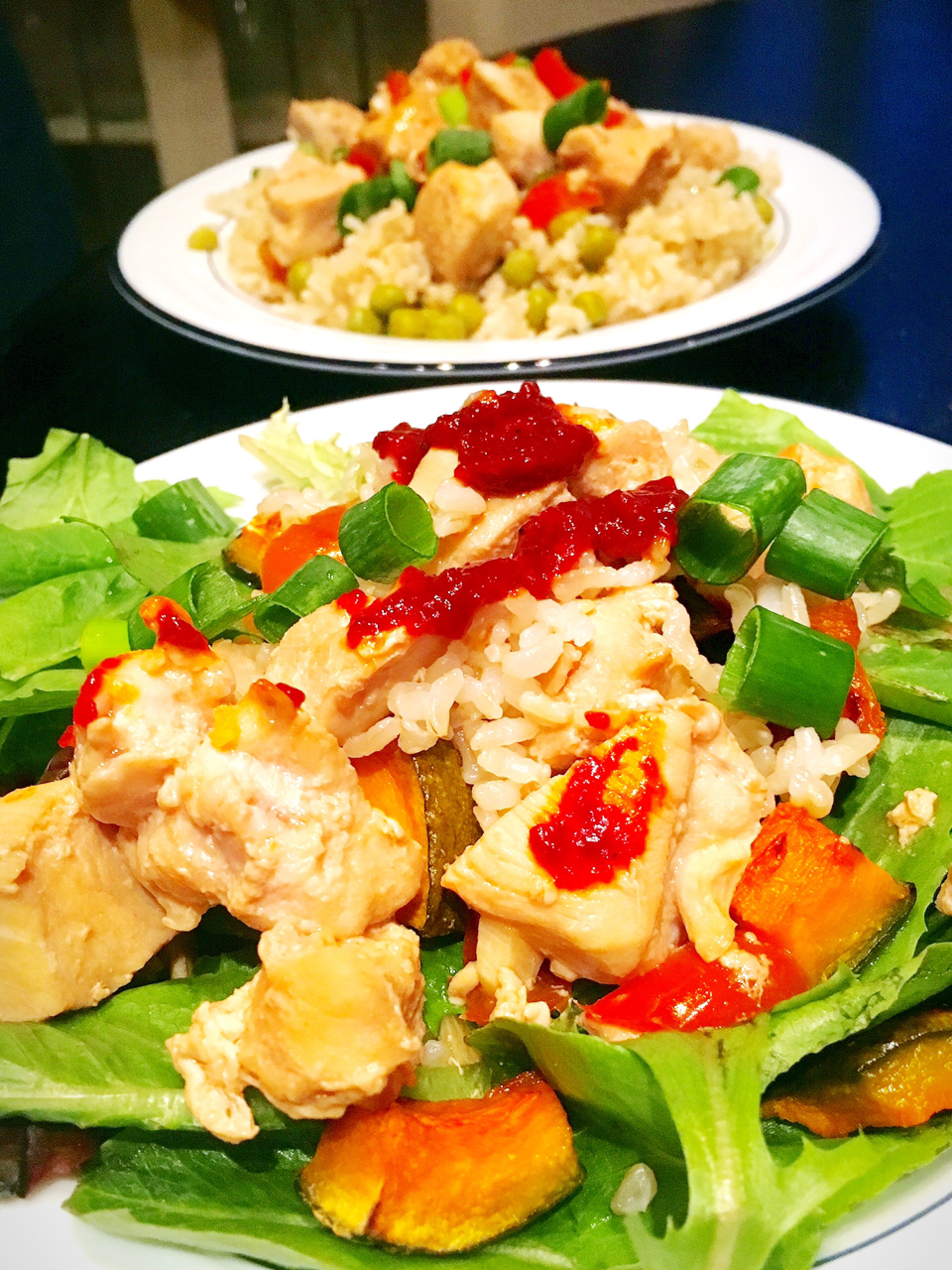 I plate it two ways – over salad with a mix of rice and kabocha for me, over rice with green peas for Vegas.  She's spoiled, no? 🙂
Side note: Vegas usually does the dishes.  We don't have a dishwasher and I hate hand washing.
8:30 PM – Winding Down
We check out the end of the convention, I do a little more work and respond to blog comments.  Eventually Vegas turns it to Friends and I'm thankful for a little comedy.  I start typing this post… because ADD multitasking.
10:30 PM – Nighttime Snack
Vegas has a cold, so she knocked herself out took a Benadryl and went to bed early.  I made a midnight snack.  I've been making my Carrot Cake Protein Batter since 2012.
This bowl was just like the original, but I froze it  for ~30 mins.  It gets a froyo consistency that's perfect for summer.  I topped it with cocoa "fluff" (equal parts cocoa powder and coconut flour mixed with a little stevia and water), cacao nibs, and hemp hearts.  Perfect night time recovery meal after a 2 hour workout today!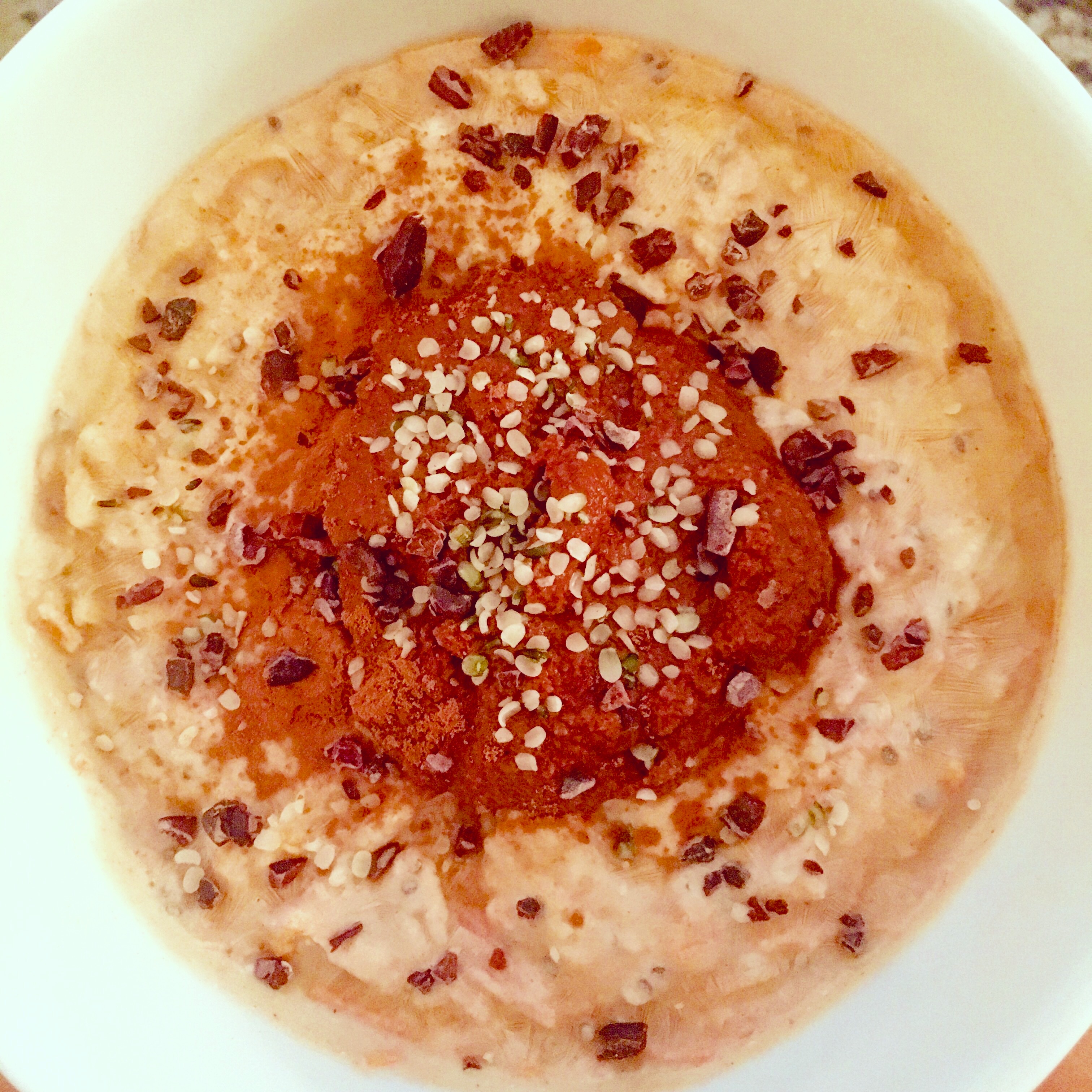 I continued typing this post and texted with a friend while half-watching Fresh Prince.  Ate half a Quest bar Vegas left behind.  I can't be trusted.  Mwhaha!
11:30 PM – Time Warp
I have no idea what happens, but the last minutes before I go to bed (or anywhere) disappear.  I'm all ready… and then I time warp to 30 minutes in the future.  Does anyone else do this?  Time flies, I suppose.
12:00 PM – Bed
This is a typical bed time for me.  I joke that I do my best work between 11 & 2 and 11 & 2.  It's one of the reasons I've always liked consulting.
I always drink a glass of water with Natural Calm before bed and take a Vitamin C.  Then I brush my teeth, take out my contacts, and crawl into bed next to my passed out wife.  Benadryl is no joke!
True story: When we couldn't sleep growing up, my mom gave us Benadryl.  She also did it on long car trips.  She was drugging us!  I totally would have drugged my childhood self too. 😉
---
It's WIAW time!  Link up to Jenn's WIAW baby below and check out how everyone else spent their days.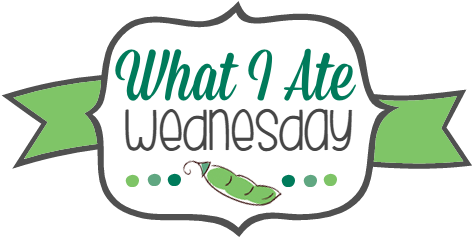 ***
I forgot how much I liked Fresh Prince.  I can still sing the whole intro song, but I couldn't tell you the difference between a sin, cos, or tan.  A youth well-spent.
Does anyone else have days as unorganized as mine?
Do you prefer to sit or stand to work?  I concentrate better standing.