The mystery has been solved.
I think.
Since mid-January I haven't been able to run due to a strange knee pain.  After seeing a PT and seeing no improvement, I paid a visit to my old chiropractor.  This is the guy that fixed my right knee a couple of years ago.  Why did I wait so long to see him for my left knee?
The theory is that I have Patellofemoral Syndrome.  In English, I have Runner's Knee.  Damaged cartilage under my knee cap (patella) from years of abuse.  I didn't realize your knee cap wasn't supposed to crunch when you push down on it…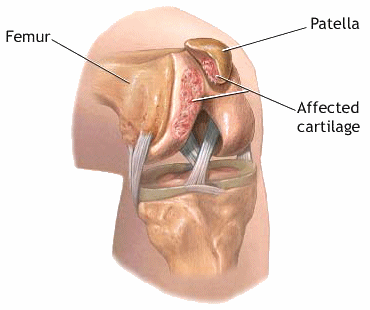 The plan is for me to see the Doc regularly and do some daily "homework."  I have one exercise to strengthen my inner quad, a quad stretch, a way to push on my knee cap to break up scar tissue, and then I end with 10 mins of ice.  In one week I try running again and see what happens.
Speaking of afflictions… in Georgia we have had record pollen counts.  Thank god I don't have allergies.  A stuffy nose would certainly affect my taste, which would make Jenn's What I Ate Wednesday less fun!  Who wants to eat when they can't taste?
The green theme continues… and is especially appropriate since I ate lunch outside and fell victim to the yellow-green pollen film.

___________________________________________________________________________________
Breakfast:
I pre-gamed my workout with this Raspberry Barked Oatmeal To-Go.  Delicious from the freezer and zapped in the micro for 30 seconds.
My post workout protein smoothie was a lovely red and green.  Translation: brown. 
It was this Beet-Citrus creation from Valentine's Day; however, I added more spinach this time.  Hence the brown.
Lunch:
Like any good American, I love Mexican.
Today's lunch featured a couple of tacos made from collard greens.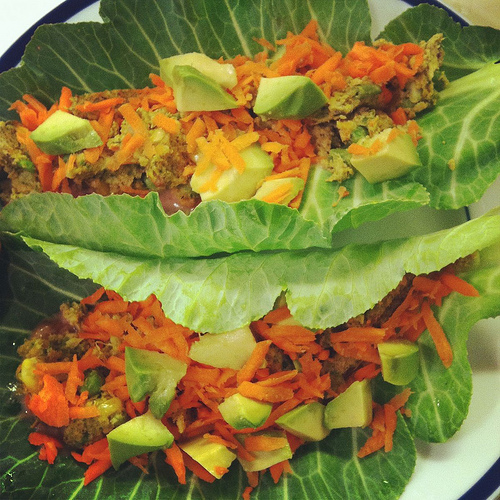 In my tacos:
Pinto bean dip
Dr. Praeger's Veggie Burger
Carrots
Avocado
Tomato
Salsa verde
Cumin
Nutritional Yeast
Best new lunch idea in recent memory.  These are going into regular rotation!
Snacks:
It was a carb-y snack day.  Mostly brought to you by Trader Joe's: Rice and Bean Chips, Sweet Potato Chip Rounds, Popcorn, and a Cherry-Dark Chocolate KIND bar.
Un-pictured: kombucha and mixed nuts.
Dinner:
A  night out with mama at a new -to-us place called Three Sheets.  Cute name, right?
Hummus, falafel, veggies, and lamb for mom.  Of course, there was a bottle of wine involved. 🙂
***
I wish I could type what I'm thinking right now… la-la-la-la-la….
Weekly vote-begging time! I was honored with a nomination as a "Best Healthy Eating Blog" for the 2012 Fitterati Blog Awards on FitnessMagazine.com.  I know I'm never going to reach the 1000+vote mark, but I'd be flattered if you felt inclined to click here and vote for me. 🙂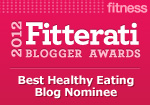 Are you getting dumped on by pollen too?
What is your favorite Trader Joe's treat?