I used to be fast.
I also used to run a lot.
It's funny how must faster you get when you get when you run a race.  I've been running a little bit.  Slowly.  On a whim I decided to run a 5K Saturday morning.  It turns out I hadn't been pushing myself as hard as I thought I had been on my jogs.
I lined up for the 5K not expecting much out of myself.  It was already pretty hot and incredibly humid at 8am when the race started, but once I took off I felt like running a little faster.  Half way through I realized I was pacing pretty well… so I went for it.  25:52 went it, to be exact.  I finished 3rd in my age group (which is now 30+ – when did that happen?!) and 14th out of the women!  Kind of a nice surprise… and now I feel like running more 5Ks.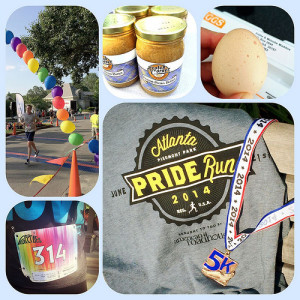 Due to the humidity, I didn't stop sweating until I got in my air conditioned car to go to the gym for glute and shoulder day.  It was a long workout day, and I was really glad I took the time for a stroll through the green market in the park to sampled all the foods.  I bought some fresh eggs.  Talked myself out of buying more peanut butter, but I may go back next week for the pecan-peanut butter (pictured above).  They were making grilled PB&Js for sale.  Tempting… those were my favorite as a kid!  I would have gotten one, but that might have made me hurl while lifting.  Next week!
I'm going to credit my Friday night fuel to my sudden speed.  I was offered a chance to have a preview meal at True Food Kitchen!  I'm really excited we have one in ATL now.  People rave about this place and I now understand why!  They have a huge menu of healthy items catering to an anti-inflammatory diet; I've never seen shirataki noodles on a restaurant menu before!.  Lots of vegan, vegetarian, and gluten free options, and they'll prepare it any way you like – for me that meant no olive oil and no salt.  Check out my mini-review on Instagram.
The refuel after my workout day was epic.  I met friends for a Mexican dinner and a night of card-playing.  This involved a margarita as big as my head and a birthday fake out.
It wasn't John's birthday… but we felt he needed a sombrero.  Merry Un-Birthday, to you!
Then the cards.  Have you ever played Cards Against Humanity?  It's basically the most marvelous (and most offensive) card game ever.
We played until after midnight, fueled by junk food and beverages.  Sometimes you just gotta take an epic cheat day.   Bwhahaha!
***
Between the running and the margaritas, I'll admit to moving a little slow on Sunday morning… pretty sure I worked it all out sweating on the softball field though!
Have you ever faked a birthday at a restaurant?
When was the last time you surprised yourself with a run time or other workout feat?