I'm pretty tough.
Some might say a masochist.
When it comes to cold weather, I'm a whimpering little baby.  Winter arriving means I really have to plan to keep moving.  It's so easy to just crawl under a blanket with a hot toddy.  Or so I hear. 😉
It sounds crazy, but I really do have a fear of cold weather and being cold.  Here are a few tips and tricks that have worked for me!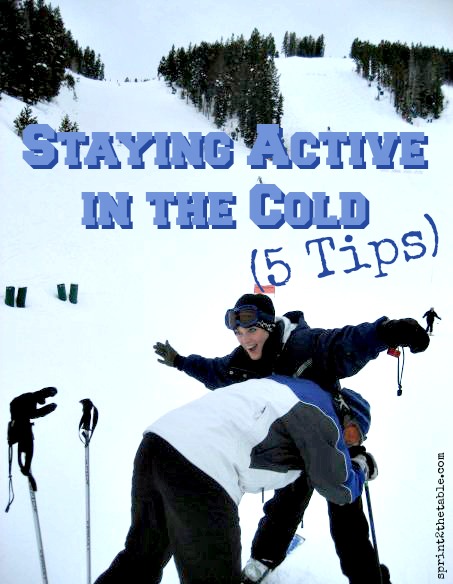 1. Enjoy seasonal activities
Outdoor sports like ice skating, skiing, or hiking.  These activities – especially in the snow – feel more like playmate than work!  I love to meet Heather in Colorado to ski.
If you don't have slopes near by sign up for a winter fun run.  We got festive for this Thanksgiving run, and I'm doing the Santa Speedo Run in Atlanta in a couple of weeks!
2. Dress for the weather
If you're warm enough, its fun to be outside!  Choose clothing that allows for layering. Go thermal first, then start laying with pants, vests, scarfs, etc.  Top it all off with a jacket and hat.  Once you warm of, it'll be easy to pull back the layers.
3. Spend time indoors
Are you curious about that spin class at the gym?  Been meaning to spend some time with weights and building strength?  Colder temperatures and earlier sunsets are the perfect excuse to get your fitness on indoors.
I spend every Saturday morning at the gym for "Glute Camp" with my gym buddies.  If you come visit me, there's 100% chance we'll take a field trip.  (Just ask Sarah.)
4. Go shopping
You need to purchase those holiday gifts anyway.  Incorporate fitness while you do it!  Park as far away as possible from entrances.  Walk from store to tore rather than driving across a parking lot.  Take the stairs.  Power walk through the mall – its practically a giant track anyway!
5. Go on a holiday decoration walk
Get a group of friends and family, make some hot drinks, and walk around admiring all the lights.  Too cold to leave the house?  Hop on the treadmill or do some jumping jacks for 5-10 mins before you leave.  You'll welcome a cool blast of air!
These are some of my favorite neighborhood partners-in-crime.
Disclosure: This post was sponsored by Target® C9 through their partnership with POPSUGAR Select. While I was compensated to write a post about Target® C9, all opinions are my own.

***
I'm so excited to be back in the marvelous powdery snow again soon!
What's your favorite winter sport? I could ski all day!
Do you struggle to be as active in the winter months?