Last week was a long one.
Understatement of the year.
This past weekend I made sure to savour every blissful moment.  I took an extra moment to appreciate new product finds, watch my sister's music video on repeat, and enjoy dinner at a special restaurant for no particular occasion.
In this month of love, I wanted to share a few apples of my eye with you guys! ♥
1. Jojoba Oil
It is saving my skin from winter.  My skin is dry in this crazy weather, yet it is also oily in spots and prone to breakouts.  Slathering it with oil was a terrifying thought… but I trusted my sister's advice and gave it a shot.  Lo and behold, it works!  
I now use Jojoba oil as a nightly moisturizer, along with a bit of tea tree oil on any acne spots.  Both can be found at Whole Foods or most natural food stores.
2. Good & Fox
My sister is a rockstar. She introduced me to said oil AND she made a music video out for my favorite Goose & Fox (her band) song:
3. Tasting Menu Dinner
I met a fellow food-loving friend and my mom at one of my favorite restaurants in ATL Saturday night.  Woodfire Grill is often seen as a "special occasion" restaurant, but I see no reason to wait for a birthday to enjoy a good meal.  It's one of the best restaurants in my city, and easily offer the best service (or server, Danny, was fantastic!).
We ordered the tasting menu with pairings.  It was all glorious, but my highlights were the loaded baked potato ravioli (which says a lot since 99% of the time I hate white potatoes) and the dessert.  That dessert was a flourless dark chocolate cake with graham cracker creme anglaise, graham cracker sugar cookie, and toasted marshmallow ice cream.  I would sell my soul for a pint of that ice cream.
4. Sweet Potato Syrup
I only make sweet potatoes one way.
Easy Baked Sweet Potato
Wash the 'tater
Stab it a few times with a fork
Wrap it in foil
Bake at 400 for about 60 mins, or until it's soft (~60 will vary depending on size)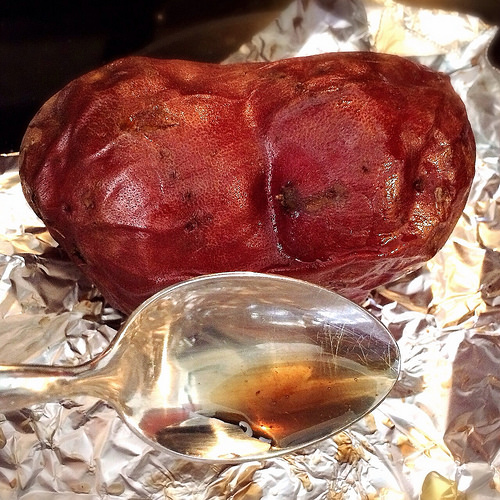 What results is a perfectly moist sweet potato that is oozing with sweet syrup.
How's that for a description?
5. Calphalon Grill Pan
I am grateful to have a friend who works for Calphalon.  She gifted me with this schwag last week and I got to use it during my meal prep last night.  It is perfection!
Huge upgrade from the crap-tastic one I ruined from Ikea.
Check out everyone else's Marvelous Mondays on Katie's blog!
***
This week we are supposed to have another bout with ice and snow.  Yesterday I went running in a tank top.  This is one bi-polar vortex.
What was marvelous about your weekend?
What products have you been loving lately?