Life gets crazy.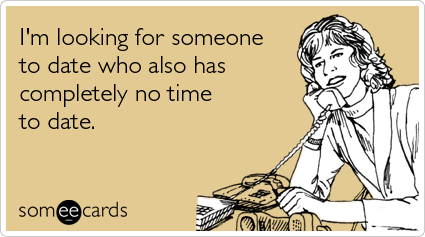 I have about a million things that I ran out of time to do this week.  There are pictures on my computer of things I've been meaning to share with you all for weeks.  It's embarrassing.
This Friday I am going to begin to catch up!  Here are 5 things I'm digging lately:
1. Dandy Blend
I won a bag of Dandy Blend in a giveaway from Tiffany @ Como Water.  It's an herbal dandelion powder that supposedly has a coffee-like taste.
You know what?  It does!  Granted, it's no replacement for your fancy Ethiopian blends… but for you non-fancy coffee drinkers and herbal drink lovers, I would recommend it.
The bag says to mix 1 rounded tsp with a mug of hot water.  That didn't cut it for me.  I had to use 2 heaping tsp to get that coffee taste.  Hot "coffee" is good, but my favorite way to drink it was been mixed into other things.  Namely, mixed into a vanilla chai frappuccino.  (Recipe at bottom.)
Speaking of the frapp below…
2. Vanilla Chai Vega Nutritional Powder
Vega's re-formulated Vanilla Chai also had a starring role in my  vanilla chai frappucchino.  I have previously tried Vega's plant-based protein powder and didn't care for it.  They did a great job on the reformulation!  I loved the 15g of protein to keep me full, and that it only contained 2g of sugar.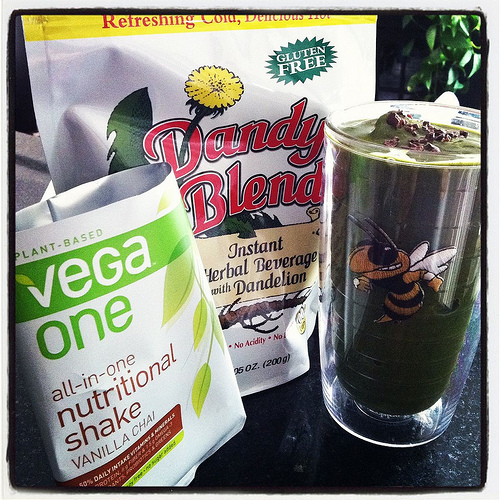 With many powders I find that the flavors are either too diluted or leave an artificial aftertaste – the new Vega doesn't commit either crime.  It made an awesome chai-spiced cold drink to start out the crazy-winter-balmy 75 degree day!
3. Super Me! Wrist Cuff
This rockin' cuff was ordered from Horse Feathers several weeks ago.
(Side note: Does any one else think "finger cuffs!" every time they hear the word cuff?  Chasing Amy reference?  Any one?)
Check out the website here.  They sell a bunch of different items and other cuffs with various quotes.  Mine says: "If I gotta be me, I'm gonna be super-me."
They shipped fast and it arrived in a cute blue bag.  Sold.
4. So Delicious Chocolate Dairy-Free Ice Cream
This deliciousness is almost sugar-free – only 1g of sugar!!!  It was on sale (mind you, on sale meant it was still $5 a pint) at Whole Foods, so I treated myself.  My expectations were low… but OMG it is delicious!!!
5. YOU
You guys have been making me smile all week.
One of my new favorite bloggers, Lauren @ Oatmeal After Spinning made a variation of my Chili Nutty Tofu and declare it "perfection."  If you haven't tried baking tofu yet… you should! 🙂
Click here for my version (pictured below):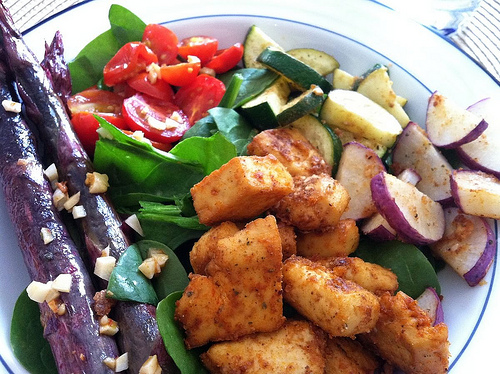 Click here for Lauren's variation.
Gina @ Running to the Kitchen (Our blogs' names should get married – no wonder I love her!) made my Vegan Goat Cheese-Stuffed Tomatoes.
I'm not one to brag (ok, I can be one to brag…), but these were damn good: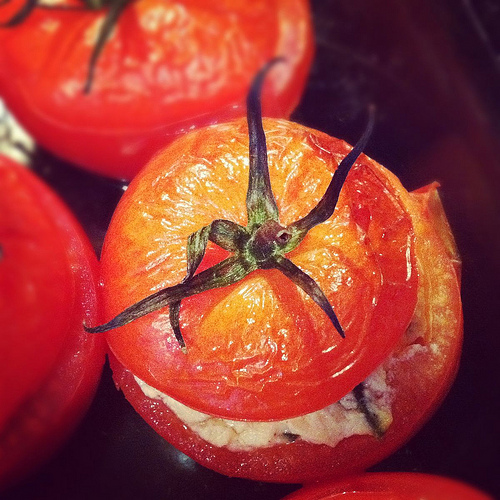 Click here to see Gina's post, which includes some killer pics!  Read: much better than my iPhone efforts.
________________________________________________________________________________________
Vanilla Chai Frappuccino
Vega Vanilla Chai protein powder
2 heaping tsp Dandy Blend (or instant coffee, to taste)
2 big kale leaves (optional)
Handful of wheatgrass (optional)
1/2 c unsweetened almond milk
1/2 tsp cinnamon
Ice
Toss everything in your blender of choice, mix until smooth, and happily slurp away!
I topped mine with a few cacao nibs.  Whipped cream would have also been good. 😉
***
Crossfit update: I'm so sore that I actually did yoga yesterday.  I hate yoga.  It helped.
What's the best new food/product/recipe you've tried lately?
Has anyone tried any of the above products?  I'd love to hear your opinions!