How much water are you drinking?
Some days I get half my steps in walking to the bathroom.
When I first met my trainer, he told me I needed to drink at least 124 ounces of water a day.  I'm not sure what I was drinking before, but it probably was barely half of that.
It was really hard at first, but after about a week my body adjusted.  I went from feeling like I was going to float away to finding myself craving more!
Why drink so much water?  We all know it can aid in weight loss and is good for the skin, but here are 5 benefits you may not have known:
Helps you build muscle – Water carries oxygen to the cells of your body, including those of your muscles; it enables your muscles to work harder and longer before they feel tired
Cushions joints – Joints need moisture in order to remain strong and flexible; this mean your movements are smooth and pain-free
Increases cognitive function – It ensures that your brain gets all the oxygen it needs, and ensures that your body's electrolyte levels remain high enough to allow your nerves to relay messages to the brain
Prevents fluid retention – Your body won't try to retain water if it's getting enough
Burns fat – When you drink enough water, your kidneys don't need extra help detoxifying your body, so your liver will be better able to metabolize stored fat more efficiently (not to mention it prevents constipation)
Bonus: If you have a desk job like I do, it keeps you moving at work.  Between getting up for refills and going to the bathroom, I think I've worn a tread in the carpet.
---
This WIAW I was catching up from shirking my responsibilities this weekend.  It's food prep on the fly!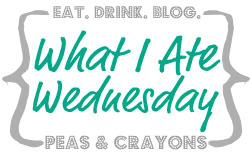 Read on for my eats, and then check out Jenn's blog for everyone else's delicious creations!
---
Breakfast:
My apple cider morning cocktail was followed by a 2 part breakfast.  I started with roasted grapefruit while I was getting dressed:
Then in the car on the way to work, I ate overnight TVP oats… in an almost empty cocoa powder container.
I prepped this awesomeness the night before and then stirred it up in the morning, adding a little more almond milk to thin.
Overnight TVP Oats (in a cocoa container)
1 8 oz container greek yogurt
1/3 C TVP
2 T oats 
1/2 tsp cinnamon
1/4 tsp banana extract
Stevia, to taste
Almond milk, to thin
Almost empty cocoa powder container
Mix everything together in the cocoa container and place in the fridge overnight (or at least 2 hours).
Remove from the fridge in the morning and stir.  Add additional liquid as needed to thin.
Lunch:
As I was plating my arugula, asparagus, chicken, and goat cheese salad in the break room, a guy I don't know walked past and said "that looks much better than the crap they serve downstairs."  This made me unnaturally excited.
I also enjoyed a new Banana Chocolate Chip Protein Muffin creation… recipe here!
Afternoon Snack:
I shoveled down another quick salad while I was on a conference call.  The arugula made another appearance, but this time I topped it with no-salt deli turkey, roasted slaw, mushrooms and red peppers, and a little greek yogurt blue cheese dressing mixed with nutritional yeast.
Dinner:
I arrived home after work and a back and tricep workout STARVING.  Desperation was setting in, but I had swordfish to cook.  It was on special at Whole Foods this weekend and I excitedly bought an entire pound.  This is going to sound like it took forever but I promise you I had dinner on the table in 15 minutes.  Here's how:
I fired up the grill pan and simply prepared the fish with lime juice, pepper, and fresh rosemary.  In the meantime, I roasted broccoli slaw in BBQ sauce under the broiler and warmed a slice of Seeduction bread (a Whole Foods item) from the freezer.  That bread was topped with a quick spread of mashed avocado and garlic. The swordfish only looks small because my bread slice was so big.  Did I mention I was hungry?!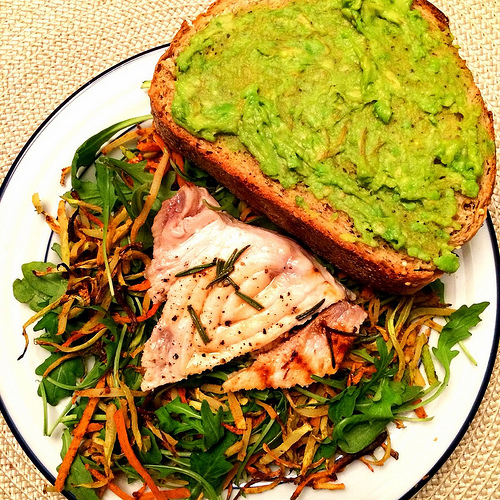 Dessert:
150 Calorie Chocolate Cake.  Topped with more calories. 🙂
The topping was a peanut buttery creation consisting of peanut flour, coconut flour, Walden Farms sugar-free caramel sauce (it's trashy, I know), and almond milk to thin.  I ate could have eaten it by the spoonful.
***
I'd write something witty here, but I have to pee again.
How much water do you drink each day?
Do your co-workers ever look at your prepared food with envy?