Can you imagine running a 10K in 27:36?
The 24-year-old winner of this year's Peachtree Road Race (the largest 10K in the world) did it.  His name is Peter Kirui.  He's Kenyan.  Surprise, surprise.
I spectated for a bit this year, but didn't run.  It's a little disheartening because it's the first I've skipped in 5 years.  My knee and my trainer both have put a halt to my running, so I passed my number along to my boss' wife.  She didn't win the women's division.  That prize went to Mamitu Daska from Ethiopia, who finished the 6.2 mile run in 32:22.
After a little cheerleading, I hit the gym to lift weights before heading to the lake for a day of getting sunburned fun in the sun.  Having done shoulders with my trainer on Tuesday, chest and biceps yesterday, a jet ski ride, and a sunburn… I can barely lift my arms.  Good thing its leg day!
Post-lake there were fireworks.  My BFF and I hit the country club where we grew up for a 20 minute display that would rival and city production.
________________________________________________________________________________________
The breakfast I began the day with for-sure kept me moving all day.
Several people had told me about Paleo "Oatmeal," but I wast in a hurry to try a Paleo meal when I can have the real thing.  You see, the Paleo diet shuns bread-y carbs.  This oatmeal doesn't actually include oats.
Despite my hesitation, curiosity got the best of me and I'm so glad it did.  This creamy oat-less oatmeal is going in constant rotation.
The banana gets that yummy caramelized taste, and I was surprised and how much this actually LOOKED like oatmeal.
Even better, it came together quickly and delivered and TON of protein to my tired muscles.  I amped it up more in my version with protein powder (I used Sun Warrior Vanilla here).  The addition of butter extract really have it that oatmeal taste – you know the one.  When you were a kid and would have a glob of melty butter on top of your oats… alongside wayyyy too much brown sugar.  It's cool, we didn't know and better
________________________________________________________________________________________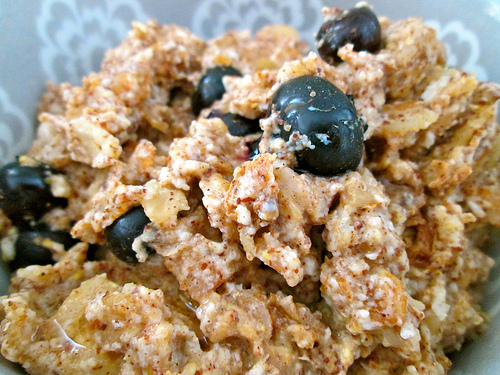 Paleo Oatmeal
1/2 C egg whites
1/2 scoop protein powder
2 T unsweetened vanilla almond milk (or other liquid)
1 T ground flaxseed
1 tsp cinnamon
1/2 banana, well-mashed
1/4 tsp almond extract
1/8 tsp butter extract
Whisk together ingredients in a small bowl until well-combined.
In a small saucepan, cook mixture over low-med heat, stirring frequently to avoid lumps and reach oatmeal-like  consistency (~5 mins).
Top your "oatmeal" with your favorite oatmeal topping.  I went with blueberries.
Serves 1.
***
I'm a little annoyed with myself for getting so badly burned.  Doh.
Did you run a race?  Enjoy a fireworks show?  Both?
Have you tired one of the Paleo oatmeal bowls before?  Any thoughts on the program?  It wouldn't work for me right now, but I'm curious about others' experiences!