People comment on my travel habits a lot.
We are on the road a good amount.
The biggest misconception about traveling is that you have spend a tons of money to do it.  Not true!  Anyone can jet off to Europe… you just have to plan.
In honor of this week's $75 dollar flight to Italy, I'm sharing my Top 3 Tips for Flying on the Cheap today!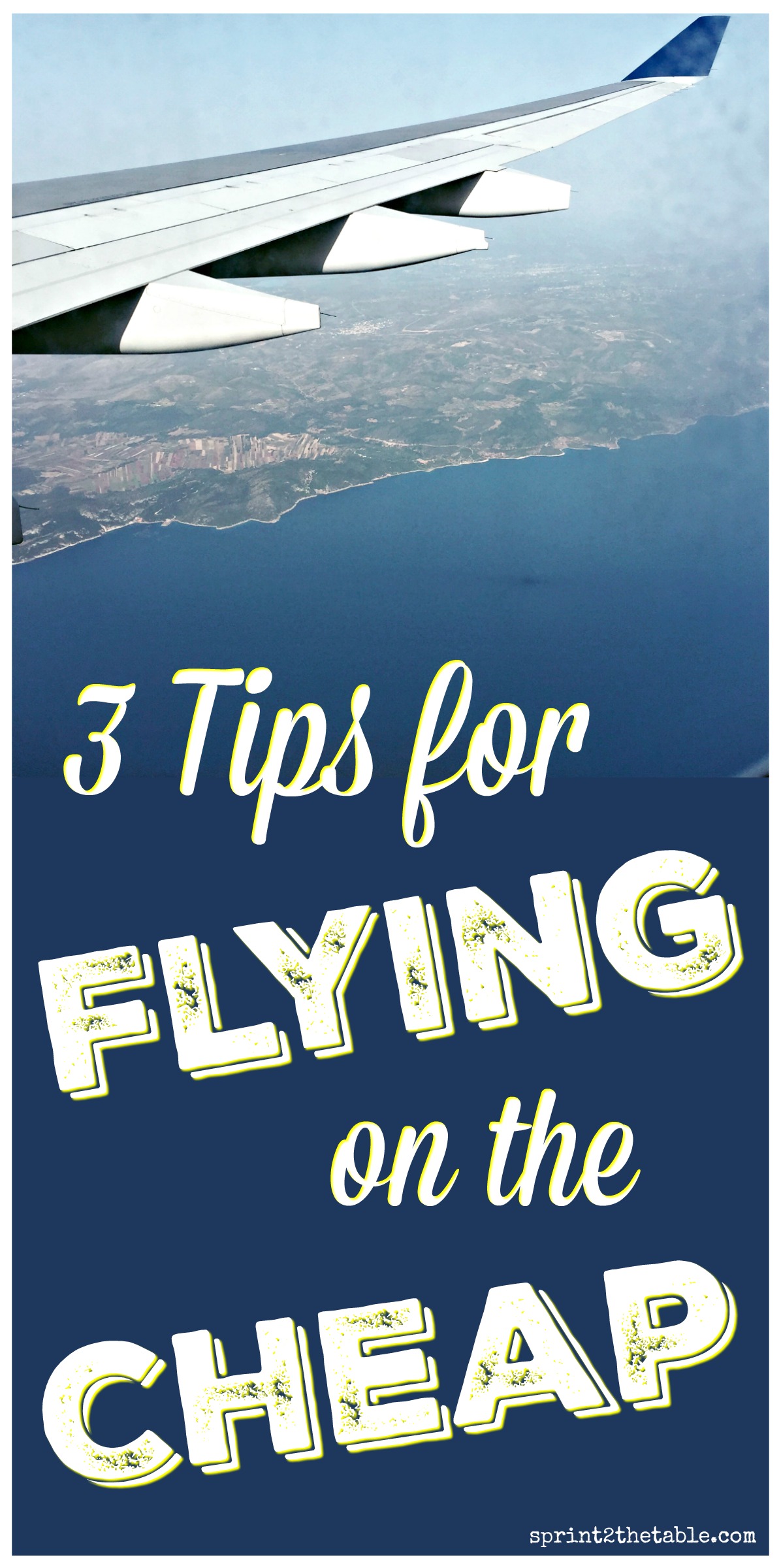 Tip 1: Loyalty
Choose two airlines, join their loyalty programs, and fly them (almost – see tip #3) religiously.  Loyalty programs were created for this specific reason, and it works.  Points add up to earn you free travel!
When you sign up for your airline's program, also apply for their credit card and start earning points there.  This is a much faster way to earn.  You typically get a bunch of "thank you" points upon being approved.  Additional points are earned for referring friends, adding a cardholder (a spouse counts!), purchasing flights and items onboard, and making larger purchases.
I'm not advocating debt.  Use the card big for stuff you were going to buy anyway with cash, then pay it off immediately.  I have a Delta AMEX that I use for "big" purchases.
Side note: Did you know you can pay your taxes with a card?!
How it worked for us: Thanks to frequent flier miles, this flight to Italy cost me $75 on Delta.
Tip 2: Take the Voucher
Often times flights are overbooked.  When that happens – especially around the holidays – the gate counter will offer vouchers to passengers willing give up their seat and take another flight.  DO NOT jump at their first offer of $200 or $300.  If there aren't enough takers, they'll increase the offer as much as $1000!
How it worked for us: This is how Vegas is flying to Italy for $75.
Tip 3: Be Flexible
Look for deals and be flexible on dates.  When I don't fly on Delta, it's because I found a crazy-good deal elsewhere.  My favorite places to locate deals are with Google Flights, the Hopper app, and Scott's Cheap Flights.
This takes a little effort sometimes… if I am watching a flight on Hopper (you can track specific destinations and dates) and it notifies me that the fight dropped or if I see a deal from Scott's, I immediately search it in Google Flights AND directly on Delta's website.  This way I make sure that:
It is the cheapest, and
There's not a similarly priced flight on your primary airline.
How it worked for us: I saw in my email from Scott's Cheap Flights for a $400 flight to Paris from LAX.  I checked on Delta, but Scott's deal was the cheapest.  I had no plans to go to Paris, but hey… why not?  Vegas and I are headed to Paris on Norwegian Airlines in March!
Bonus tip: use Airbnb.  Rent your house while your gone; my sister's boyfriend covered his rent on 2 weekends last month!  Also don't be afraid to stay in other people's homes.  You'll meet some cool people and have a local to ask for "insider" information like restaurant recs and hiking trails.
Disclaimer: This isn't a sponsored post, these are all services I legit love and want to share with you.  However, there ARE a couple affiliate links.  Gotta pay 'dem bills ya'll.
***
Don't forget save more by bringing food for the journey… here are 10 Tips for Healthy Travel.
What's your best tip for traveling on the cheap?
What is your favorite airline?