A little prep can go a long way.
This is why Sundays are sacred.
If I do my weekly shopping and prep right, I don't need a detailed meal plan.  My preference is to make a bunch of stuff and then figure out what flavors I want to add and how to mix and match it throughout the week.  Variety is the best way I know to stay on track.  If I'm not interested in what I'm eating, I'm not content.
Here are three meals that I threw together quickly when what I had on hand.  They look fancy-ish, but in reality they were incredibly easy (and fun) to make.  Who doesn't think quickies are marvelous? 😉
---
The incredible, edible egg is one of my favorite breakfasts.  This wrap was inspired by a french toast craving on an icy morning, and the fact that I was out of bread.
I kept the stuffing simple with cottage cheese, but you could use Greek yogurt, fresh fruit, and any number of spices.  Adapt it to your preference, and what you have on hand.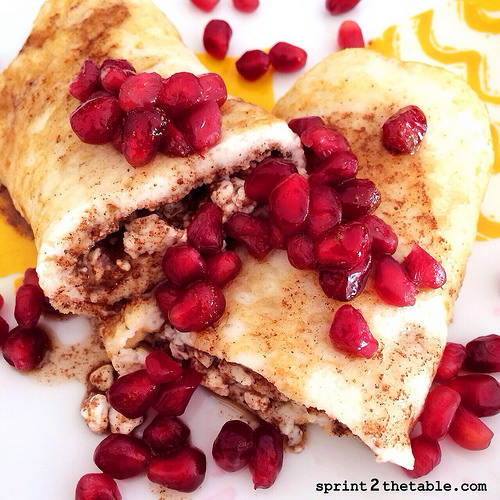 Stuffed French Toast Egg Wrap
1/2 C egg whites
1/4 tsp cinnamon
1/4 tsp vanilla
Stevia, to taste
1/4 C no salt cottage cheese
1/4 tsp butter extract
Optional toppings: sugar-free syrup, fruit
Beat together eggs, cinnamon, vanilla, and stevia.  Cook over med-high heat in a small skillet, flipping once.  This should form a single, thin wrap.
Meanwhile, mix together cottage cheese and butter extract.  You may add more cinnamon and/or ginger here (I did).
Plate the egg wrap, spread with cottage cheese mixture, and roll into a wrap.  Drizzle with syrup and fruit, if using.
---
This next "recipe" is more of a suggestion.  Transform nachos into a healthier option by using squash rather than chips as the base.  Depending on your toppings, you can make your nachos fit any diet: gluten-free, paleo, vegan, etc.  Because we're all unique little snowflakes.  
Below is the basic idea, my ingredients, and easy instructions:
Squachos
Winter squash, sliced thin and pre-roasted (I used Calabaza squash)
Veggies (I used roasted broccoli slaw)
Protein of your choosing (I used

bison

)
Sauce of your choosing (I used a mix of nutritional yeast, greek yogurt, and smoked paprika)
Egg over easy
Place squash on a foil-lined baking pan or stone.  Top squash slices as desired (I made my egg separately on the stove top because that's how I like it).
Place the squachos in the oven under the broiler for 2-3 mins, until warm.  Watch closely, as it is easy to burn things on broil!
Gently slide your nachos off of the foil and onto a plate.
---
This is yet another "suggestion."  You can put anything in a wrap – I also love making them for breakfast with egg.
They are great with tofu, beans, fish, and any number of veggies.  Use your imagination… and your leftovers!
Pressed Bison Wrap
Line middle of wrap with spinach.  (Lining it with greens helps hold juices in so that the tortilla doesn't get soggy.
Crumble burger and gratin (or fillings of choice) in the center of the wrap.  Roll it up burrito-style.  
Place in press (I used a George Forman grill) and cook until outside if wrap is browned and crisped, about 4 mins. 
Plate and enjoy plain or with your favorite sauce.  I finished mine with a fig-balsamic glaze.
***
As the Super Bowl started last night that I didn't care for the game, but I can get on board with any food-related holiday.
Do you meal prep? What's your strategy?
What did you do for the Super Bowl?  I worked and ate. 🙂