Making your own lotion may seem intimidating, but this 3-Ingredient Homemade Body Lotion will change your mind. It's an easy way to pamper your skin!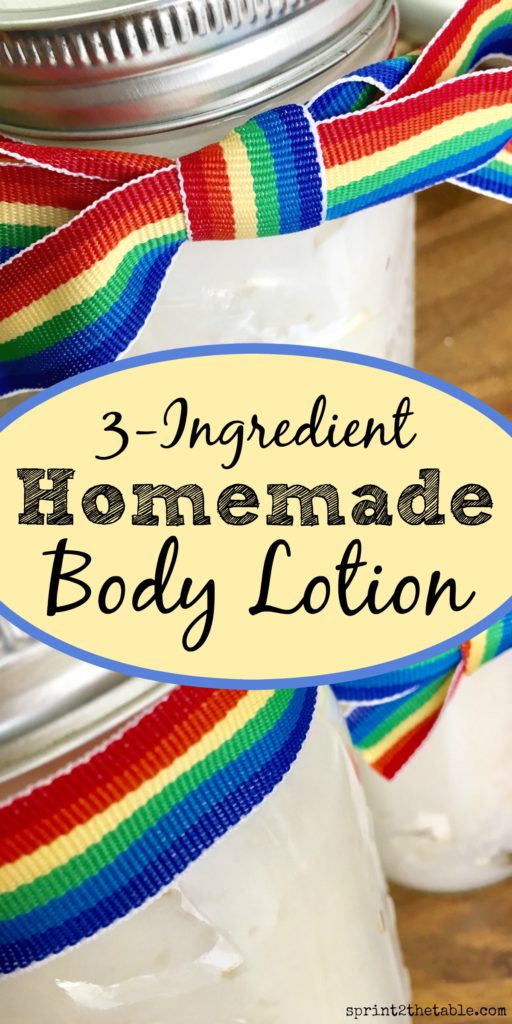 We'll get to that moisturizing fabulousness in a moment.  First, I have to brag on Vegas.  Not only did she grill the most perfect balsamic chicken and veggie skewers, but she also made us some yard art.
(Look in the lower left corner.)
In an totally uncharacteristic move, we were both crafty this weekend!  I love to cook, but I can barely color between the lines.  DIY projects outside of the kitchen aren't my strong suite.  Luckily, you can make lotion in a Kitchen Aid!  I give you… my very crafty 3-Ingredient Homemade Body Lotion!
There are a lot of reasons to make your own body lotion: quality, purity, freshness, cost, customization options, to name a few.  I decided to make my own after scaring myself shitless reading about all the crap added to products we consume every day.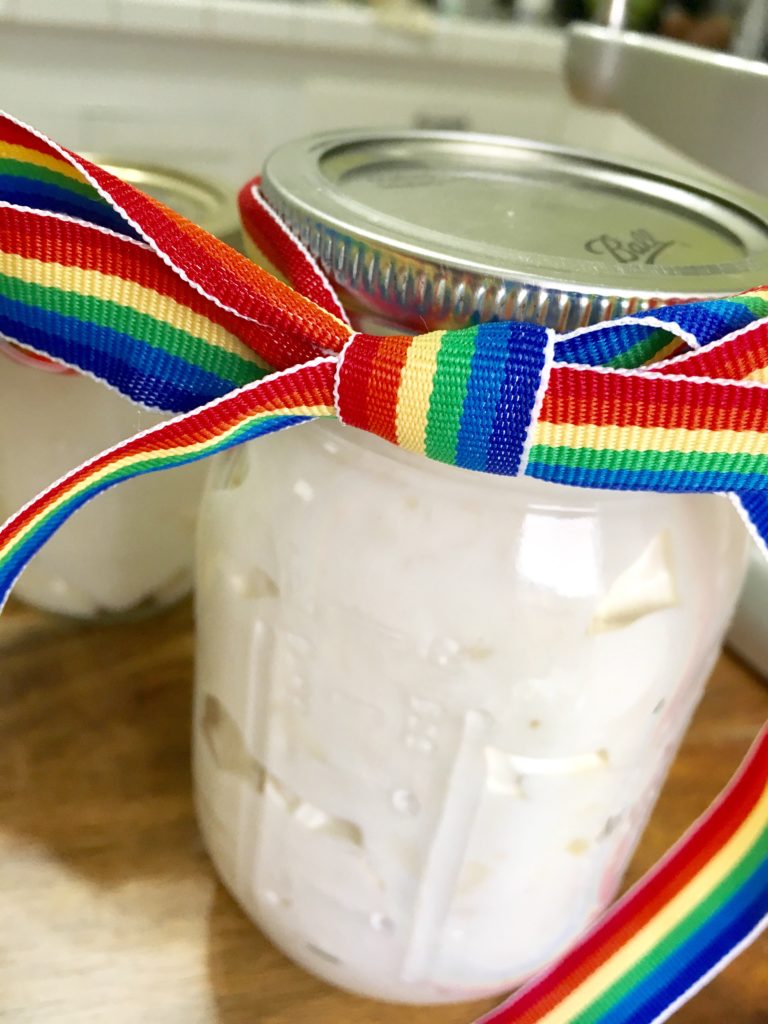 Our skin is the largest organ on our body.  It absorbs everything.  Why would you lather it with chemicals?  Grab your everyday lotion and read the ingredient list.  Do you recognize all of them?  Fragrances, preservatives, color additives, etc… these are all chemicals that your skin is absorbing.
Hippie overkill?  Maybe.  But it was worth it.
I can't describe to you the difference homemade body lotion makes.  It's SO much more fresh.  It feels cleaner, lighter… almost decadent.
Using oils made me wonder if it would be greasy, but I was pleasantly surprised.  The lotion turned out light a fluffy, and my body absorbed it quickly!  I also wondered about the acne factor (I'm prone to break outs).  This hasn't presented a single problem.  In fact, I'd been getting a fine rash on my shoulders that is now totally gone!
The most fun part about creating your own lotion is that you can customize it.  To add scent, I used an essential oil.  I chose peppermint for its calming effect on the body (did you know it can help relieve muscle soreness?).  Add whatever you like best.  Lavender, lemon, vanilla, coconut rosemary… the possibilities are endless.  Just channel your teenage Bath & Body Works-obsessed self.
Side note: did anyone else have an embarrassing collection of B&B lotions?  I think I single-handedly kept that store in business at age 16.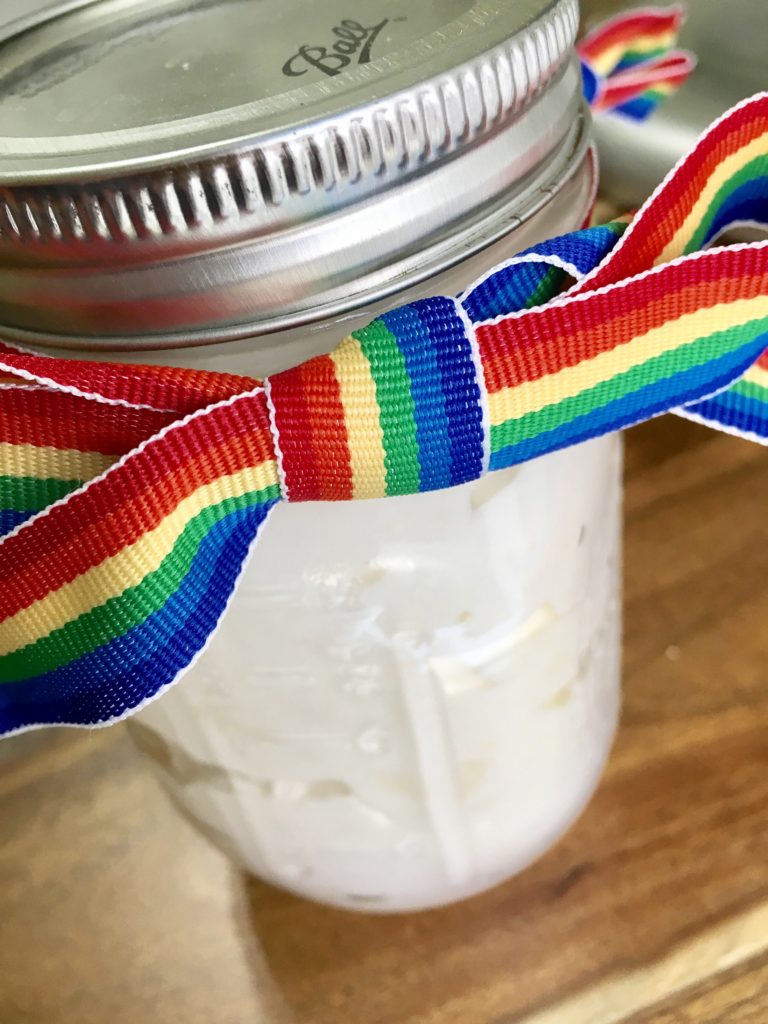 You can also mix and match the oils.  I chose coconut oil and shea butter.
Unless you've been living under a rock, you know that coconut oil is good for basically anything.  It's like Windex to the My Big Fat Greek Wedding mom.  Coconut oil is antibacterial, which means it's good for acne prevention.  It's also full of vitamin E, which is incredibly moisturizing AND its anti-aging.  Shea butter has anti-inflammatory properties, and gives the lotion a slightly thicker consistency.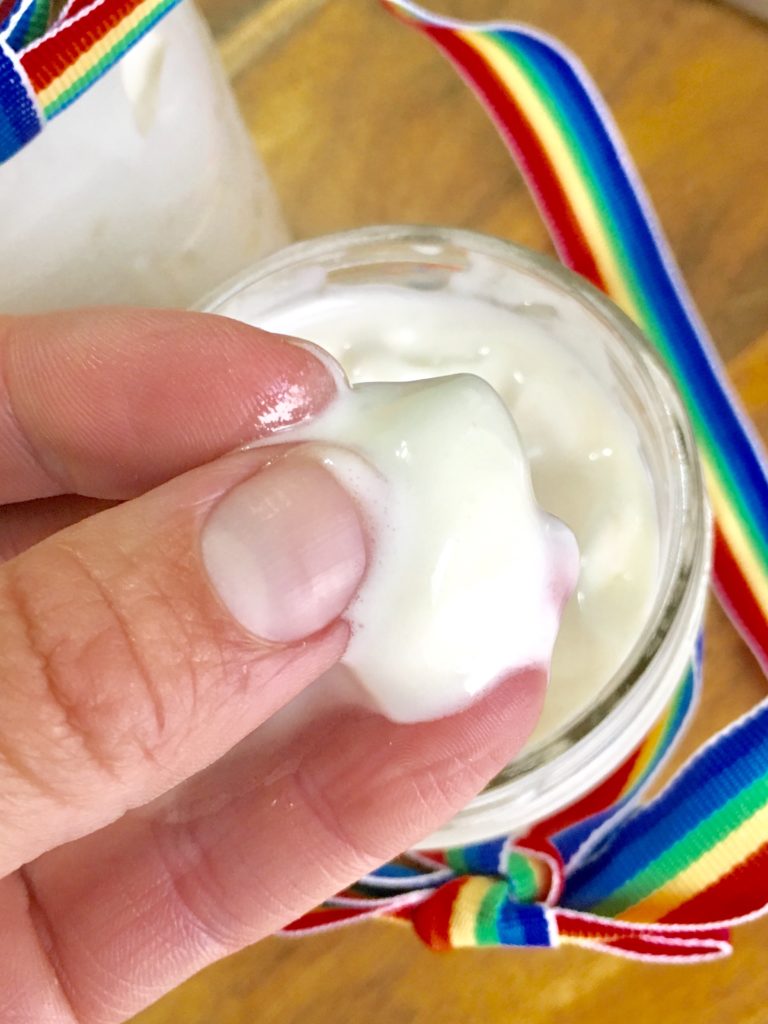 Again, you don't want your skin to be soaking up toxins.  Make sure you buy organic ingredients.
Before you lament the cost of organics, look into buying in bulk.  You can get a giant jar of organic coconut oil on Amazon for $18.99!  It would take you at least a year to get though this jar.
Make a bunch for yourself and your family, and gift any excess.  How could would it be to be gifted homemade lotion?!
---
3-Ingredient Homemade Body Lotion
2CUPS
adjust servings
Making your own lotion may seem intimidating, but this 3-Ingredient Homemade Body Lotion will change your mind. It's an easy way to pamper your skin!
Instructions
Melt the coconut oil and shea butter in a heavy-bottomed pot. Remove from heat and let cool for 30 minutes.
Stir in essential oils, if using.
Place oil mixture in freezer or fridge to chill. Wait until oils start to partially solidify before whipping them into a lotion-like consistency.
Place in glass jar and enjoy!
Note: Keep the lotion in a cool place. If your house is warmer, this will melt. I store mine in the wine fridge.
***
Speaking of coconut oil being a miracle… did you know you can use it as lube?  Stop giggling.  It's all natural – have you ever looked at the ingredients list on KY?!  Just don't use it with latex, it is oil after all!
Have you ever thought about what you're putting on your skin?
What scent would you make your lotion?