Do people ever look at you oddly when you pull out your lunch?
I consider it a personal failure if this doesn't occur daily.
You know the "look."  They cock their head, raise their eye brows, and slightly wrinkle their nose.  You know what's coming next… "What is that?"
Welcome to the world of Strange But Good.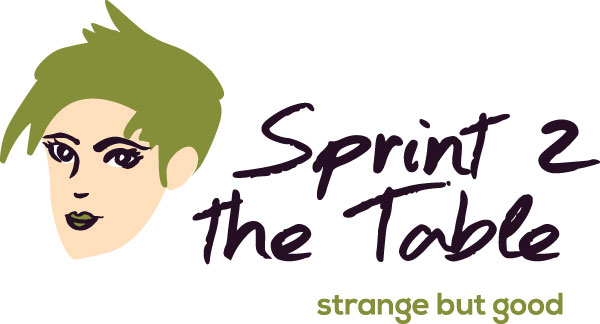 A lot of things healthy living bloggers/readers eat wouldn't be considered strange inside this community; however, your co-workers, friends, and families probably give you the "look" when you top your oatmeal as if it were a bowl of fro-yo, for instance. Those things count as Strange But Good!  If it's a combo that this community would think is strange, even better!  Not a requirement though.
Here are my creations this week that certainly earned me a couple of stares:
Exhibit 1
It's a cross between a sweet potato pie, a pancake, and an omelette!  This was a creamy, cake-y, breakfast from heaven.  I loved the pie flavors and silky texture in this omelette-like pancake.
You know that sweet potatoes are best topped with peanut butter, so I created a maple-peanut butter sauce to use as my syrup.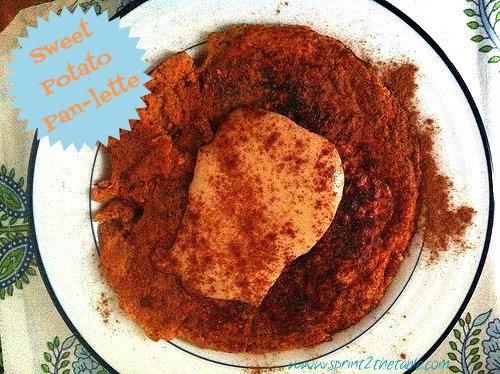 Sweet Potato Pan-lette
1/2 C mashed sweet potato
1/2 C egg whites
1/2 tsp vanilla extract
1/2 heaping tsp cinnamon
1/4 tsp ginger
1/8 tsp nutmeg
4-5 drops vanilla liquid stevia (optional)
For the sauce:
1 T peanut flour
1 tsp ground flax
1/4 tsp maple extract
2-3 drops vanilla liquid stevia
Combine all pancake ingredients into a medium bowl and stir until smooth.  Pour into a prepared (I used PAM) skillet and cook as you would a pancakes (~2-3 mins on each side).
Note: I made this as one huge pancake, but I'd advise you to turn it into 2.  It required some serious acrobatics and two spatulas to flip.
Meanwhile, stir together sauce ingredients in a small bowl.
Plate your pie-cakes, top with peanut butter syrup, and enjoy!

Exhibit 2
The idea of a spicy tuna salad may not be so strange.  We all like a spicy tuna roll.  But what about spicy tuna with peanut flour?  It's a Pad Thai take on a lunch-lady staple!
You could mix in any veggies here, but I really liked the sweetness of the red pepper with the sriracha heat, and the nutty flavor from the zucchini was particularly good with the peanut sauce.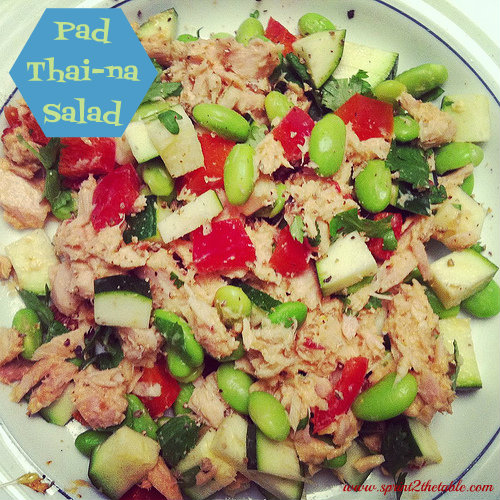 Pad Thai-na Salad
2 T peanut flour
2 tsp sriracha
1/4 tsp cumin
Juice of 1/3 fresh lime
2 T almond milk (or other liquid)
1 can tuna, drained
Cilantro
Zucchini
Red pepper
Pepper, to taste
In a small bowl, combine the peanut flour, sriracha, cumin, lime, and milk.  Set aside.
In a medium bowl, add your canned tuna and break up with a fork.  Pour peanut sauce over the tuna and stir until combined.  Add remaining ingredients.
________________________________________________________________________________________
Want to Join?
All you need to do to join this link up is create a concoction that is Strange But Good, post it with the Strange But Good logo, and link up to your recipe.  (See below for code.)  On the Strange But Good post each week, you'll see a link to add your own recipe and picture at the bottom of the page.  I'd prefer you use a new strange but good dish, but if you realllly have a good previous one you can add it.
Not a blogger?  You can play too!  Send me an email with a picture of your food and a brief description by noon on Thursday and I'll include it in Friday's post (too late this week, obv… but next week it's on!).
Remember to use #strangebutgood in any Tweets and Instragrams of your creations. 🙂