Some might call these Oatmeal Cookies.
Yup – I'm finally posting the recipe for these lovelies I mentioned on WIAW last week.
These Granola Cookies aren't as sweet as yer mamma's cookie, and the goji berries makes me think of granola rather than oatmeal.  You can call them whatever you want.  At under under 100 calories, I call them awesome.
These chewy cookies have a hint of molasses-y sweetness from the brown sugar.  Walnuts add a great crunch, and I loved the punch of cinnamon.  The whole wheat flour and oatmeal make them more filling than a "typical" cookie.
If you use the flax egg and Earth balance, these make a terrific vegan treat.  Plus, you can eat the batter without fear of Salmonella (as if that's ever stopped me before…).
Tasty crumbled atop Greek yogurt for breakfast, as an afternoon snack, or dipped in milk for dessert. They also freeze really well.
Recipe at end.
__________________________________________________________________________________
Weekly Fitness Recap
My knee is still jacked, but I'm keeping up with the modified Mile-a-Day Challenge.  I went to kickboxing (like I was told NOT to) and that really didn't help matters.  Oops.
I did a lot of P90X this week.  Then caught wind of Body Rock "Fit Test" to begin their 30 days of fitness.  I took it and am going to make an effort to do these workouts fairly regularly and see how I progress with another fit test at the end!
Workout Recap (1/9 – 1/15)
Monday – P90X Biceps/Back, 1 mile run
Tuesday – Ab Ripper X, Elliptical (intervals), 100 push-ups
Wednesday – P90X Tris/Chest, Stationary bike (intervals)

Thursday – Kickboxing, 10 mins StairMaster (intervals)

Friday – This BodyRock, Stationary bike (intervals), 100 push-ups

Saturday – P90X Core Synergistics, 100 jumping jacks
Sunday – Elliptical (intervals), 100 push-ups
__________________________________________________________________________________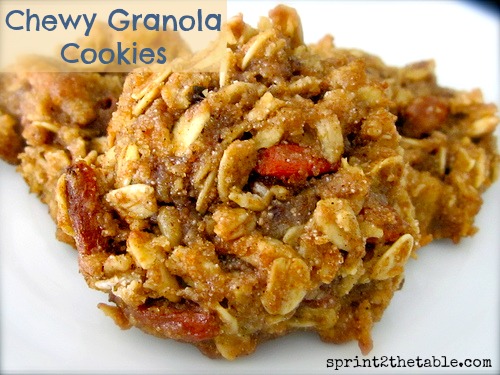 Chewy Granola Cookies
1/4 C (1/2 stick) butter or Earth Balance, softened
1/4 C unsweetened applesauce
1/3 C light brown sugar, packed
1/3 C xylitol (or other sugar-substitute)
1 flax egg (1 T ground flax + 3 T water), or 1 regular egg
1/2 tsp vanilla extract
1/4 C all-purpose flour
1/2 C whole wheat flour
1/2 tsp baking soda
1/2 tsp ground cinnamon
1/4 tsp salt
1 1/2 C rolled oats
1/4 C goji berries (or raisins)
1/2 C walnuts, chopped
Preheat oven to 350°F.
In a large bowl, cream together butter, applesauce, sugars, egg and vanilla until smooth. In a separate bowl, whisk flours, baking soda, cinnamon and salt together. Stir this into the butter/sugar mixture. Stir in the oats, goji berries and walnuts.
Scoop cookies onto parchment-lined baking sheet leaving ~2 inches between. Bake them for 10-12 mins, until golden. Let sit on baking sheet for ~5 mins before transferring to a rack to cool.
Makes 24 cookies.
Approximate nutrition: 74 calories, 2.6g fat, 12.2g carbohydrates, 1g fiber, 3.1g sugar, 1.3g protein.
***
It's another week of travel – very conducive to rockin' out some Body Rock.
Do you like super-sweet desserts or something more savory?
Have you done the Body Rock Fit Test?  What did you think?