Two important items in today's news:
Apparently we are getting SNOW tonight in the South (boooo hiss)
I finally got a new camera!!!
Good-bye fuzzy cell phone pictures.  Don't let the door hit you in the butt on the way out.
The new addition is a Panasonic Lumix DMC-TZ3.
I have NO idea how to use it (you'll see what I mean with the pics below…).
Even more awesome is the deal I got on it: $23 through an auction site!!!
It didn't come with a cable… details, details…
_________________________________________________________________________________________________________________________
If you've read much of my blog, you have probably noticed that I think Angela @ Oh She Glows is brilliant.  I've never made anything of hers that I didn't like love.
In keeping with my recipe pack rat rehab, I tried one of her newer recipes.  It still counts!  I already had it bookmarked on Delicious.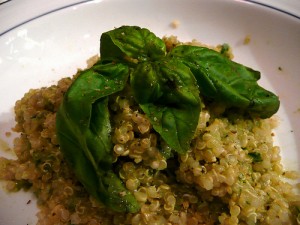 Her Creamy Avocado Pasta is reminiscent of an alfredo sauce-covered pasta.
I took her recipe, reduced it by half (half my avocado was bad.  fail.), changed up the pasta, and added a little spice.
She claims it is a 15 minute recipe… she's right.  The only "cooking" involved is the pasta of your choosing!
Here are the details, with my minor edits.
Creamy Avocado Quinoa
1/4 lemon, juiced
1 large garlic clove
1/2 tsp kosher salt, or to taste
1/2 jalapeno, seeded
1 T EVOO
1/4 C fresh basil (+ some for garnish)
1 small-sized ripe avocado (or 1/2 a medium)
2 servings (1/2 C uncooked) quinoa
Freshly ground black pepper, to taste
Cook quinoa according to package instructions.
Meanwhile, place garlic clove, lemon juice, salt, jalapeno, and olive oil into a food processor.  Process until smooth.  Then add avocado, basil, and salt.  Blend until smooth and creamy.
When quinoa is done, place pasta into a bowl, add sauce, and toss until fully combined.  Garnish with basil and black pepper.
Serve immediately.  Makes 2 servings.
Note: Next time I do it, I'll top with red pepper flakes too (I like a lot of spice).  Also, Angela noted that it doesn't keep well due to the avocado.  I'll let you know tomorrow.

***
Do you have a go-to site for recipes?
Like I need more bookmarks…