Kitchen failures are no fun.
Especially when they involve the microwave – an invention that is supposed to make things easier.
I've tried to make a good microwave protein cake over and over.  And Over.  And Over.  My attempts failed repeatedly.  God knows how much money I've wasted on protein powder.  But I'm stubborn (and obsessed with desserts), so I kept trying.
And, just like Dr. Seuss 98 and 3/4 percent guaranteed, I did succeed!  Finally a winner!
My only requirements for this cake were that it must be low sugar, less than 200 calories, and have at least 20g of protein.  The spinach was just the icing on the proverbial cake.  One can't live on green smoothies alone.
This ever-so-slightly green-tinted treat is light, fluffy, and wonderfully moist (yeah, I said moist).  It's sweet and chocolate-y.  Not flavorless, dry, and/or oddly flat like some of my other attempts.
Here's what I learned in my experimentation:
It will work with 2T of applesauce 

or

2T of pumpkin puree
It will not work with Xylitol, but Stevia is delicious in it
Use high-quality cocoa powder (the Kroger brand is terrible)
You may need to add another tablespoon of cocoa powder depending on your protein powder  
Make it vegan using a flax egg rather than egg whites… be warned that it won't be quite as fluffy
It can  be made in advance and transported to work for an afternoon delight
Yes, the spinach is optional 🙂
Did I mention it's under 150 calories and packs 24.5g of protein?  Can I get a gold medal?
Another pleasant discovery was the baking powder I used.  My training plan has me watching my sodium intake, and typical baking powder has a TON of it.  I was lamenting this fact when Sarena located this Hain sodium-free powder!  I ordered it online and was thrilled when it worked just as well as the full-sodium stuff.  (If you aren't concerned with sodium, the standard stuff work too.)
---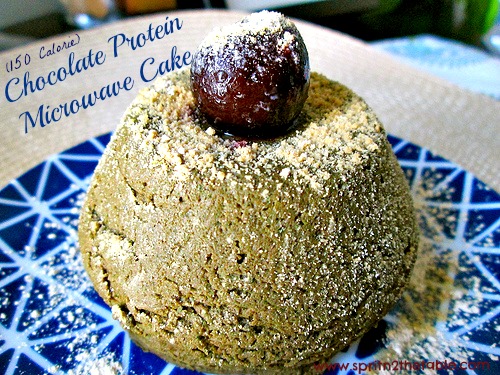 Microwave

 Chocolate Protein Cake
2 T

chocolate rice protein powder

(~22g)
1 C fresh spinach (optional)
1/4 tsp cinnamon
1/4 tsp no sodium baking powder
1/4 C unsweetened vanilla almond milk
1/4 C egg whites
2 T applesauce (no sugar added, can also use pumpkin puree)
1/2 tsp vanilla
1/8 tsp butter extract (optional)
~5-6 drops 

chocolate liquid stevia

Optional: vanilla protein powder, cherry on top
Place all ingredients in your blender of choice and mix until smooth.  If not adding spinach, there is no need for a blender to mix.
Transfer to a large, greased (I use PAM) coffee mug and microwave for 3-4 mins (mine took 3:21).
Tip the cake out onto a plate and top as desired.  My cake was topped with a sprinkle of vanilla protein "powdered sugar" and a cherry.  I also really like to use melted cherries (cut into pieces and microwaved for 20 secs).
Makes 1 cake.
Approximate Nutritionals (will vary based on protein powder brand used; this is with Sun Warrior): 148 calories, 3g fat, 219.3mg sodium, 11g carbohydrates, 3.6g fiber, 3g sugar, 24.5g protein.
**
I was blown away by the positive responses when I posted this on the Chick-fil-a controversy.  The Dean of the  Georgia Tech Scheller College of Business (my graduate alma mater) wrote a great op-ed piece for the New York Times on individual freedom.  I respect his opinion, and hope you will take a second to read his thoughts.  Click here to read.
What is your most memorable kitchen failure?
Have you reached microwave cake perfection?  Do share!