The blog world is filled with talent.
My Google Reader, Pinterest boards, FoodBuzz inbox, and browser bookmarks are jam-packed with recipes and ideas from other bloggers.  In fact, I rarely read cookbooks anymore!
That's why I was honored to have received a smorgasbord of awards from one of my favorite bloggers, Kimberly @ Grubarazzi.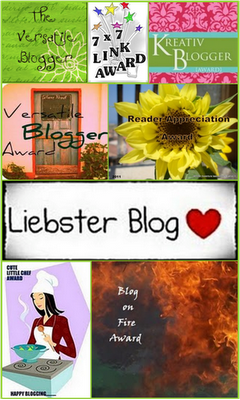 Along with the award comes with a "10 Things You May Not Know" obligation.  I'm pretty much an open book… so I thought I'd do a little twist on it.
Below is a list of 10 things.  9 of them are true.  1 is a lie.  Can you pick out the lie?
I started walking before I learned to crawl.  I was 6 months old.
Like Kim, I hate voicemail.  I purposefully let my mailbox fill up so that you can't leave a message.
In undergrad, I minored in Religious Studies.
I rarely make the same thing twice.  Except for last night when I made Blueberry Cilantro Bulgur Quinoa. 
I use Excel to keep me on track with workouts and meal ideas during the week.
Sometimes when I think about the future get totally overwhelmed.  There's so much to accomplish/do!
I eat raw spinach by the handful while standing in the fridge door.
Monday night I ate octopus for the first time. 
My lucky number is 13.
I'm passing these awards on to a few of fairly-recently-discovered blogs:
***
I'm catering a wedding shower this weekend – can't wait to share the creations with you guys!
Are you doing anything special for Easter?  Who's excited to break their Lent restrictions?
How do you keep track of recipes you want to try?
Oh!  And could you pick out my "lie" from the list?